The latest edition of Ars Electronica festival was called Post City. The perfect topic for a Zeppelin evening. We invited the director of the Linz festival, Martin Honzík, to present this edition, and to tell us about cities that define today what we call globality, and which have an accelerated expansion, from one continent to another.
Post City describes precisely this situation where existing cities are aggregated into new organizational forms that we call mega cities, and which will become super mega cities. Connectivity, speed and mobility are key elements of the future. How can design, technology and artistic research create scenarios and foreshadow solutions for a new global urbanity? These are some of the questions that followed the presentation.
Afterwards, we enjoyed two hours of outstanding animations from the Ars Electronica festival, including awards and nominations from 2014 and 2015. Since it was already warm, almost summer, the terrace and the bar stayed open until midnight for talks and planning great projects, or simply for a night over a Bucharest of the present, but with its face turned towards the future.
An event by Zeppelin & AVmotional
Partners: National Museum of Contemporary Art, Austrian Cultural Forum, Ars Electronica, Rembrandt Hotel
The event took place on April 28th, at the National Museum of Contemporary Art – 4th floor (Str. 2-4 Izvor, Parliament Palace, wing E4, Bucharest)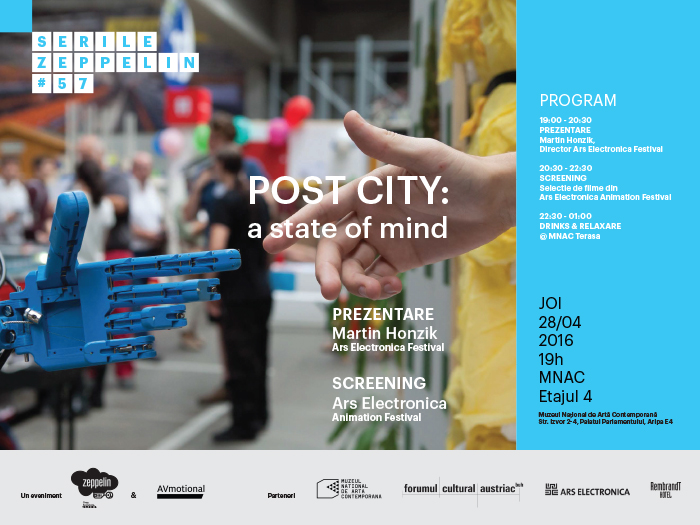 * Poster illustration: Animatronischer Arm the u19 – CREATE YOUR WORLD exhibition. Photo credit: Florian Voggeneder
Fb event