September 28, 18:30 – 21:30 @ Sala Dalles – Bd. Nicolae Bălcescu 18, Bucharest
The second series of Fika Talks* brings us face to face with Swedish design, with the help of our guests Torsten Hild and Birgitta Notlöf. A meeting with two of the most representative practices for today's democracy through design and education, through sustainability and responsibility. Sweden has a respectable tradition related to craftsmanship, crafts and the way in which they are transformed into design. An invitation to rethink politics when design as a country brand is an assumed prectice.
key-words: design and craft, situation design, experience economy, co-creation, open and tolerant society, sharing and reputation-based economy, fair treat of minorities, accessibility, social innovation, fashion
Torsten Hild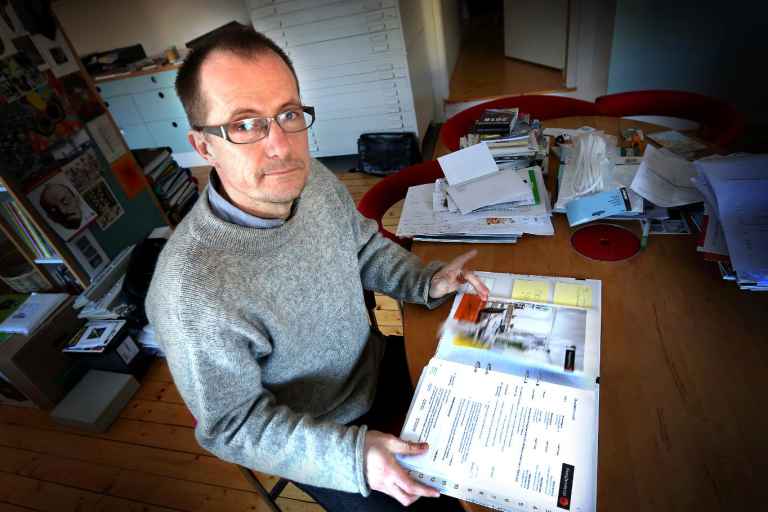 *Photo: Anders Robertsson
He is an architect and works as a furniture design teacher and at the same time has his own office (2hild). Specialised in sustainability and affordability, he is concerned about interior design and furniture for public spaces, offices, libraries, museums, churches, exhibitions, schools.
Winner of many design competitions, Torsten Hild formed himself as an interior designer and obtained his Master in HDK University of Goetheburg at the Academy of Design and Craft in 1994. Now he is a professor at the same department.
The Steneby School and HDK Steneby, the Design and Craft Academy, is a landmark in Dalsland, an exceptional creative environment for education. The approach of this Academy is very much based on working with materials: wood, metal and textiles. The school is recognised at international level as one of the most innovative institutions in terms of the impact of design on major social issues such as accessibility, refugee integration or production responsibility.
www.2hild.com / www.steneby.se
Birgitta Notlöf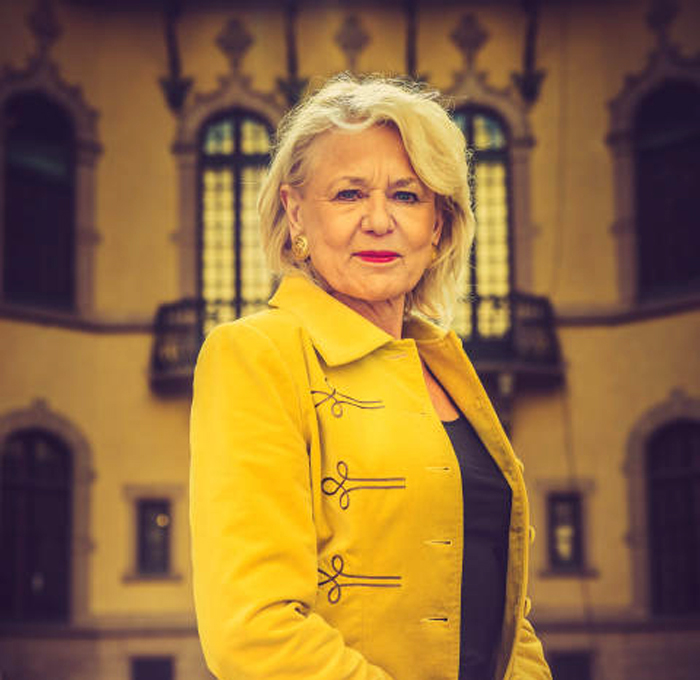 *Foto: Jana Eriksson
Birgitta Notloff is the founder of the Livsticket Design and Education Center. Opened the first time in 1992, Livstycket is one of the most interesting practices of social education and entrepreneurship through design.
In the Livstycket workshop in Stockholm, there are courses for women, and usually we are talking about women refugees who come from all over the world in Sweden. Of course, men are not excluded from these activities, they are welcome at any time.
The Livstycket motto is representative: we educate women, we educate everyone; education is done through design and storytelling. How? In a simple, otherwise complicated way.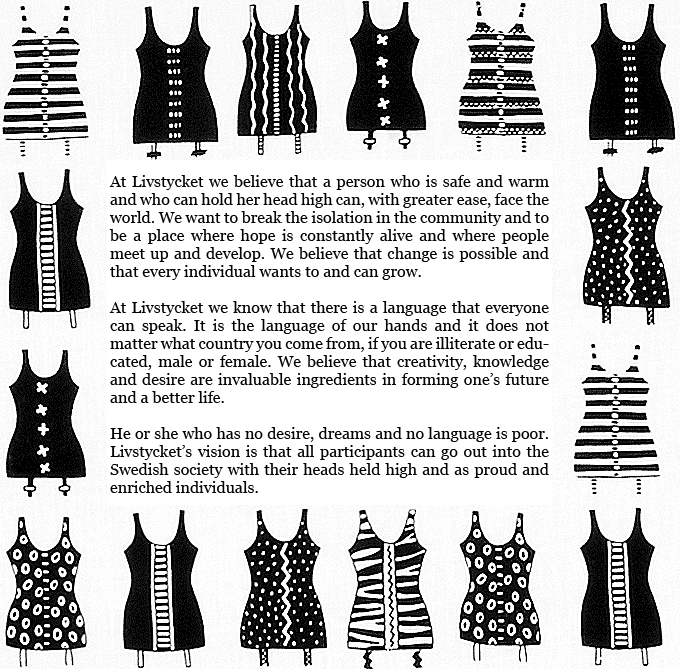 The women who come here have limited language knowledge. To help them develop their language learning abilities, women participate in storytelling workshops on topics related to the universe and their happenings. They tell stories about things they have lived, for example, about the objects in the bags or suitcases that they have taken on their way to Sweden, or about the plants and vegetation in their country. Then they translate these stories into simple drawings. Their designs are then transformed into patterns that are printed on various fabrics. Once screen printed, these textiles turn into design objects, and women learn not only silk screening techniques, but also tailoring, embroidery and sewing, so they can produce wallets, handbags, bedding, blankets, tablecloths, and so on.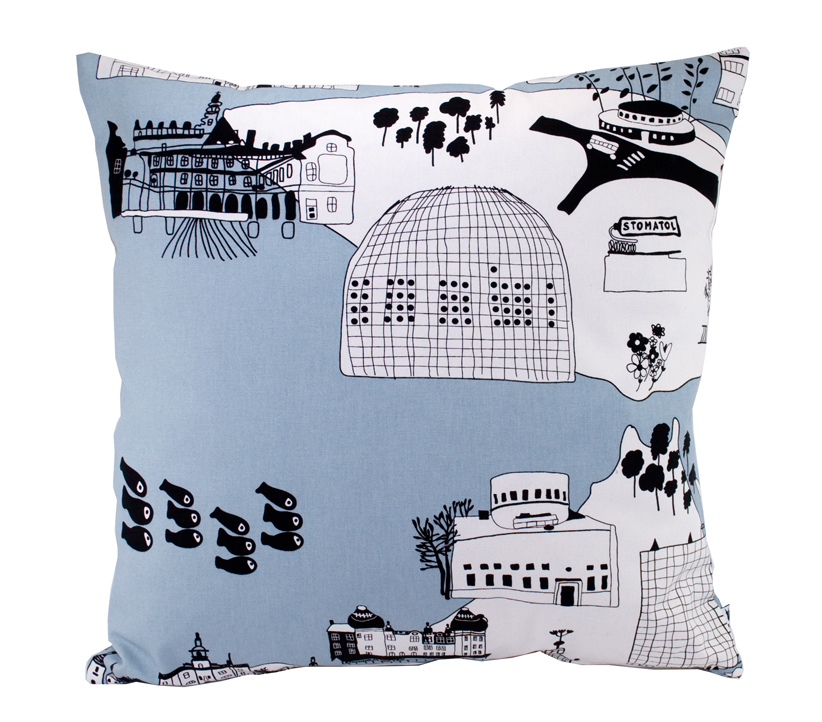 These objects are sold in design shops, museums and so on, and the funds are returned to Livsticket, allowing them to continue their education.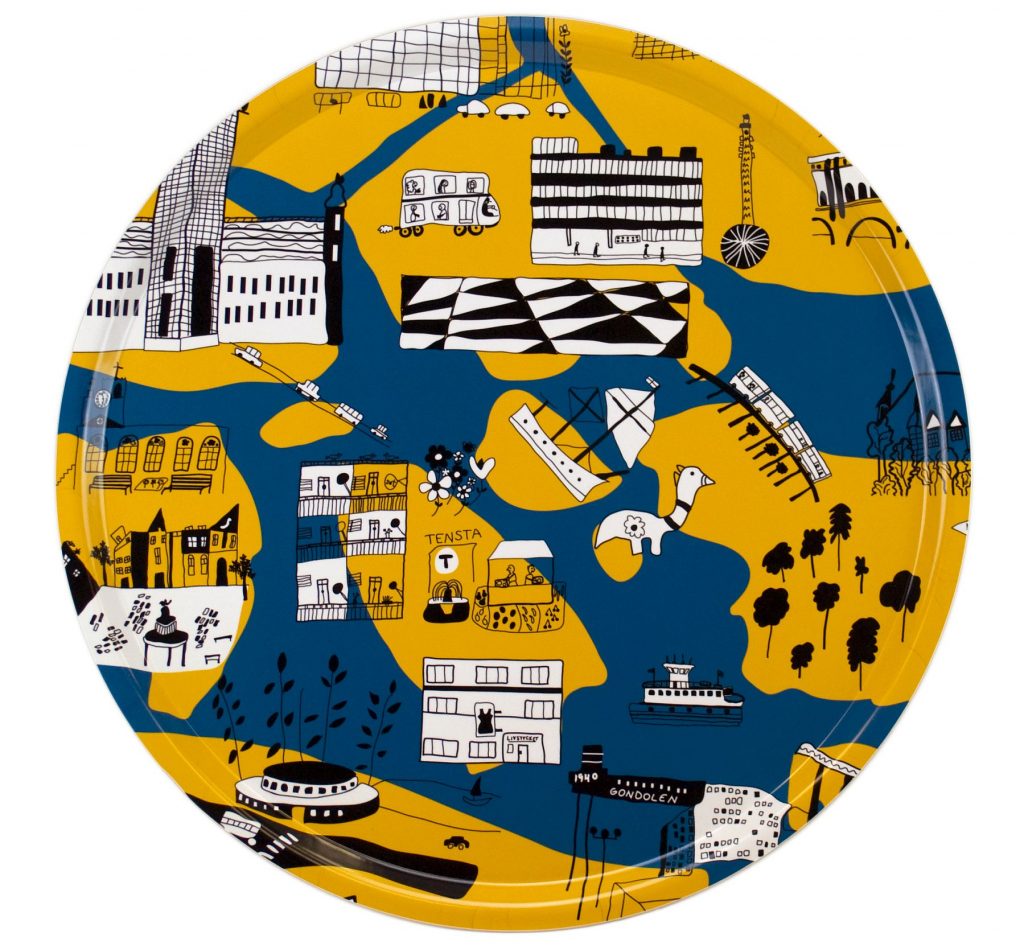 For her work, Birgitta Notlöf has won several distinctions and major medals including: Pro Patrias Medal for Services to the Civil Society (2011) Stockholm City's St Erik's Medal (2012), The Nor-dic Museum's Hazelius Medal for Local History Care Achievements (2014) and His Majesty the King's Medal of the 5th Size (2017).
*Fika Talks
Fika is a typical Swedish term with the basic meaning "to have a coffee", often accompanied with snacks; the coffee may be replaced by tea or refreshments. In fact, Fika is rather a social institu-tion in Sweden. More than "to have a coffee break", it means to have a pleasant respite with your friends, colleagues or kindred. Inspired by the Swedish concept of Fika as a habit to cultivate healthy relations and exchange of ideas between people, we have created a special space for dia-logue with Swedish personalities – PUCK – pop up creative kit. Our first guest was Jan Ryden, art-ist, curator & writer who lives & works in Stockholm.
Fb event
Organisers: Zeppelin and The Swedish Embassy
Financiers:
Cultural project financed by the Romanian Order of Architects – OAR, with the Architecture Stamp
Cultural project financed in the frame of the Cultural Program "Bucharest Participatory City" by the Bucharest County Hall through the Cultural Center of Bucharest – ARCUB.
Co-financed project by the Administration of the National Cultural Fund (AFCN). AFCN is not responsible for the content of the project or for the way the project results can be used. This is entirely the responsibility of the beneficiary of the funding
With the support of: H&M, IKEA, Scania, Skanska, Ecolor, Papyrus, Absolut, Securitas
Partners: The National Museum of Contemporary Art – MNAC, the Association of Architectural Innovation – Casa A.I.A./Concrete House, Civil Society Gala – Diploma Project, Atelier fata Frontiere Association, Expirat by Halele Carol
Media partners: Arhitext, Bucureștii vechi și noi, Cărturești, Designist.ro, Feeder.ro, Graphic Front, Ideaslab, Igloo, IQads, Modernism, Radio România Cultural, Radio România Muzical, Șapte Seri, The Institute.

The PUCK Project – Fika Talks 2 is the third event of Creative Sweden #4 programme organised by the Zeppelin Association and the Swedish Embassy.