Text & photo: Ștefan Ghenciulescu
This article is not about the already famous gigantic cross with twinkling lights proposed for University Sq as a monument to the 1989 Revolution; it is only the latest in a series of authoritarian and pompous actions that have been rained upon us from various city administrations in the past years. Impaled potatoes, grotesque busts, monstrous princes, cumbersome allegories…
Beyond the lack of artistic culture of the commissioners and the fact that they waive any advice or public consultation, the problem seems to be the need for bombastic: in order to remember or simply to honor something good and beautiful, you must exaggerate, look for grandeur, size, magnitude and maximum visibility. They must be seen, literally jump at you. Otherwise, the monument doesn't work, it seems.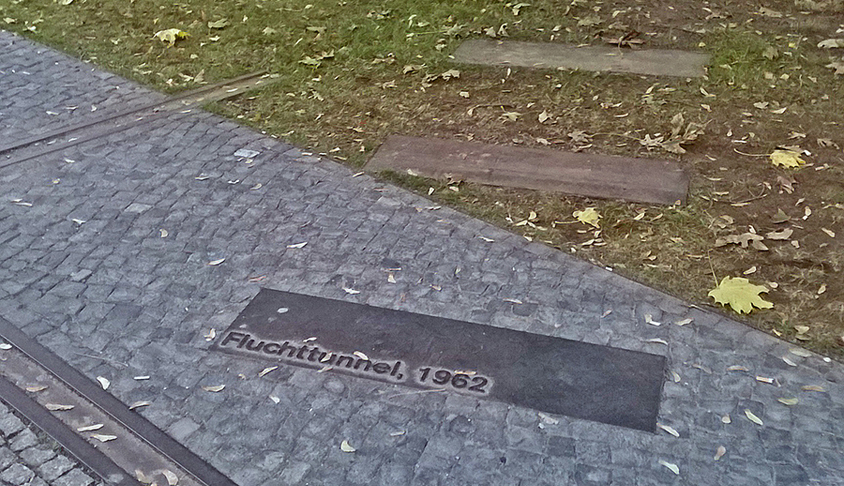 I remembered that quite recently, when, during a trip to Berlin, on a completely different topic (independent urban initiatives), I saw the latest developments in memorial architecture in the city. Berlin is famous also due to its immense – and discreet – network of commemorative interventions: different marks of the former Wall, a window in the pavement in the place where books were burned at the beginning of the Nazi regime or metal plates in the sidewalks with names and addresses of the tens of thousands deported to concentration camps.
In Bernauer Straße area – one of the most significant portions of the Wall – they have been working for over 15 years at a memorial complex: preserved portions of the wall, a church, a monument, an information center, and, as last stage so far, an urban and archaeological route for finding, preserving and enhancing some remains and discrete markings of places and historical events. Among other things, some alleys, almost lost in the grass, are marking tunnels of the Stasi secret police, or, conversely, escape tunnels; or a symbolic reconstruction of a house on the border line, where, before being demolished, split families could still see each other and talk – some on the sidewalk in West Berlin, the others from the window in the East. And so on, a set of minimal, precise and emotional gestures.
Well, Berlin is an outstanding example in the world, and I really did not want to come back to the same old grind "here things are bad, there things are good". Without returning to Brâncuşi, let us remember that in the 90s such gestures were also possible here. Recall, for instance, Radu Mihăilescu's Fountain of Names in Timişoara, or the exceptional Sighet Memorial by the same architect. Rather than complaining about how things have evolved since then, maybe we can try a little bit harder to build an alternative. Surely, one cannot achieve immediately a revolution of modesty, of the familiar monument, of authenticity; but maybe, since there are increasingly more interventions and urban activations, maybe we also should stop letting this whole monument thing only in the care of the authorities; maybe we can trigger or influence interventions of memorial nature, where the place, with its history and people related to it, is the project generator, not a mere background for vain objects.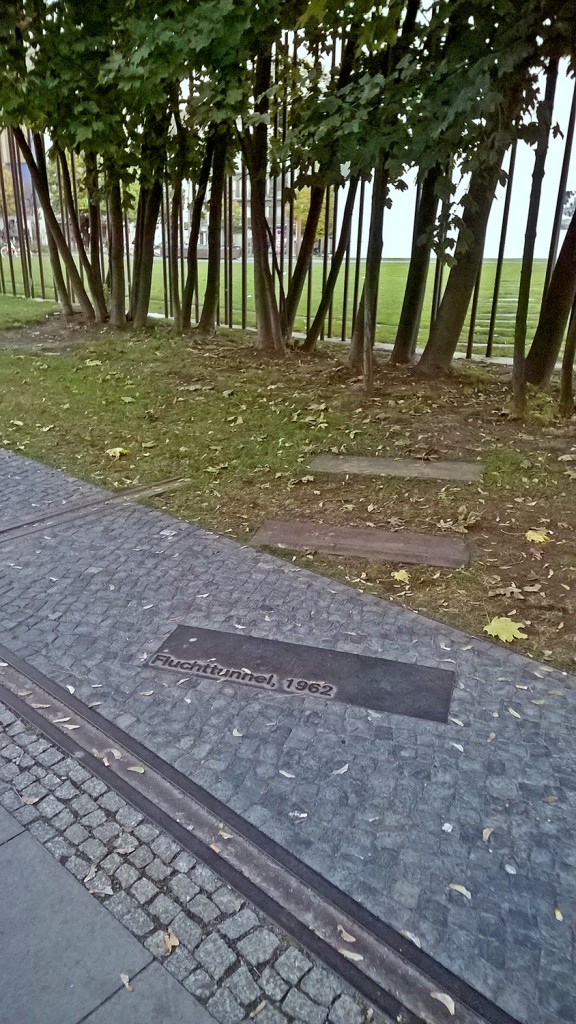 Photo: A former escape tunnel under the Wall made visible, Bernauer Straße, Berlin