I met Vlad Bina in the very early 90s, when I was a young architecture student, while he had just graduated. He was considered by his teachers to be an outstanding student and graduate and I remember his wonderful hand drawings. He left for the US, where he works in feature film Production Design designing digital and physical spaces for storytelling. He is using for this an extensive 3D computer graphics experience built on an architectural, design and art history background.
He has been involved for 20 years and 22 films in a supervising position in most feature film creative departments, from Previsualization to Art Departments and VFX. The list of iconic movies he was involved in is staggering. He has been working with companies such as Third Floor, Cinesite, Manex, ESC Entertainment on films including the "Matrix" sequels and "The Da Vinci Code".
He worked for 12 years as a Digital Art Director on several feature films including "Man Of Steel", "In Time", "Upside Down", "Midnight Special" and also a robotic opera ("Death And The Powers") and an augmented reality installation for Intel ("Leviathan"). He also worked in Visual Development within DreamWorks Animation for 2 years.
Recently he was a Concept Art Director on Brad Bird's "Tomorrowland", being involved with the 3D city design, an Art Director for "Guardians Of The Galaxy 2", Concept Designer for Luc Besson's "Valerian" and Supervsing Art Director for Disney's "The Lion King". He also collaborated with Oculus Story Studio on an interactive VR film that was released at Sundance this year based on a Neil Gaiman story called "Wolves in the Wall". (Ștefan Ghenciulescu)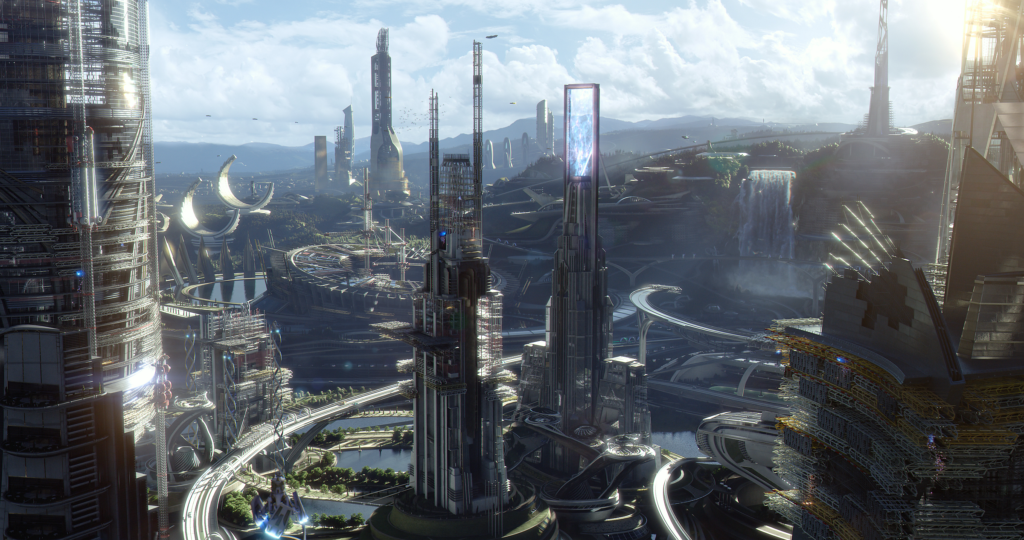 *Tomorrowland, film frame ©Disney, 2015 / Production Designer: Scott Chambliss. Regizor/Director: Brad Bird / ©Warner Bros

Text: Vlad Bina
What we saw in the studio system of the past 10 years was a transition from artisanal post production houses to massive VFX factories that can take in thousands of shots and deliver on time at consistent quality. A few UK VFX houses replaced the entire Southern California VFX ecosystem. The main players now are MPC, Double Negative, Framestore (all 3 UK based with shops in Canada) and Weta in New Zeeland. There are a few boutique studios left around the world, yet they only take specialized shots, usually subcontracted from the large houses. ILM is the only large company still in the US. A few Australian companies are still doing decent work but nothing at the scale of the big 4.
This said, the design of the US studio films is still concentrated within a pool of artists unionized in LA under the Art Director's Guild. I joined the guild in 2007 and transitioned at that point from post production to pre-production and production proper. I was lucky to collaborate with a very good designer on my first 5 films as a production art director: Alex McDowell. He did Minority Report and Fight Club before I met him. He is quite diligent to use film design as a research tool and create multi-layered film worlds with a coherent logic and design. Production design as a future predictor is not new (I am thinking of Metropolis and Blade Runner) but it is neglected in the rush to meet box office expectations.
Between 2009 and 2016 the shows and the Art Departments were usually travelling to various locations based on production cash credit availability, but starting last year California matched these credits so they started coming back. On the other hand, being on location allowed me to work months at a time in cool places such as New Orleans, Montreal, Vancouver and even Atlanta (which is a surprisingly diverse and fun city).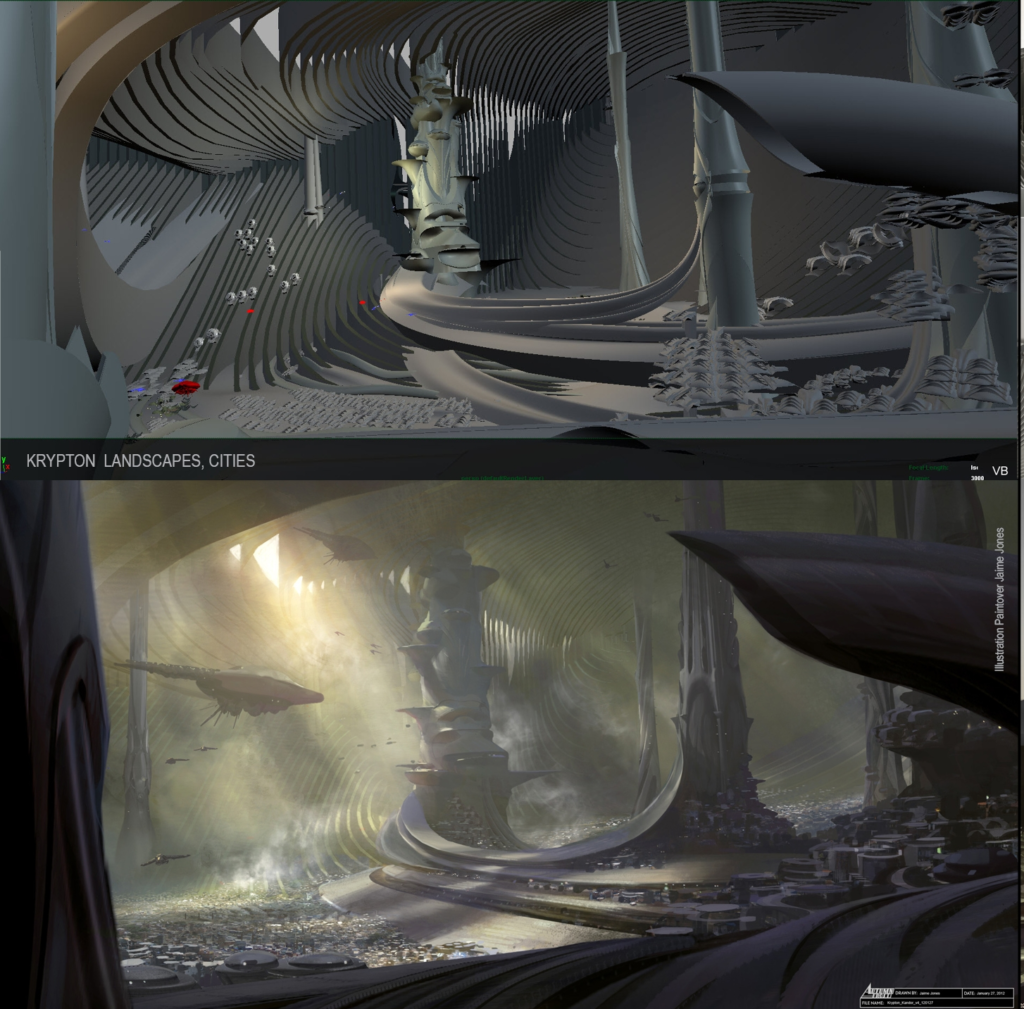 *Man of  Steel, 2013. Production Designer: Alex McDowell. Director: Zach Snyder / ©Warner Bros
I was involved mainly on re-imagining Krypton as a self-contained world with its own history and rules. We built the visual language of the planet and civilization on
three undercurrents:
1. Biomorphic shapes (flowing lines, Art Nouveau references),
2. Eroded desolate landscapes created by ruthless resource plundering (we generated a planet crust broken by deep industrially made vertical striations with the population driven into underground cities)
3. Hieratic symbolism specific to an ultra-conservative culture.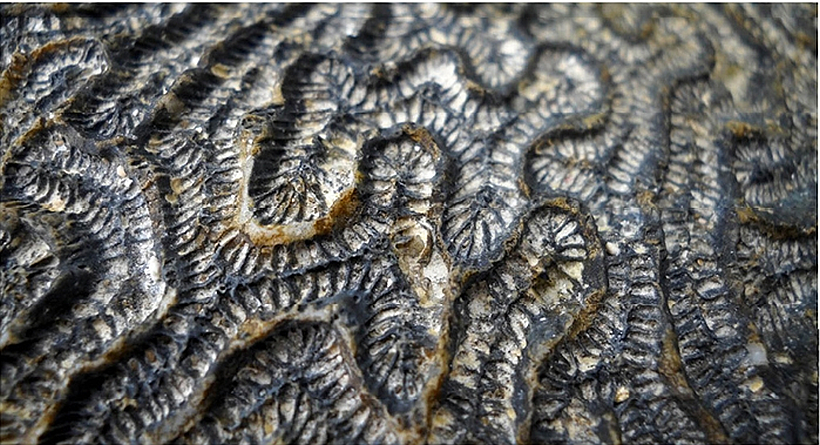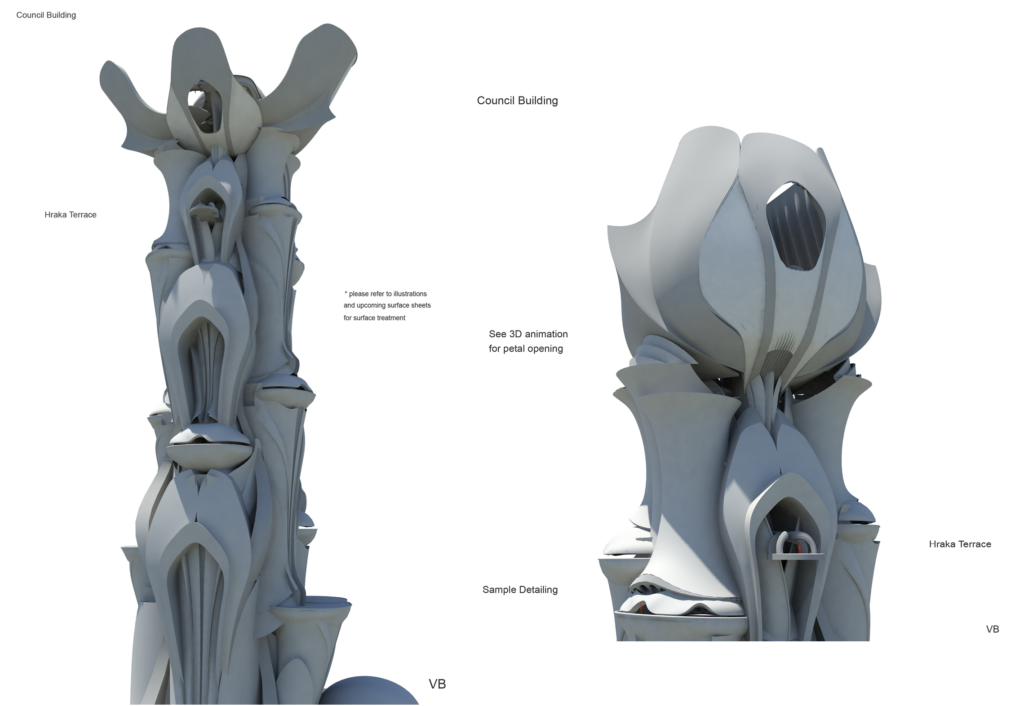 *Man of  Steel, 2013. Detalii ale Clădirii Consiliului de pe Krypton.
In order for the virtual world to be plausible, it must not go against basic laws of gravity and principles of construction. The images present the centralized 3D model for production: information is added to it by illustrators, but it also serves as a base for building the real-life set.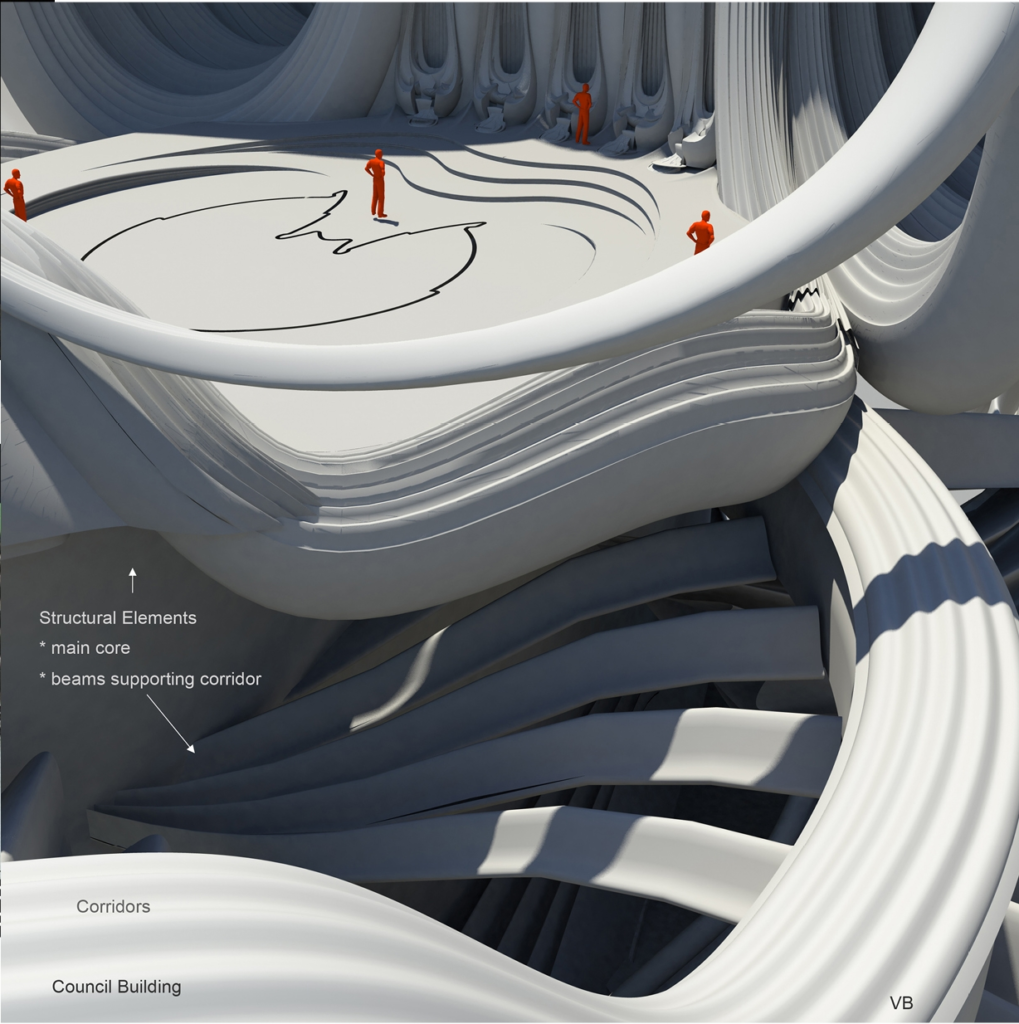 *Man of Steel, 2013. Genesis Tower – studio set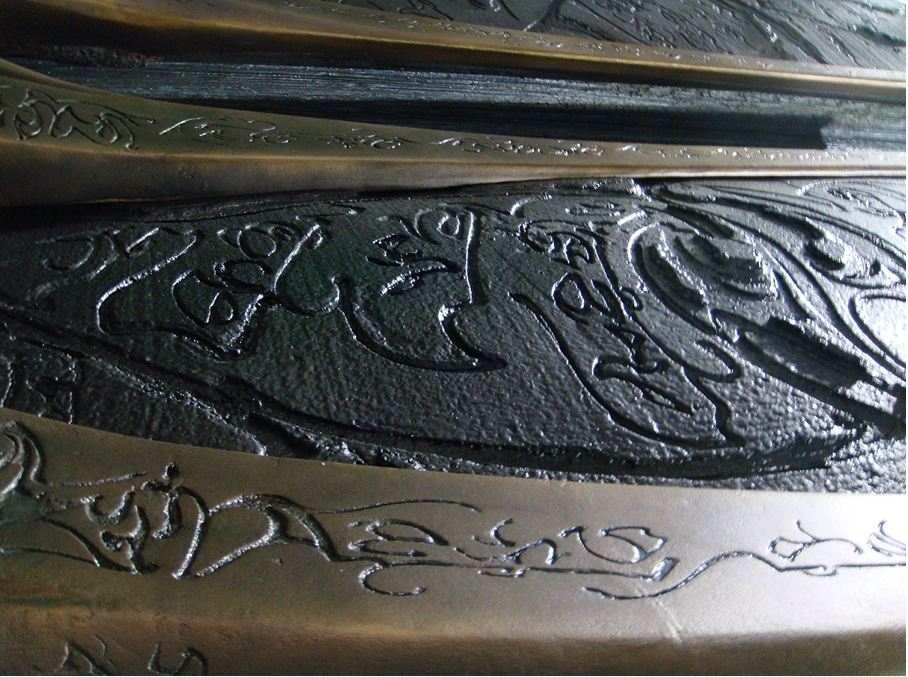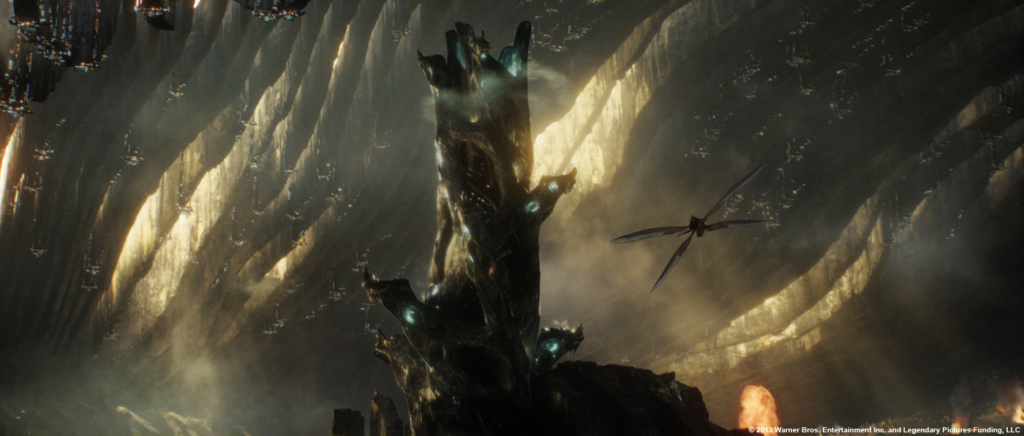 *Man of Steel, 2013. Council Building – film frame

A few words about the Art Directors Guild: it is a professional guild covering the contracts between the film studios and the art directors, set designers, concept illustrators working on unionized feature films (most large studio features are). It was founded in 1937 and is still very powerful. Normally I am not necessarily for a unionized work environment but in this case the organization kept the design work from going abroad and made sure the studios are not abusing their contractual leverage.
Also, interestingly enough, the Art Directors Guild keeps a traditional American art department hierarchy almost unchanged since the 1940's. Art Directors, Set Designers and Illustrators each have their own credit niche and job description on the guild roster, slightly adjusted to work with the new digital tools. An Art Director responsible for the budget and studio meetings becomes a Production Designer. He is the link between the producer, director and DP to the art department.
The profession is thus regulated, you can always use the guild lawyers when needed and so far they hire the best in town. Which is not to be said of the AIA, who basically gave the profession away to contractors after a landmark 1971 anti-trust lawsuit.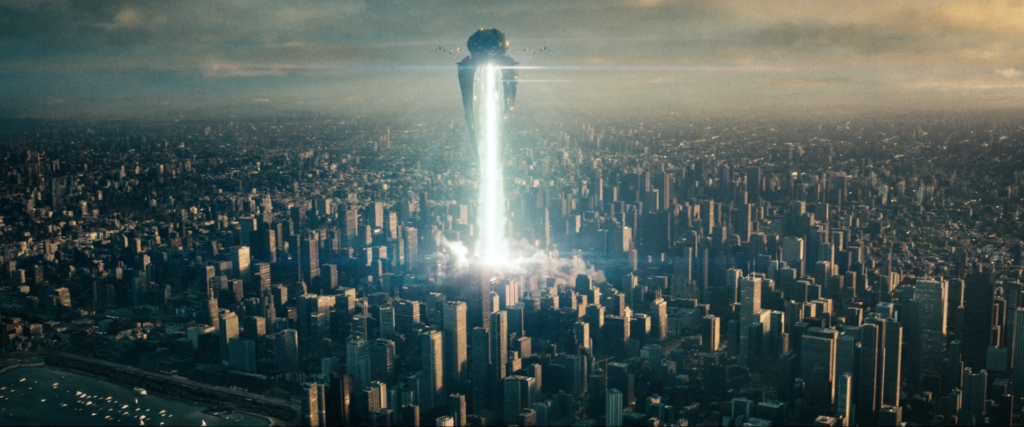 Generally the film timeline on a small production before it goes to post is about 4-6 months, can go up to 1 year on large ones. The principal photography can last between 40 days to 90 days, rarely longer. The preproduction takes the bulk of the time, the construction happens very fast and the shoot needs to be efficient because of the daily costs involved. And then the set is "scrapped" in a matter of hours to make place for the next one.
In the last few years this art department / previs / vfx divide seems to have become smaller. Also ironically, even though the Art Department is addressing now in detail set extensions and digital spaces, ever since "Batman Begins" the ratio between digital and physical has shifted back towards the physical in many large studio productions. Christopher Nolan is using digital sets very sparsely for instance; I was surprised to find that the 5 dimensional space in the "Interstellar" finale was largely a physical set.
On my recent films I was lucky to keep a direct pipeline among the Art, Previsualization and VFX departments and create a good reference package for the Set Decoration, Props and Costume Departments. I use a tool set borrowed from VFX, architectural and industrial design to assemble a common 3D design database, continuously updated throughout the film production.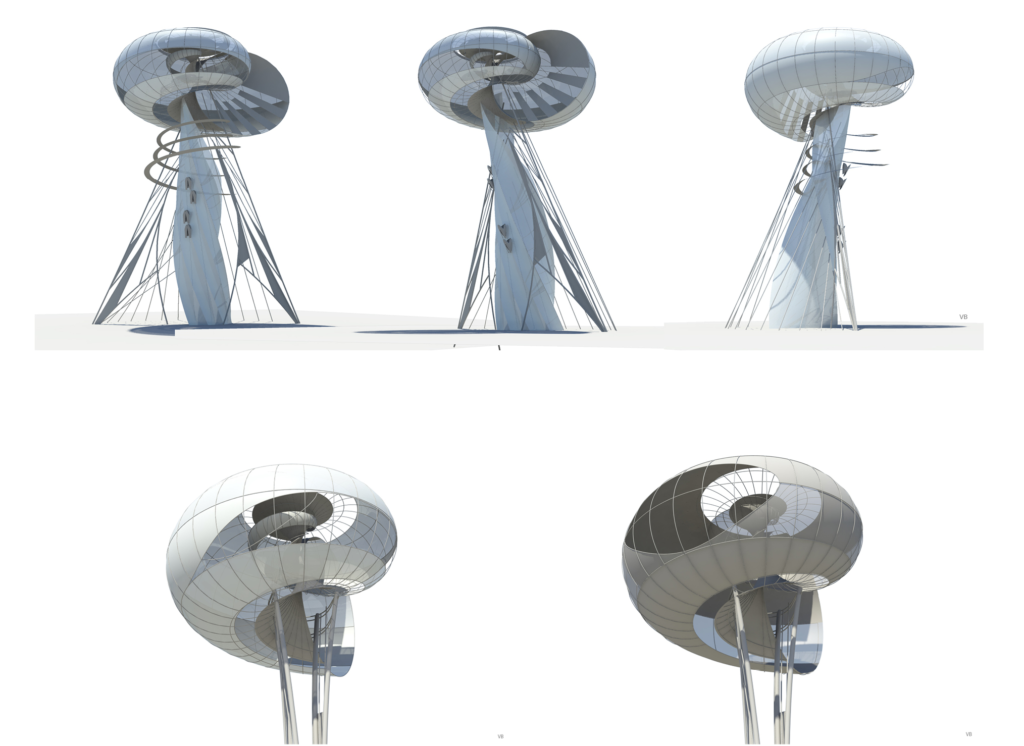 *Midnight Special, 2017. Production Designer: Alex McDowell, Director: Jeff Nichols / ©Warner Bros
It is a basically centralized 3D model of the film visual world used to coordinate the work of illustrators, storyboard and previsualization artists, set designers, construction crew members and VFX supervisors. A bit of a BIM but with flashier visuals. The model evolves through multiple iterations incorporating the visual feedback and details coming back from all the artists and departments mentioned before.
This schematic "film world" 3D model clarifies the subject of any discussion among and within the departments and puts hard dimensional or financial data behind decisions being made. You can always answer questions about design, cameras, dimensions and green screen navigating the model with the director and DP by your side. Lately we have been doing this in a VR headset. You just hand the goggles and controllers to the director and get him into the 3D space together with the DP to set cameras and approve angles before the actual construction begins.
It is interesting to note the variety of tools and backgrounds of the art department members. At this point a majority of them uses some flavor of 3D in their work but since they come from fields as varied as classical painting, mechanical engineering, product design and architecture the software they use is all over the board. My own 3D tool of choice (Maya) is acting as a hub to all the 3D data since it is built with very good database capabilities.
Game engines such as Unreal and Unity (basically scene assemblers with real time photo-real capabilities) are also becoming solid presentation and scout tools for design decisions. I saw a few architectural companies using them too for client presentations.
I have touched most technical bases, so I can pontificate a bit now on the creative aspect. It is hard to find a film where everything falls in place to your taste and then this doesn't necessary mean a good box office. As a general rule most low to mid budget films tend to be more satisfying than the large ones both in terms of creative freedom and process. I loved working on "In Time", "Upside Down" and "Midnight Special".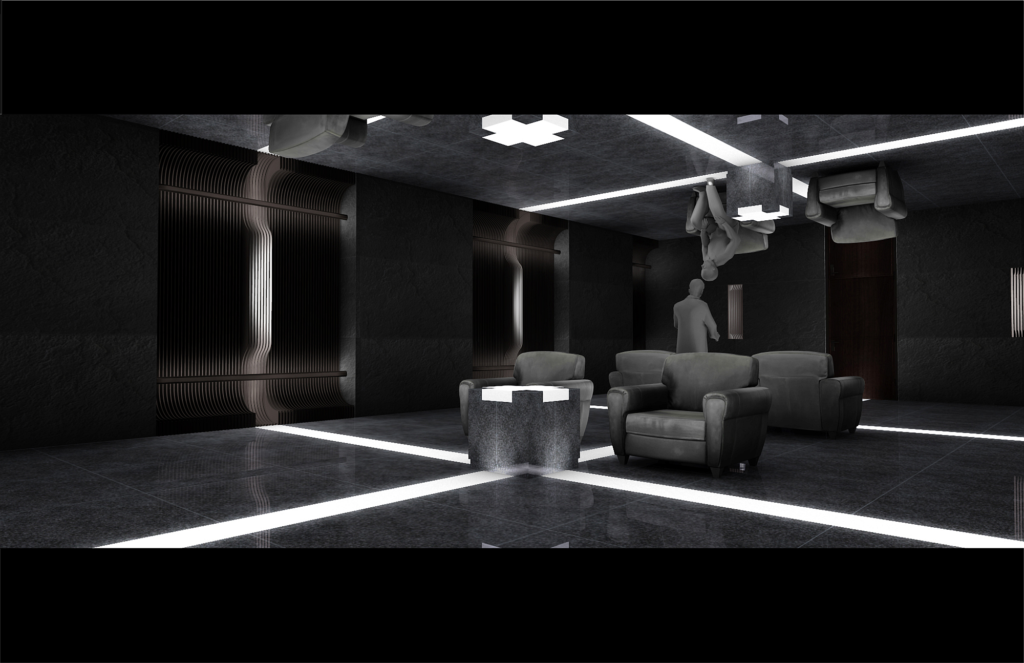 *Upside Down, 2013. Production Designer: Alex McDowell. Director: Juan Solanas / ©Onix Film
The virtual base model, filming in the studio with real props and green screen, the final frame.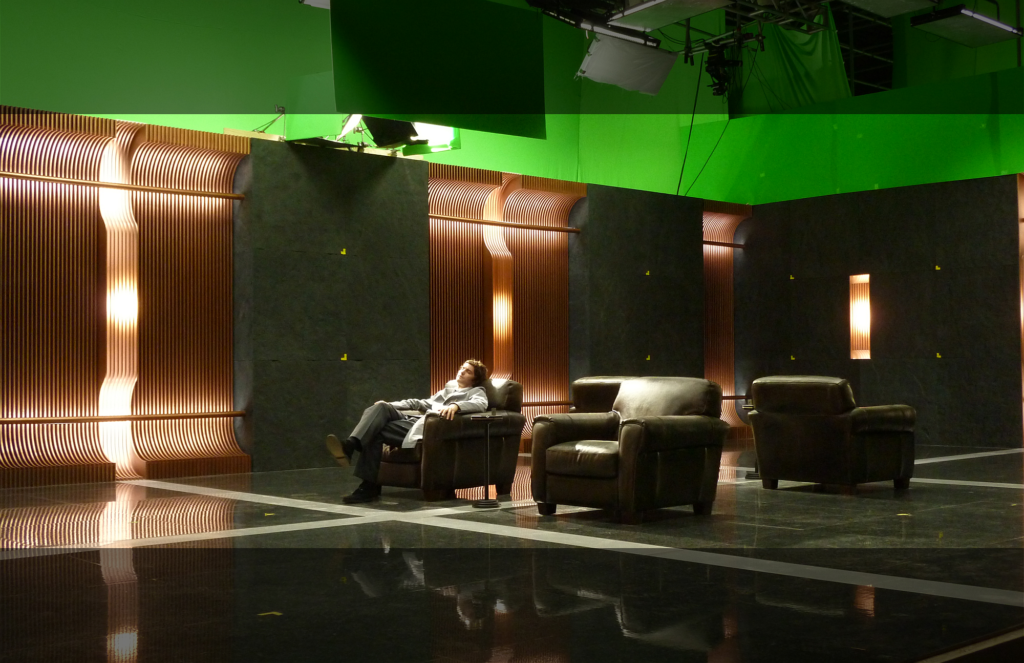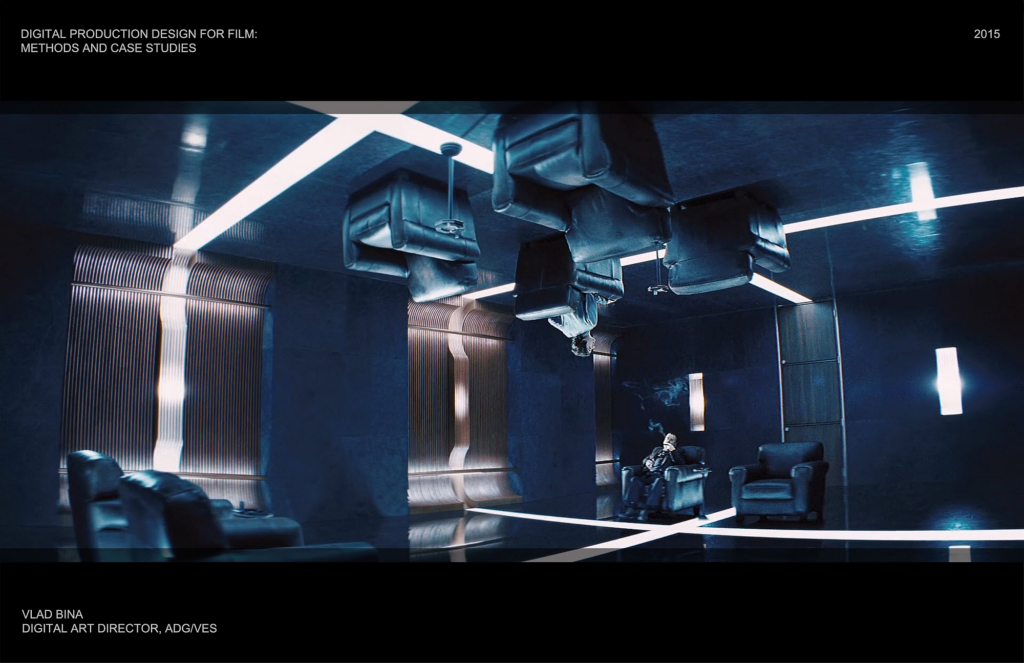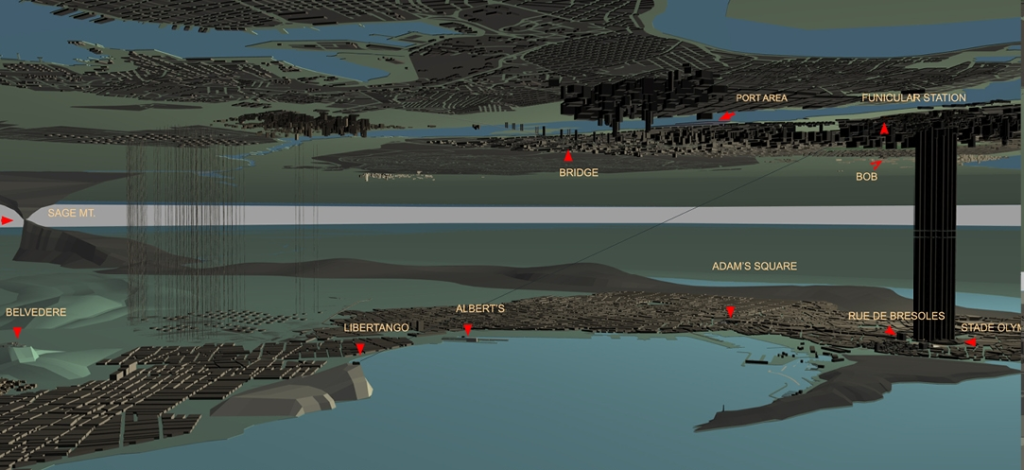 *Upside Down, 2013. What most people don't realize is that a digital set is not a collection of background images, but a digital world, with its spatial character and overall coherence.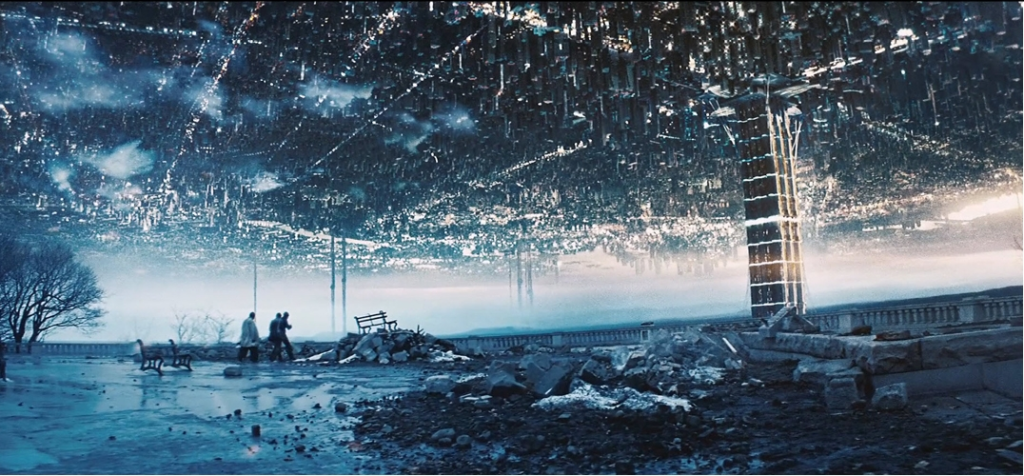 Large films can bring an interesting technical experience and some visuals will end up very polished because of the massive resources allocated in post. Still, I was taken by surprise last year while supervising the design and build of a virtual savannah and rain forest for "Lion King" (a bit outside my architectural expertise). Initially I took the project just for the story and the VR shoot process, yet the entire production ended up being a pleasure. I also enjoyed the process on "Man Of Steel", which was the longest production I did so far.
In any case, since control over the final release can only go so far, what we can do is to make sure the world we create for the film is original on every level with a deep research and reference system behind it.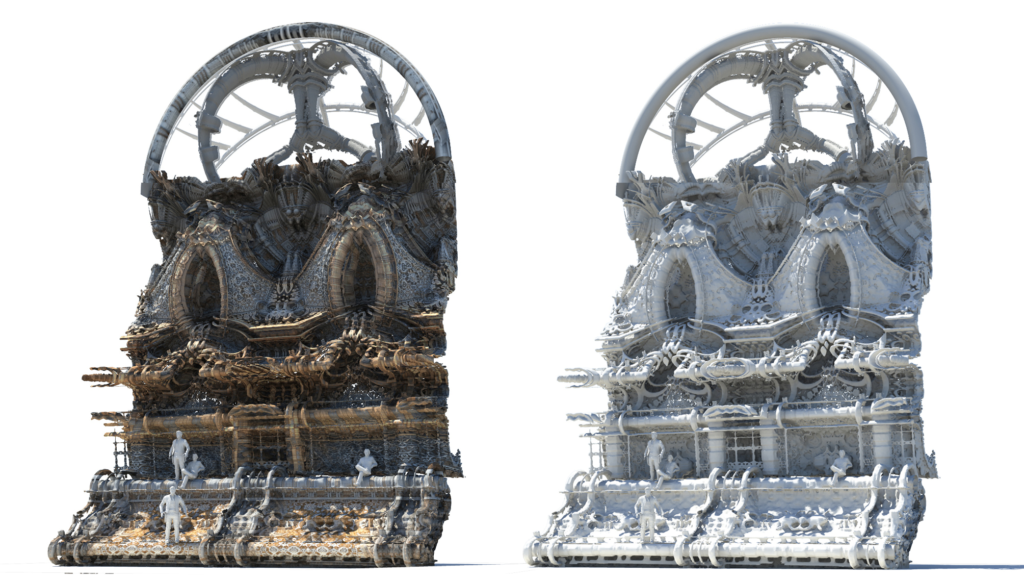 *Guardians of the Galaxy, Vol. 2, 2017. Production Designer: Scott Chambliss, Director James Gunn. ©Disney
One of the worlds in the film was to be generated artificially by mathematical equations. The architecture ended up as a blend between baroque shapes and high level fractal detail programmed by Hal Tenny.
Related to this idea, I have these mini-projects in China where all I do is assemble a PDF document with references for a film treatment. Pretty much, I bring new visual ideas to the table so that a production company can pitch a film to investors. It's the equivalent of a sketch, I am very pleased and a bit surprised too that it sells.
Recently I started to look closer at interior design for entertainment and leisure. I had a few experiences in this direction, one with Boeing for a customer center and one assembling a visual pitch for a cinema chain.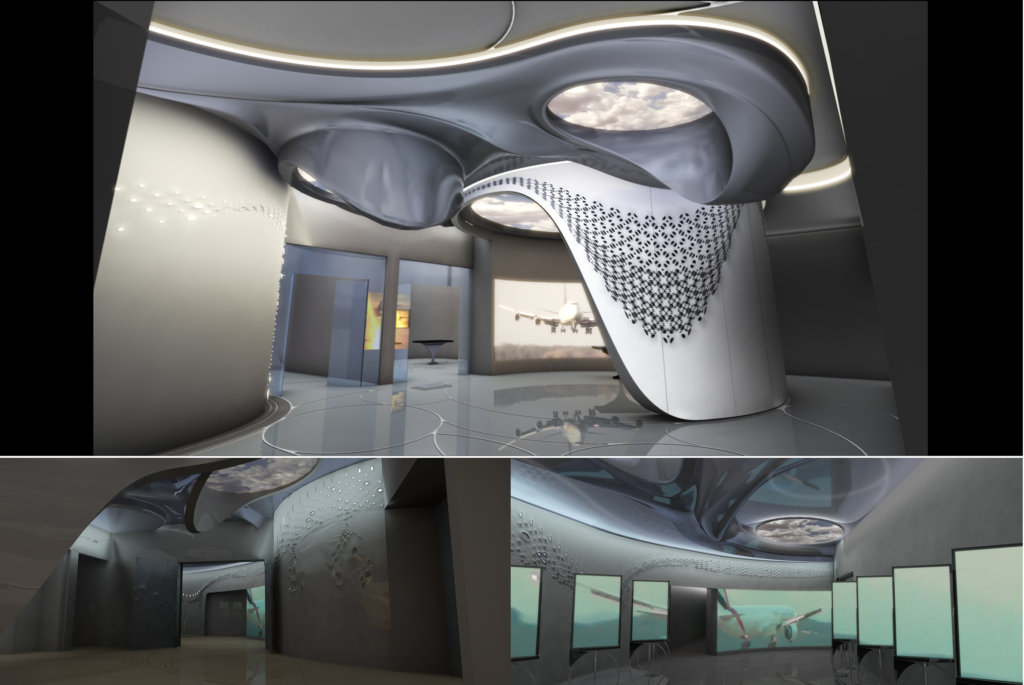 *Fom film to real life design: Boing Customer Center, with Alex McDowell and Hernan Diaz Alonso
With commerce moving online, we will have a glut of empty malls and large commercial buildings coming up in the next few years. Since the average leisure time per person is also going up, these spaces will most likely be scripted for an entertainment function (boutique hotels, themed bars and restaurants, cool co-working spaces). This is a niche that has more in common with SET DESIGN than with traditional INTERIOR DESIGN. You can script a leisure SPACE the same way you script a FILM. Soho House, Naked Retreats, Mama Shelter are just a few companies jumping to meet the trend.

Bringing a bit of new tech into the mix can spice things up. Here are just a few building blocks that can give minimalism a run for its money while staying away from Vegas: parametric data sculptures, 3d simulations on spatial led panels, spatial light projection, dimensional walls and ceilings, use of hi-tech fabrics, kinetic sculptures, embedded lighting effects, indoor video mapping layered with real foreground elements, 3d milled decorations. These could get a public space close to a set. We only need to find the right script for it.
Related article: