A Zeppelin book about scrap design and micro-architecture: recycling, pop, economics, low-tech, neorealism and some poetics.
Volume nominated for the National Architecture Biennale 2016 – Architecture Publications
Justin Baroncea and his colleagues gathered vinyl records, radiator elements, old cabinets, photo objectives, jars and cartons of milk, pieces of torn down buildings, skis and design tables and they recomposed them in over a hundred lamps, tables, chairs and benches. These objects are the main characters of the book. Each brought along its own history, but also the potential to transform, to reintegrate in a new project that does not cancel the initial story, but helps it grow.
Every year there are more and more artifacts, household items, in increasingly larger series. Technological developments fueled by consumerism and a burning desire to be "up to date" with the latest releases led to increased productivity and, as a consequence, an increased amount of objects that arrive more quickly in the dumpster.
All these objects we leave behind have a story often linked to the production system, owner, or internal structure. A story that can be exploited and can act as a starting point for a new project. Paradoxically, the very banality of the story often becomes a reason to act.
This is a book of biographies of things, of stories which are (re)written and grow along with the transformation of the objects.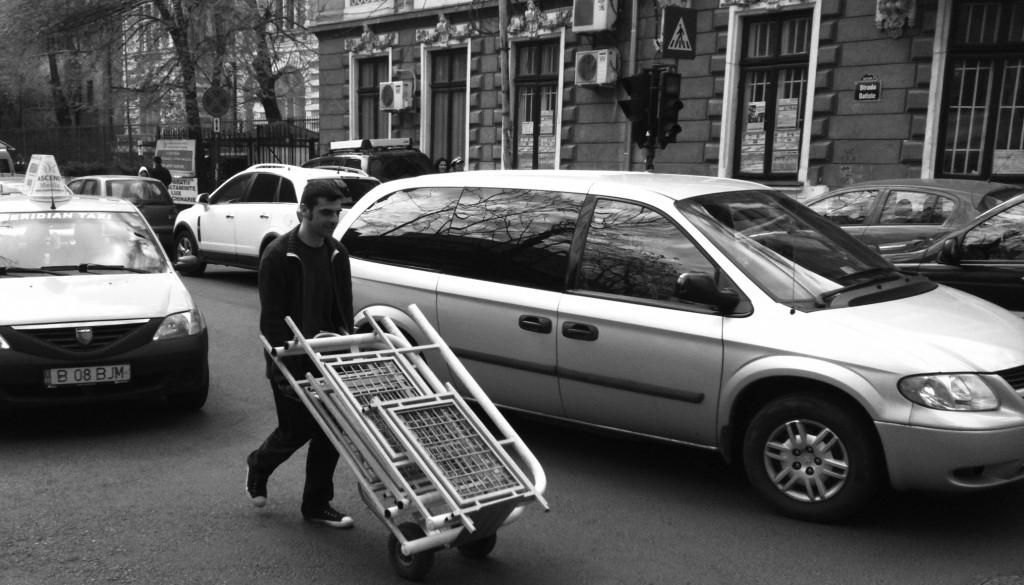 Justin: "The stories could have been written differently if we had proceeded in a different way. But the conclusion would have remained the same: DIY expression comes from the transparency of the production process and the sum of all the individual stories, combined in the presentation, results of history as a sum of traces. No matter how tempted we are to characterize the process as reinterpreted Dadaism, the utility and redefined function take the new objects out of surrealist poetics and lead them into the daily expressiveness much closer to pop trend. The stories are about milk cartons and skis that do not want to get into art galleries, but in kitchens and toilets. We do not claim to approach the aesthetic value of the gesture of putting a urinal up in a museum, but to exploit the expressiveness of the tin, to which we added a ventilator and suspended it above the urinal, which stays in the public toilet. If I took the dust box climbing up a rabbit to reach the shelf, I can imagine that the Hatter is also somewhere around… "
Projects:
RDX – or what are the heaters doing in the streets
Lenses – or jerky flight with a meat mincer
Satellites – from university to the ceiling
Rabbits
CND_B
Warehouses
No cookies
Lokal – auto recycling
Justin Baroncea has worked as architect since 1998 in Romania, then Spain, then in both countries. Since 2008, he has been working along with Point 4, Zeppelin, Pandapanda or Q-Group. He has exhibits at Aiurart, Anaid, Ivan Gallery or in improvised spaces. Since 2009 he has been presenting urban furniture at Street Delivery. With Eduard Gabia, he built from 2010 to 2014 sound systems. With Andrei Dinu he staged in 2012 at Aiurart the S4 installation. In 2009 he got into design and continues to discover new work systems.
Format:
16.5 × 23 cm; 160 pages; ISBN 978 973 0 20446 9
The book will be available at Carturesti and Humanitas bookstores in Bucharest and countrywide.
Edited by: Zeppelin
Author: Justin Baroncea
Editor: Ștefan Ghenciulescu
Photo: Aiurart, Justin Baroncea, Adrian Dobre, Radu Enescu, Malaşincu, Stefan Pavaluta
Design: Radu Manelici (Faber Studio)
DTP: Aurelian Ardeleanu
Correction: Lorna Chitan
English translations: Cristina Petrescu
Team Zeppelin: Raluca Marțiș, Camelia Caciuc, Mugur Grosu, Adrian Hariga, Andrei Ferche
Printing: Master Print Super Offset
Bucharest, 2015