Exhibition and conference – Friday 22 May 2015
18:00 – Opening: 5 installations -interventions in the public space of Halele Carol, realized by artists and architects from Norway and Romania
Curators: Evy Sorensen (USF) , Cosmina Goagea and Ştefan Ghenciulescu (Zeppelin)
19:00 – Conference with presentations by the authors on their design of the site-specific intervention in the context of their work practice.
Marit Haugen (No)
Erlend Blakstad Haffner (No)
Finn Eirik Modahl & Arne Revheim (No)
Meta van Drunen (Ro)
Constantin Goagea (Ro)
Exhibition open five months from 22 May – 30 October 2015
Facebook event – here
Under Halele Carol (Carol Factory) name, Zeppelin Association initiated a process of transformation of a former industrial site in Bucharest, a place of events and urban culture, opened to the public since 2014. The project addresses the topic of transformation of industrial areas and iconic industrial architecture by setting an example for reuse of the factory site of Halele Carol in Bucharest in the Carol park. The project answers to the needs of development of cultural and educational activities and spaces in the south western part of Bucharest. With 3 series of events attention is drawn on the potential of the area to become an urban pole for the city. Moreover it adds to the intentions of the local authorities to revitalize the Carol Park.
The objectives of the project seek promotion of inter-cultural dialogue in Bucharest by creating a program of Romanian-Norwegian co-created artworks and performances and series of events in a non-conventional, emblematic industrial heritage area that will serve as a new platform for cultural and educational experiences thus adding an European identity dimension to the place, and promoting understanding of cultural diversity in the city. Other specific objectives of the program are: consolidation of bilateral relations between Romanian and Norwegian partners, wider access of the public to cultural and educational events and programs, extended possibilities that allow the artistic manifestations in the proposed industrial space.
The exhibition is the first step of the program in this year, curated in partnership with USF Bergen Art Center. The exhibition consists of a path with art installations and design in the outdoor spaces of the factory. This route comprises five works, three of which are signed by Norwegian artists Marit Haugen (Haugen / Zohar Arkitekter), Erlend Blakstad Hafner, Finn Eirik Modahl & Arne Revheim and the other two by Zeppelin. The design of this garden will be inaugurated at Halele Carol on May 22nd, during the Zeppelin Evenings conference series, where the invited artists will deliver lectures. The buildings will host the other 2 series of events set up around this exhibition. The project offers the opportunity to transform the garden of this industrial unit into a public space opened through art.
The exhibition investigates the relationship of cities and nature with contemporary culture by accentuating the Norwegian practices. The exhibition is set up by Zeppelin in collaboration with Norwegian artists and architects as well as a Norwegian curator from USF. It will focus on using wood – a traditional material both in Romania as well as Norway – thus emphasizing the cultural differences, and for production will use numeric machines and digital technology.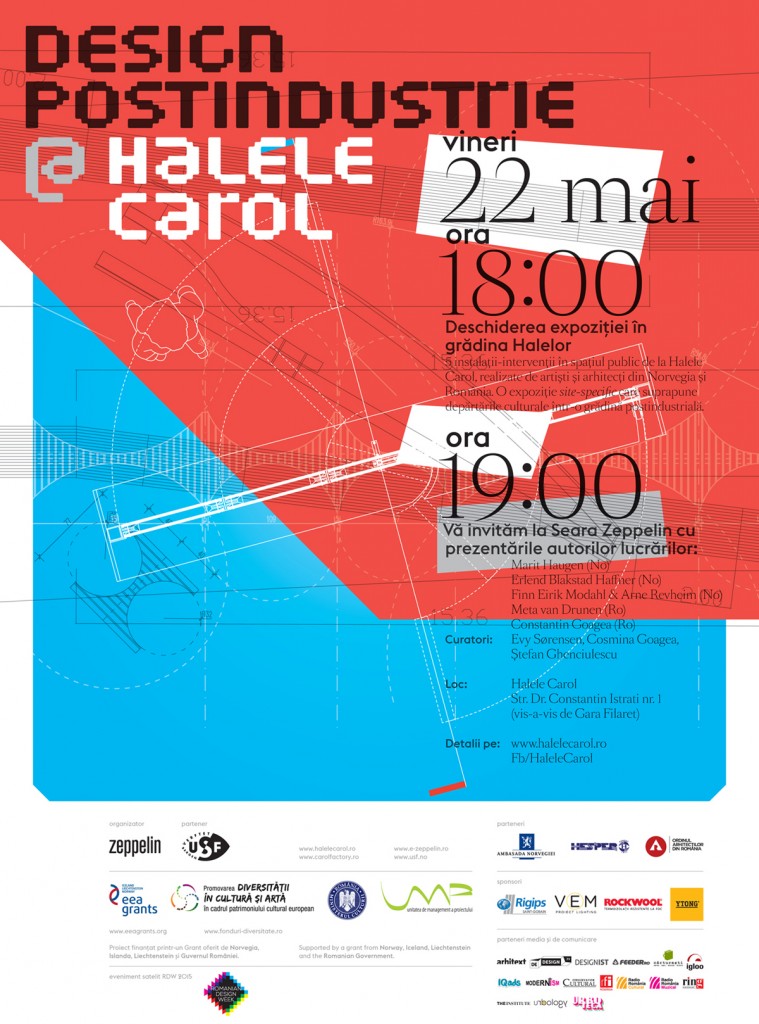 Project organizers: Zeppelin Association, Romania in partnership with USF Bergen, Norway
Project financed by-grants from Norway, Iceland, Liechtenstein and Romanian Government
Partners: Royal Embassy of Norway in Romania, Hesper SA, Romanian Chamber of Architects
www.halelecarol.ro / Facebook Halele Carol