For two months we're bringing the Swedish culture to Bucharest, we discuss and experiment the Scandinavian creativity, we give it a local context and we look into the future. A northern season in Bucharest's effervescence.
Wednesday, October 5th – opening
Magi*k – an interactive exhibition about the history of mass media in Bucharest. We begin with the art deco antennas and end up in present times, when the city is connected to the global network. Modulab & Zeppelin, supported by Swedish companies, bring you stories full of humor, art and technology about fragments of architecture and personal narratives, an unusual exploration of a hidden city visible in crafted antennas, neighborhood networks, white noise on the TV and in the colored pixels of today's magical world.
The visual history of the city written in antennas and cables is complemented by installations that will make us experience the buzzing of the signal and of the invisible waves that carry information and changed our lives.
magi*k – 5 interactive installations, a docufiction about Bucharest's history, from radio to internet:
"The Dark Radio" is the equivalent of Dark Web, the frequencies that are hidden from our radio receivers and the content they crypt.
"Estalgic TV" is a portal to a past when hearing a shout in the neighborhood that announced "Cartoons" or "Dallas!" was enough to empty the parks and the playgrounds, but also when you had to adjust the antenna constantly to get rid of the the static noise (called "fleas" in popular language).
"Lambda (λ)" shows you the hidden beauty of trigonometric wave symmetries that make telecommunications possible.
"RF278" captures all the waves in the visitors' purses and pockets, send out by their gadgets and illustrates them in real time in a spectacular manner.
"Cosmic Soup" adds a cosmic dimension, literally, to the exhibition by viewing real-time radiation coming from stars in the farthest corners of the galaxy. (@MNAC Dalles, October 5 – November 15)
* Fb event
Thursday, October 6th – conference
Future Schools – a conference where design, technology, STEAM education and entrepreneurship come together. A dialogue between Romanian and Swedish intitatives and experiences. Our special guest, Johan Wendt, the social entrepreneur of the year in Sweden, will speak about Mattecentrum and Kodcentrum, national networks for free education.
Romanian intiatives complete the talk with prototypes and new ideas, which you will experience live:
Bogdan Coman takes Woogie, an intelligent personal assistant, out in the world to meet everyone.
Mya Țărmure knows that the future is all about technology, so she founded Small Academy to teach children robotics, programming and technology in a fun and attractive way.
Floriana Boldojar is co-founder of The Entrepreneurship Academy and The Alternative University because she strongly believes we need a student-centered educational model.
Alina Kasprovschi believes that a strong city is built on tight communities and through investment in education. She manages Stiintescu Fund that supports STEM education in schools.
Ioana Calen from Modulab, the host for the event will make sure that the talks will generate impact and results.
(@MNAC Dalles, October 6th, 6:30 pm)
* Fb event
Friday, October 14th – Sunday, October 16th – pavilion @Creative Est Festival
Building Blocks – a small workshop for big wood constructions performed in a Romanian-Swedish coproduction with the help of Zeppelin, Fargfabriken, Eematico, Nod Makerspace, 134 School and Teach for Romania. In short, a group of children imagine an ideal house, a space for playing, learning and everything else they want, and a group of architects take them seriously and actually build this house. Then we show this house for everyone to see at the Creative Est festival. (@Industria Bumbacului & Nod Makerspace, October 15–16)
* Fb event
Tuesday, October 18th – opening
H2O Exhibition – about sustainability, identity and aesthetics in contemporary Swedish architecture, one that deals with water in all its forms, from ice and snow to rain, rivers, lakes and clouds. The Swedish architecture offices participating in the exhibition are Kjellgren Kaminsky Architecture, Kjellander Sjöberg, Notedesignstudio, Petra Gipp Arkitektur, PS Arkitektur, Wingardhs și IceHotel. (@MNAC Dalles, October 18 – November 15)
* Fb event
Sunday, October 23rd– movie night
An evening of Swedish films ending in icy electronic rhythms. (@Expirat Halele Carol, October 23rd)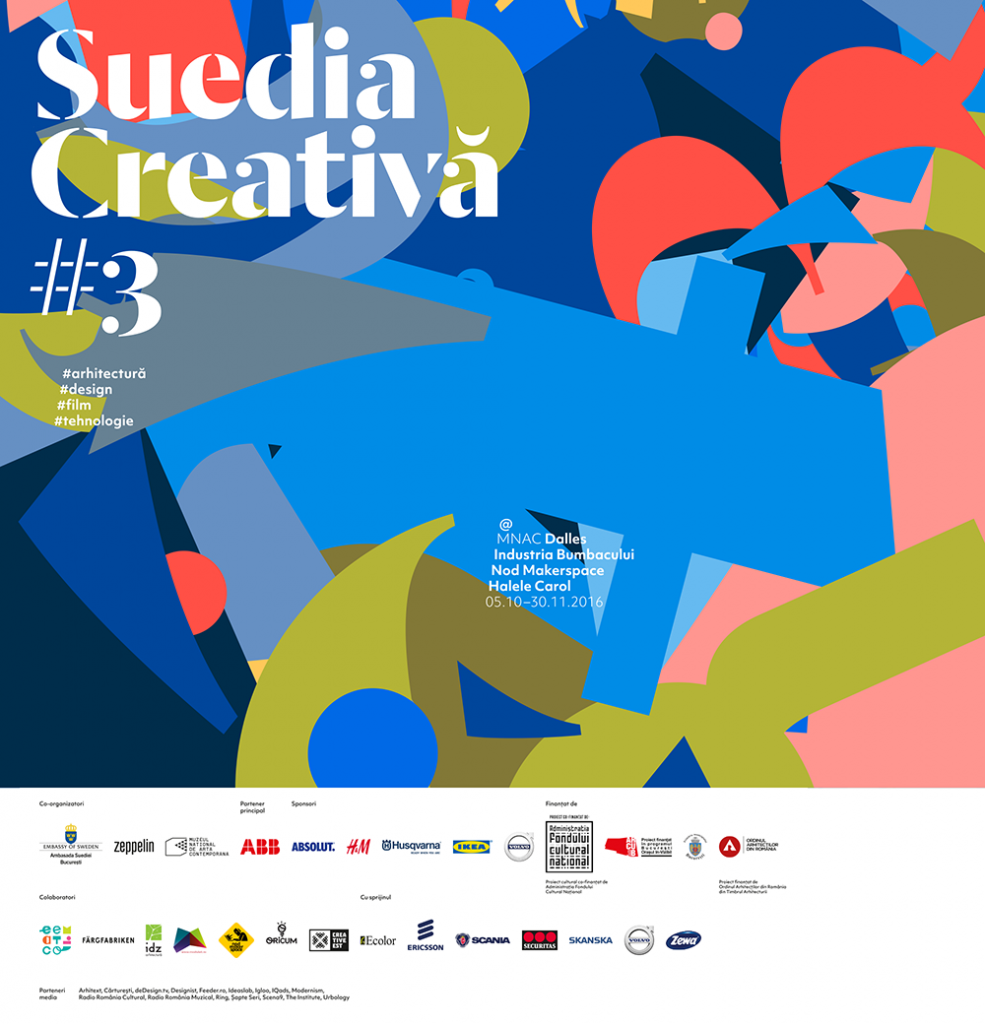 Event organized by: the Swedish Embassy in Romania and Zeppelin Association
Main partner: ABB
Sponsors: Absolut, H&M, Husqvarna, IKEA, Volvo Cars
Supported by: Ecolor, Ericsson, Scania, Securitas, Skanska, Volvo Trucks, Zewa
Collaborators: Asociația Oricum, Eematico, Expirat @ Halele Carol, Fargfabriken, IDZ, Modulab, Muzeul Național de Artă Contemporană, NOD Makerspace
Media partners: Arhitext, Cărturești, De Design.Tv, Designist, Feeder.ro, Ideaslab, Igloo, IQads, Modernism, Radio România Cultural, Radio România Muzical, Șapte Seri, The Institute, Urbology
Magi*k (exhibition and conference): Cultural project financed under the Cultural Program "Bucharest – In-visible city"/ Cultural project co-funded by the National Cultural Fund Administration – NCFA
Building Blocks (workshop, pavilion, publication): Cultural project funded by the Order of Architects in Romania – OAR, from the architecture stamp/ Cultural project co-funded by the by the National Cultural Fund Administration – NCFA
The project does not necessarily represent the position of the National Cultural Fund Administration. NCFA is not responsible for the content of the project or for the way the results are used. These fall under the whole responsibility of the beneficiary.