Project: RoundRobin studio
Text: Anca Mihalache
Photo: Radu Malașincu
A bit of history
The main part of original building was built in around 1825, as the Haberdashers' Almshouses. Later in the 19c the building was used as a school, and in 1898 this was purchased by the London County Council for use as Shoreditch Technical Institute.
English Heritage gave the building a Grade II listing on 3rd January 1950 and the site was used for teacher training until 1951 Hoffman Square was then modernised and re-established as the Technical College for the Furnishing Trades. In 1964, the Institute was renamed the London College of Furniture. In 1972, the building went through another stage of modernisation and before the works had even finished, Walbrock College had moved onto the site, becoming later City and Islington College.
An application for Planning Permission was granted in 1999 for the Hoffman Sq. Grade II listed Building to be converted into 40 luxury apartments.
Flat no. 18 occupies the top floor of the central part of the Hoffman Square precincts, fronting the access from Chart Street. The initial conversion failed to put it to good use, leaving it an open plan space attached to a long fir protected corridor.
About the project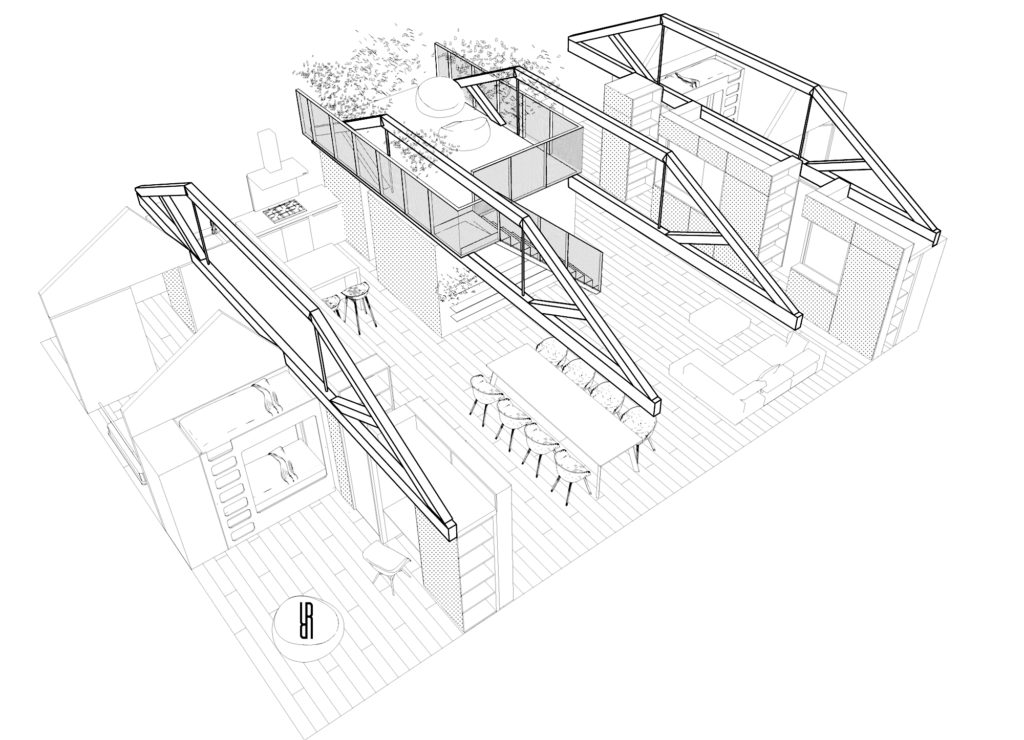 *Axonometry
The current owners, a family of five, were brave enough to invest in this Grade II Listed loft and decided to transform it into their home.
The main challenge of the project was to morph the original dysfunctional open plan arrangement into a flexible four bedroom home.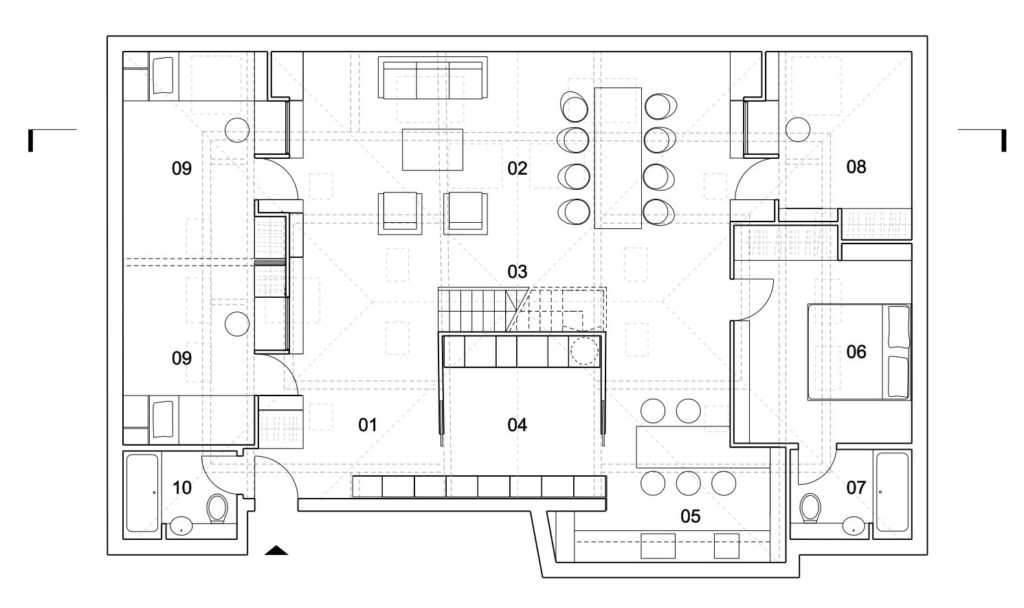 *Plan. 01.Lobby area. 02.Dine-in living room. 03.Stairs to mezzanine. 04.Utility room. 05. Kitchen. 06.Master bedroom. 07.En-suite bathroom. 08.Single bedroom. 09.Children bedroom. 10.Shared bathroom

*Section. Nests sheltered above and around the wooden structure
Natural light was to be maximised without compromising on acoustics and on the listed character of the building.
The loft is awash with natural light throughout the day owing to 24 rooflights and a circular high level window.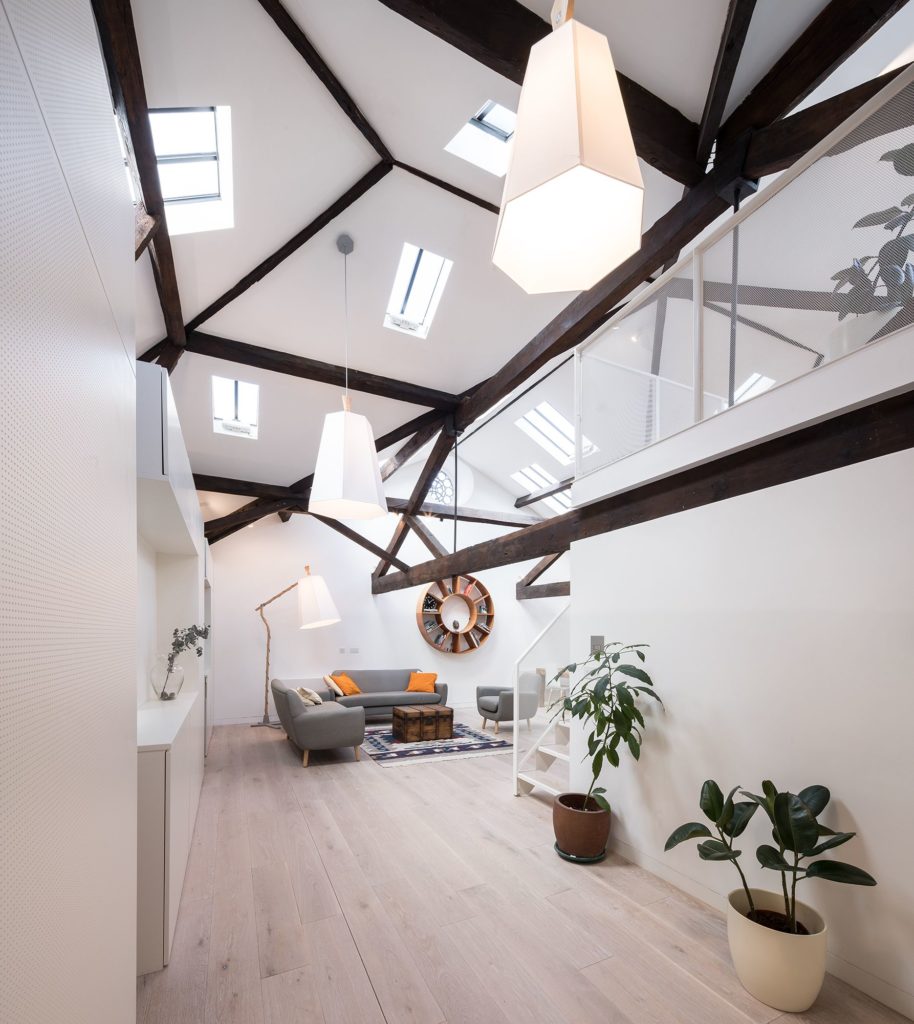 Introducing conventional windows in the external walls was out of the question from the onset, owing to the listed status of the building as a whole. This also rightfully protected the striking timber structure, an element of historic interest which is kept exposed to view.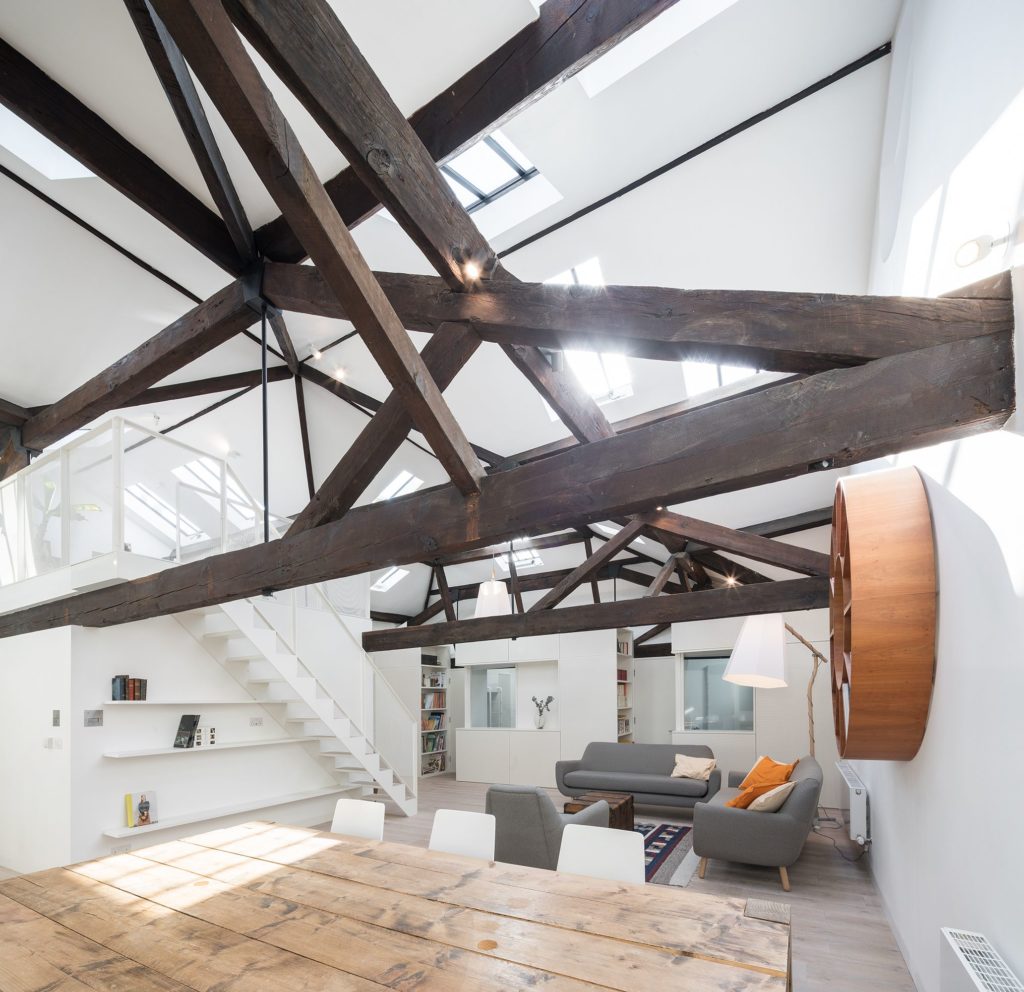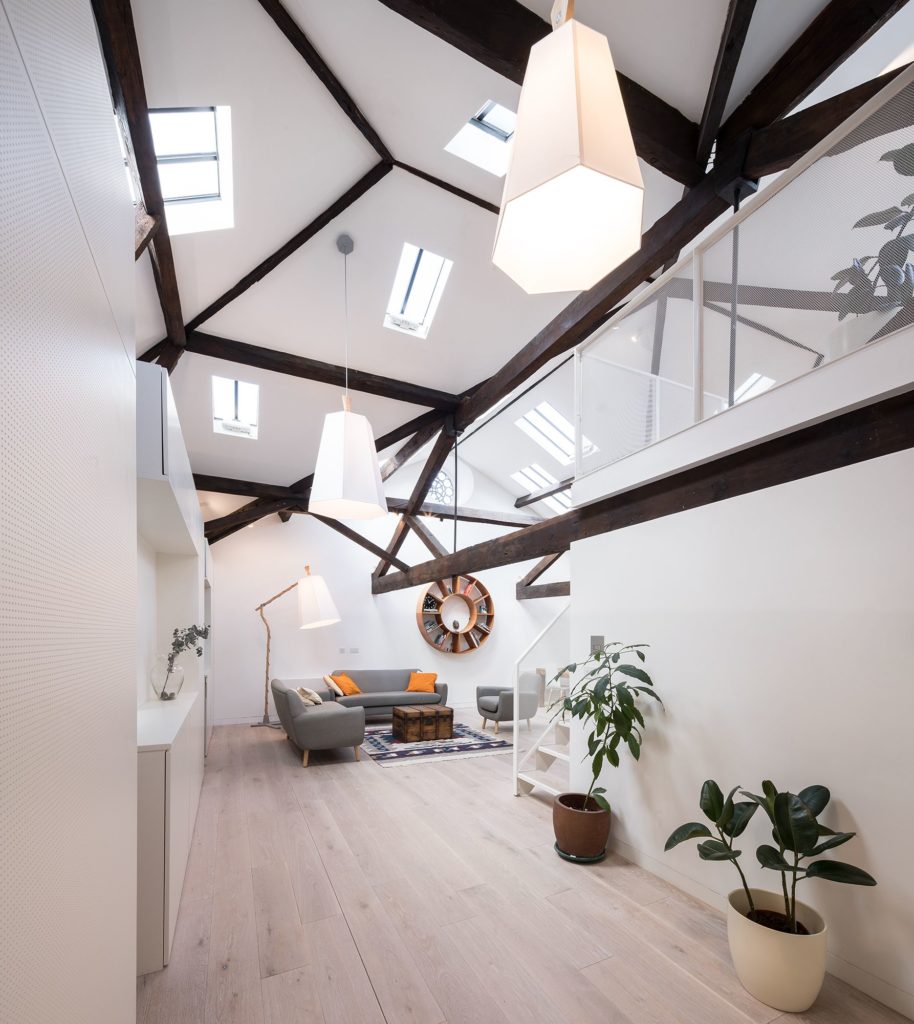 Bespoke joinery with in-built furniture frees up space for play and work in a flexible arrangement.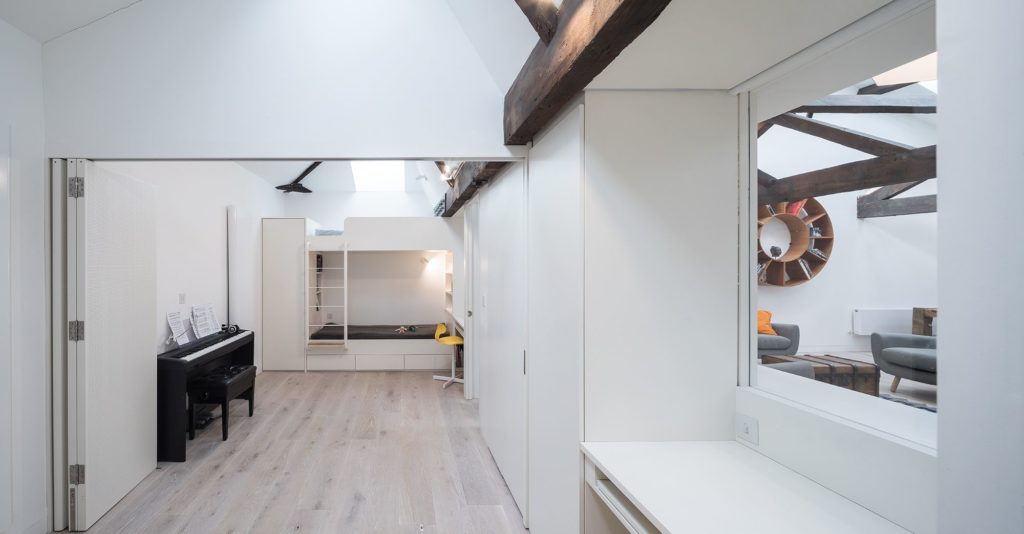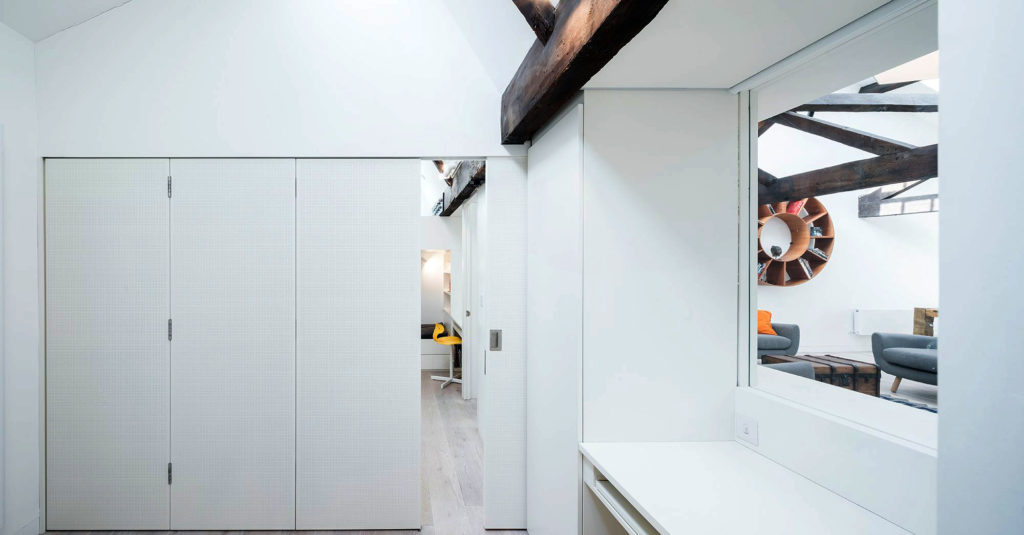 The walls separating the bedrooms from the main living space are in fact thick storage walls with inbuilt desks and eye level windows towards the main living space.
They are more than simple partitions as they resolve a multitude of challenges acoustic and fire separation, ample storage space whilst also relating appropriately to the unique cats-cradle roof oak structure.

The larger en-suite bedroom and the three children rooms nest among the tree-like roof structure, all clustered around the central living space. The children bedrooms are imagined as tree-house pods overlooking the courtyard in the shadow of a tree.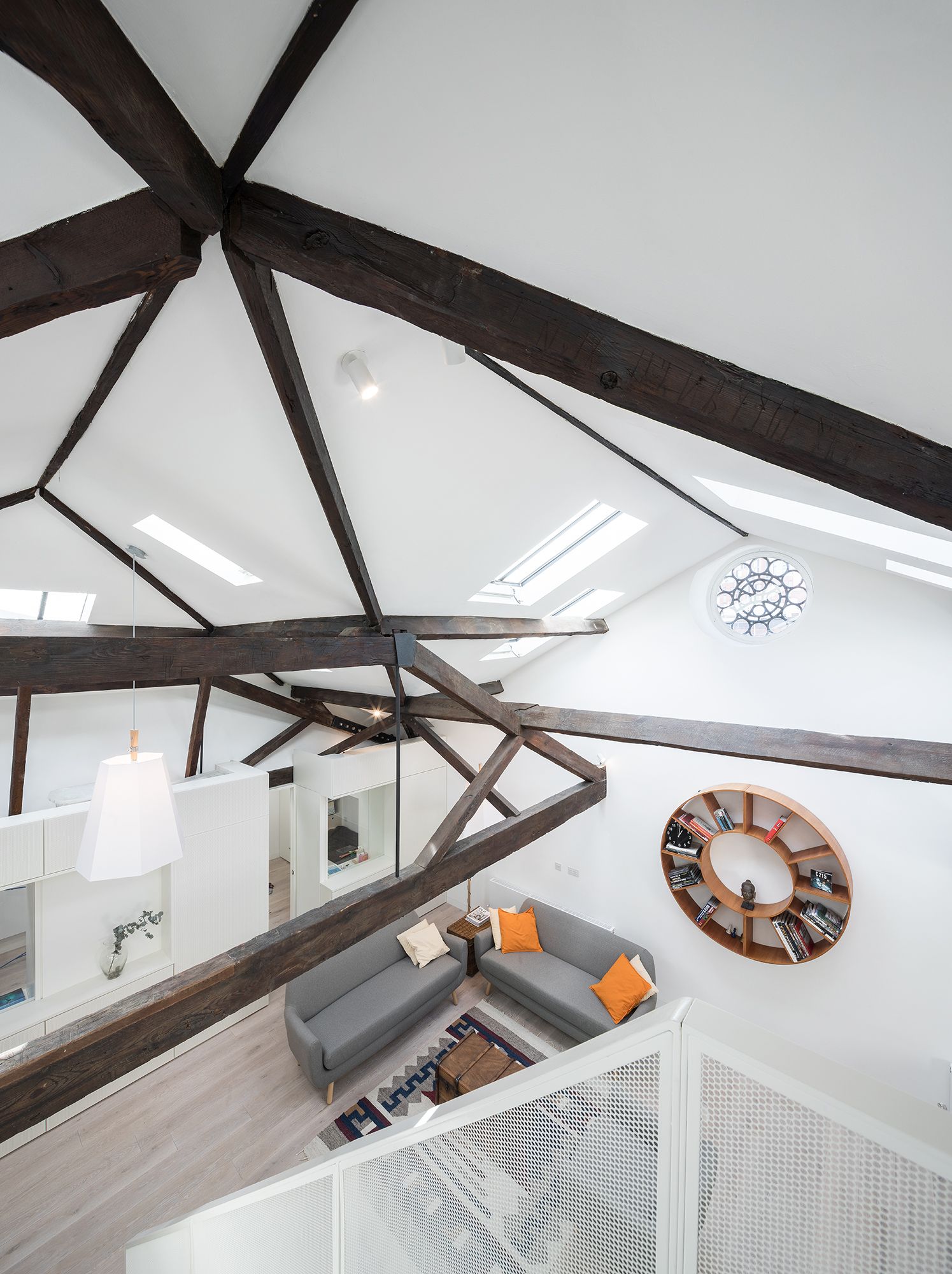 Info & credits
Architecture: RoundRobin studio – Anca Mihalache RIBA ARB Arhitect, Olivia Anghel
Place: Shoreditch, Londra, Marea Britanie
Area: 160m²
Main contractor: Piperhill Construction Limited