An exhibition that opened simultaneously in Bucharest, Amsterdam, Stockholm and Bergen:
Bucharest (Romania) – National Museum of Contemporary Art – MNAC (www.mnac.ro) / FB event
Amsterdam (Netherlands) – New Energy Docks (www.newenergydocks.nl) / FB event
Bergen (Norway) – City Hall of Bergen (www.bergen.kommune.no) / FB event
Stockholm (Sweden) – Fargfabriken (www.fargfabriken.se) / FB event
Event in the frame of the project CONNECTED. Things about Future, Cities and People:
Exhibition: From October 1st to November 12th, 2015
Conference : November 11th, 2015
We kept hearing more and more about the smart city: car-sharing, high-performance public transportation, alternative energy networks permanently monitored, green buildings, streets connected directly to the internet and so on. Maybe you would have expected to see an exhibition about the cities of the future cut from science-fiction movies. Well, Connected told a different story: one about ideas and people who are smarter than smart systems and who know how to build better cities and communities. Technology is just one step from this chain; beyond there are ideals, aspirations to be together and the need for efficient and rapid actions. Smart cities are the ones inhabited by smart societies that have initiatives, that learn by themselves what they have to do and know how to fix their own boat when it breaks.
Connected told the stories of this new and intelligent society from four different cities, overlapping experiences and finding out common features – a new social contract between European citizen. In Amsterdam, a community build itself a floating neighborhood and regenerated a polluted and abandoned part of the city in the process. "Stockholm on the move" was an example of democratic planning, that also proved to be profitable. From Bergen we heard about edible cities or parks for over 60 communities. Romania was represented by organizations that started from almost nothing but innovated through hi-tech bricolage, build-up public space, educated future urban citizens, saved a built heritage, build-up art, communities and international networks.
Apart from all these, we also had amazing installations – from a 3D drawing robot to an installation that connected us with the audiences at the other three venues of the exhibition.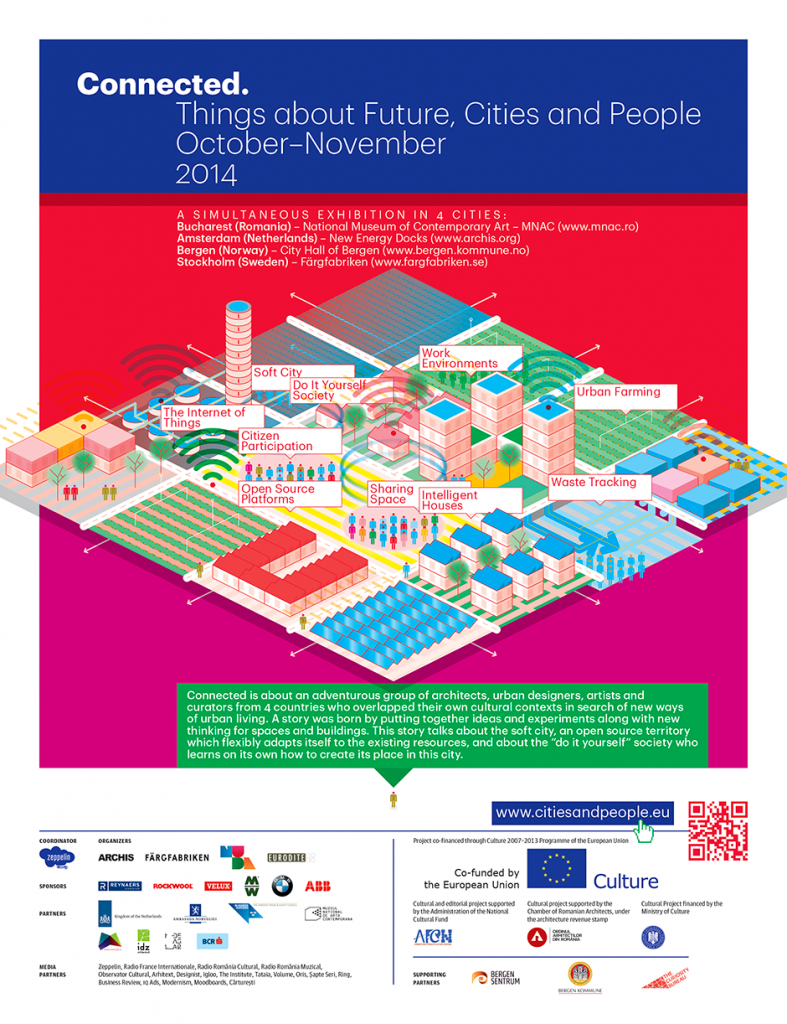 Project coordinated by Zeppelin Association (RO), in collaboration with: Archis (NL), Fargfabriken (SE), NUDA (NO), Eurodite (RO)
Project developed with support from the Culture 2007-2013 Programme of the European Union
Cultural project co-financed by: Ministry of Culture, Administration of the National Cultural Fund – AFCN, Chamber of Romanian Architects – OAR
Project supported by Bergen Sentrum, Bergen Kommune, The Curiosity Bureau
Partners: Royal Netherlands Embassy, Royal Norwegian Embassy, Business Sweden, MNAC, Modulab, IDZ, Ideas Lab, BCR
Sponsors: Reynaers, Rockwool, VELUX, Menatwork, BMW, ABB
Media partners: Zeppelin, Radio France Internationale, Radio România Cultural, Radio România Muzical, Observator Cultural, Arhitext, Designist, Igloo, The Institute, Tataia, Volume, Oris, Șapte Seri, Ring, Business Review, IQ Ads, Modernism, Moodboards, Cărturești