The third edition of the international forum Cities of Tomorrow, about the connection between mobility, urban development and constructions, brought together top business personalities, people from architecture and administration,
such as Professor Jörn Walter, chief urban planner in Hamburg, Eng. Dr. Michael Horodniceanu, president of MTA Capital Construction, Ivan Patzaichin, president of the 23rd Mile Association, architect Eugen Pănescu, founding partner of Planwerk in Cluj, Teodor Frolu, director of Space Syntax Romania, architect Şerban Ţigănaş, OAR president.
We discussed about how we move in and between cities, how cities and architecture move themselves, how to accelerate and guide development, about new transport systems and infrastructures, communication technologies, management and construction.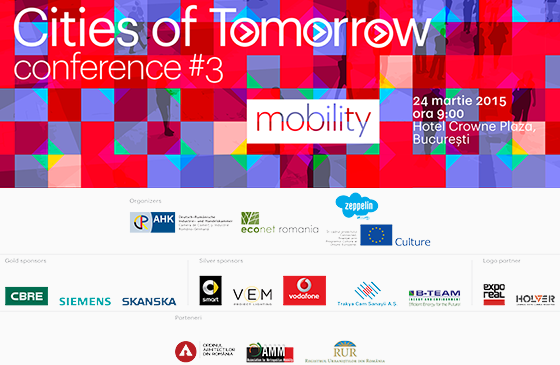 Hamburg model
Professor Jörn Walter, Chief Planning Officer of the Free and Hanseatic City of Hamburg, talked about the efficient use of land, sustainable mobility and other key details that transformed the city with "short scenic roads" into one of the most dynamic cities of the European Union, a hub for many international companies, institutions and specialists from all around the world. Hamburg has not expanded on the farmland from the periphery but recycled the port area within. HafenCity Hamburg (Harbour Town) absorbed about 40% of the city growth and has defined a new standard of excellency in urban development.
New York: mobility, business and vision
Professor Michael Horodniceanu honored us with his presence as key-speaker at Cities of Tomorrow #3. As an international expert in the field of transport infrastructure (both public and private) and former Traffic Commissioner of the state of New York, Professor Horodniceanu coordinates, as president of MTA Capital Construction, projects of over 20 billion dollars. His approach is never purely technical, considering aspects of urban development, economics and society, and his operations become models in the field.
Smart mobility with a multiple Olympic champion
Ivan Patzaichin, the president of 23rd Mile, presented in the main panel possibilities of recovering and obtaining value from watercourses, and a complex program of ecological, economic and social regeneration of the Danube Delta. The program brings together, in an original and successful manner, responsible tourism, cultural preservation, public events, transportation and also fashion design, architecture and development strategies.
Event organized by the Romanian-German Chamber of Commerce and Industry and Zeppelin
Event within the project Connected. Things about Future, Cities and People, co-funded by the Culture Programme 2007-2013 of the European Union
The event took place on March 24th 2015, at Crowne Plaza Hotel, Bucharest