powered by Zeppelin & Eurodite
This was our most beautiful project: an afternoon, an evening and a night inside the cultural Carol Factory, a complex event featuring a conference, an exhibition and a film screening. In the center of Bucharest, close to Carol Park, near Filaret train station, we celebrated a victory of cultural initiatives, trademark Zeppelin and Eurodite.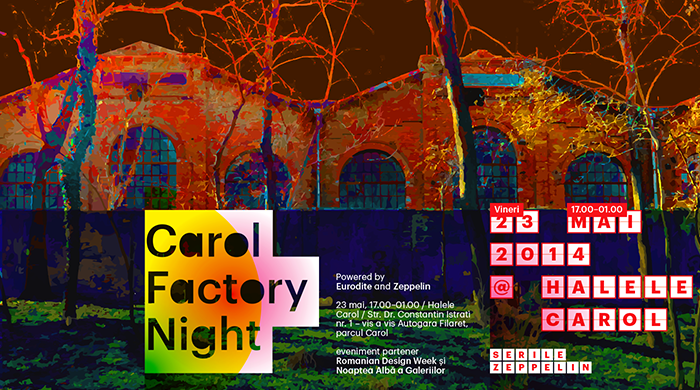 The conference featured Dutch and Romanian architects, designers and city planners – Egbert Fransen, Jeroen Saris, Jaap Modder, Doru Frolu – and focused on the transformation of industrial spaces into cultural centers and on their importance within the cities. And since we like to take actions to support our statements, we also brought good example of practices, initiatives and activism for green mobility.
On May 23rd, the bicycles ruled the city. On Carol Factory Night everyone had the opportunity to see what cycling means in our city, from the perspective of some of the most interesting producers, activists, designers and developers. We had an expo and presentations about a city suitable for people and bicycles with Follow your passion, Sinapseria, Optar, Pegas Workshop, Biţa Color, Spokes, Uleiosul and the Cyclists' Community in Bucharest.
For the movie buffs, Urban Eye brought Metrobranding, a Romanian original production, as a sneak peak for the next Urban Eye film festival.
For those who just wanted to spend a pleasant May evening, with discussions and a very special atmosphere, our friends from Fire Club have prepared the terrace and the bar accordingly.
FB event – link
Romanian-Dutch Conference
Warming up with the bikes – several overviews of clever projects for urban biking. We talked about mobility, entrepreneurship, activism and design, then moved on to "heavier" topics – the conversion of historic industrial spaces into cultural centers, comparing Romanian and Dutch experiences.
Warm-up:
Andrei Gaitanaru (Sinapseria) is a citizen of Bucharest, who realized that he can live in a city belonging to the people when he discovered that he can take care of his daily activities by riding a bike to and from. That was the moment when Bucharest took the shape of his mind. He began to learn the city, to enjoy its treasures, to move with its help. And he understood that people like him are real manifestos on the move. That the power of personal example can help others change. Thus he had the idea of a project able to support the cause of a city freed from the oppression of cars. That is how Sinapseria was born, a fast, bicycle courier service, that connects people, projects and businesses. It is a company that has undertaken the task of effective intermediation. Each order received is a declaration of adherence to a city for the people.
Marian Ivan (President of OPTAR– the Organization for Promoting Alternative Transport in Romania) will talk about Green Roads project in Bucharest – the first network of roads dedicated to pedestrians and cyclists in the capital (the space for pedestrians will be accessible to all persons with temporary or permanent disabilities) – a project initiated by OPTAR and supported by the Community of Cyclists in Bucharest. A similar approach was announced by the city of Hamburg (Grünes Netz – Green Network). OPTAR is an association which supports the development of urban mobility by offering viable transport alternatives for the citizens, regardless of how they choose to move: walking, cycling, public transport or by car.
Alexandru Manda (Marketing Manager and co-founder of Pegas Workshops, along with four other friends: Andrei Botescu, Adrian Teasa, Ciprian Frunzeanu) proposes a project with strong social connotations. He says it is more interesting to rebuild than to start from scratch.
Lucian Simion (founder BiţaColor). In 2011, he gave up a normal job in an NGO and decided to follow his passion. He started with minimal resources and was able to transform this passion into a full time job: the first workshop of bicycle painting and reconditioning in Bucharest. He is glad that through his work, people find love for their bikes.
Cultural factories:
Egbert Fransen – social and cultural entrepreneur, presented the Pakhuis de Zwijger cultural factory. Egbert believes that power is in the hands of the people and not of the institutions.
Jeroen Saris – Director of De Stad bv, urban development consultancy office, former urban planning alderman in Amsterdam, author of the book 'New Ideas for Old Buildings'. He believes in culture as a tool for urban regeneration: facilitating interaction and activating people.
Doru Frolu, director of DC Communication, is one of the initiators of the first reconversions in the south-west of Bucharest. The most visible and largest program, The Ark, is today one of the few very good examples to follow in Romania.
Jaap Modder – currently running Brainville – is the moderator of the meeting. He was director of Arnhem-Nijmegen regional development and has developed many city projects that are already completed.
Pop-up exhibition
Exhibition with wonderful custom bikes from Pegas, Biţa Color and Spokes (the friendly bike shop), the cargo-bike of the amicable Uleiosul (Oily) and video projections of the hottest actions of the Cyclists' Community in Bucharest
Uleiosul – we talked about it in Zeppelin too – is a pilot project, using utility bicycles, for collecting oil and waste culinary fats. Young Marian Scafaru did a live presentation of the "ingredients" of the project he initiated, and he also put in practice a recipe for a home-made bio-diesel.
The Cyclists' Community in Bucharest is an informal structure supported by several non-governmental organizations, whose activity is based on volunteer work. It advocates policy and infrastructure development which would encourage urban mobility by applying European norms to improve the quality of life. Since 2012 it is the co-organizer of marches dedicated to sustainable urban development in Bucharest ( "We exist and will have lane!" "We want bike lanes!", "We want a city for the people"). In 2013, alongside OPTAR, it started the Green Roads project in Bucharest and initiated the campaign "The public road is for everybody", which promotes the reconciliation of all public space users in Bucharest. In 2014 its campaign You Are The Traffic reconstituted the famous image Space taken by 60 people, first performed in Germany in 2001.
Film screening
As a preview of the future first edition of the architecture film festival, UrbanEye in partnership with OAR, have prepared the screening of Romanian film Metrobranding, which brings the attention to a different perspective on industrial transformation: the social one.
UrbanEye is the first Romanian event that uses film to reveal, discuss and celebrate various aspects of everyday urban life; thus mediating the relationship between people and space, between people and objects.
——————-
Organizers: Zeppelin & Eurodite
Main partner: Hesper S.A.
Sponsors: Reynaers, Rockwool, Rigips, Chairry, Menatwork, Sensio, Pubicicleta
Media partners: Arhiforum, Cărtureşti, Designist, Feeder.ro, GraphicFont.ro, Hipmag, Modernism, Radio Romania Cultural, RFI, Sapte seri, The Institute.
Event partner: Romanian Design Week and White Night of the Galleries