Aviator Protopescu Street, Bucharest. An already refurbished old house, and that in a dubious way. A new house based on previous ones. An almost forced eclecticism a world of many spaces and elements
Text: Justin Baroncea
Project: Justin Baroncea, Dragoș Dragnea
Photo: Radu Malașincu, Andrei Mărgulescu
On the street by the park, I saw three loudly-painted windows, mounted in three pointed openings, placed over a plaster flange. Under the flange, three white wave-patterned panels. Purported Neo-Venetian stylistic interventions, on a building that was once a restaurant, once a home.
On the left, pointed windows, on the right, a line of apartment buildings, at the back, a park. The Floreasca park. The windows of the former home-restaurant open towards the park.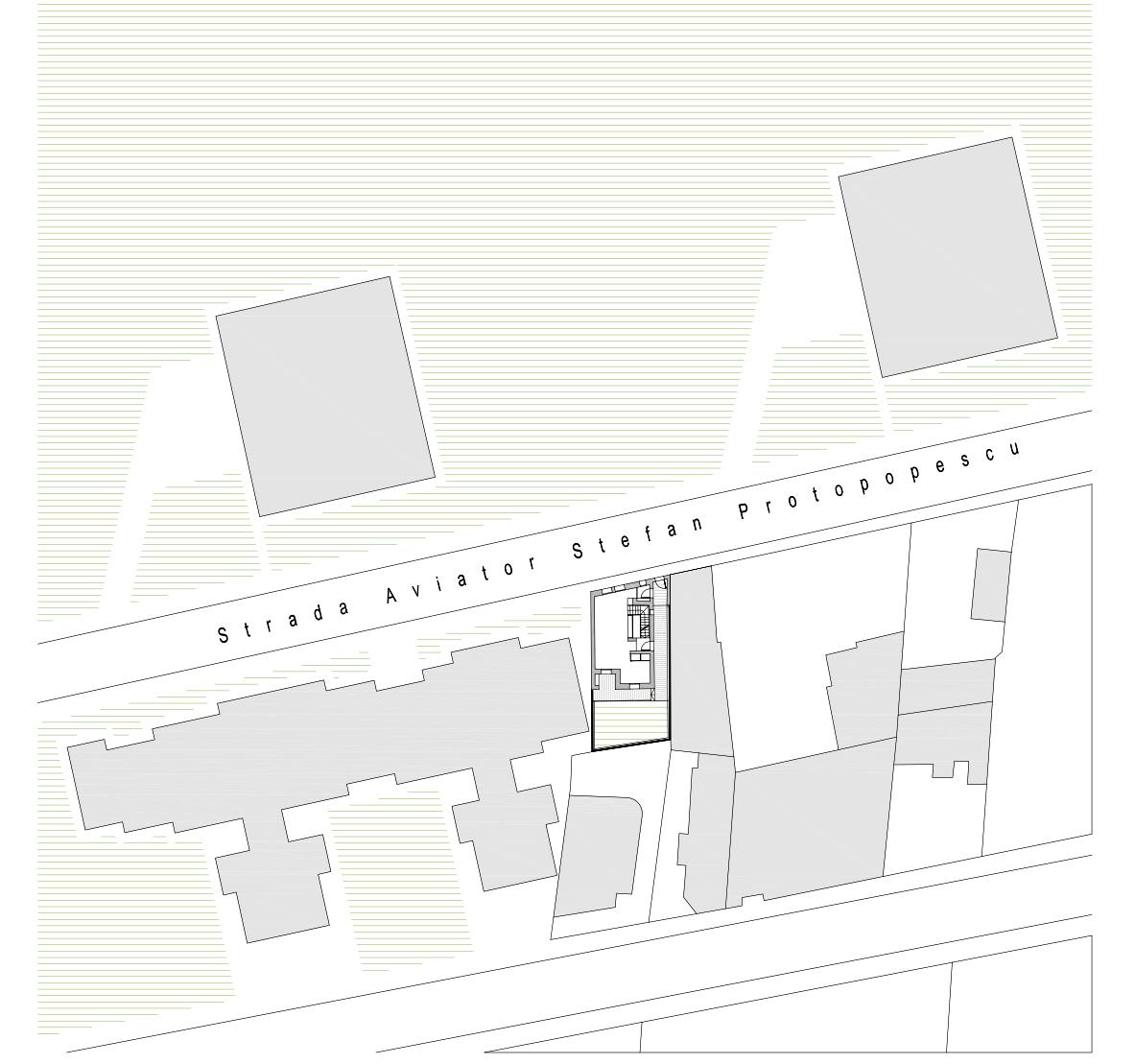 *situation plan

The expertise requests the consolidation of the building. Concrete envelopes. An opportunity to work with white exposed concrete, casings of burnt resinous wood.
Beneath the pointed openings, formerly fully-cantered, is the access gate to the courtyard. A long and narrow courtyard, with one end in a space delimited by end of a block of flats, an inter-war urban villa, a dead wall of an annex building, and the facade of the building to consolidate. Ivy. An opportunity to work with wood and vines.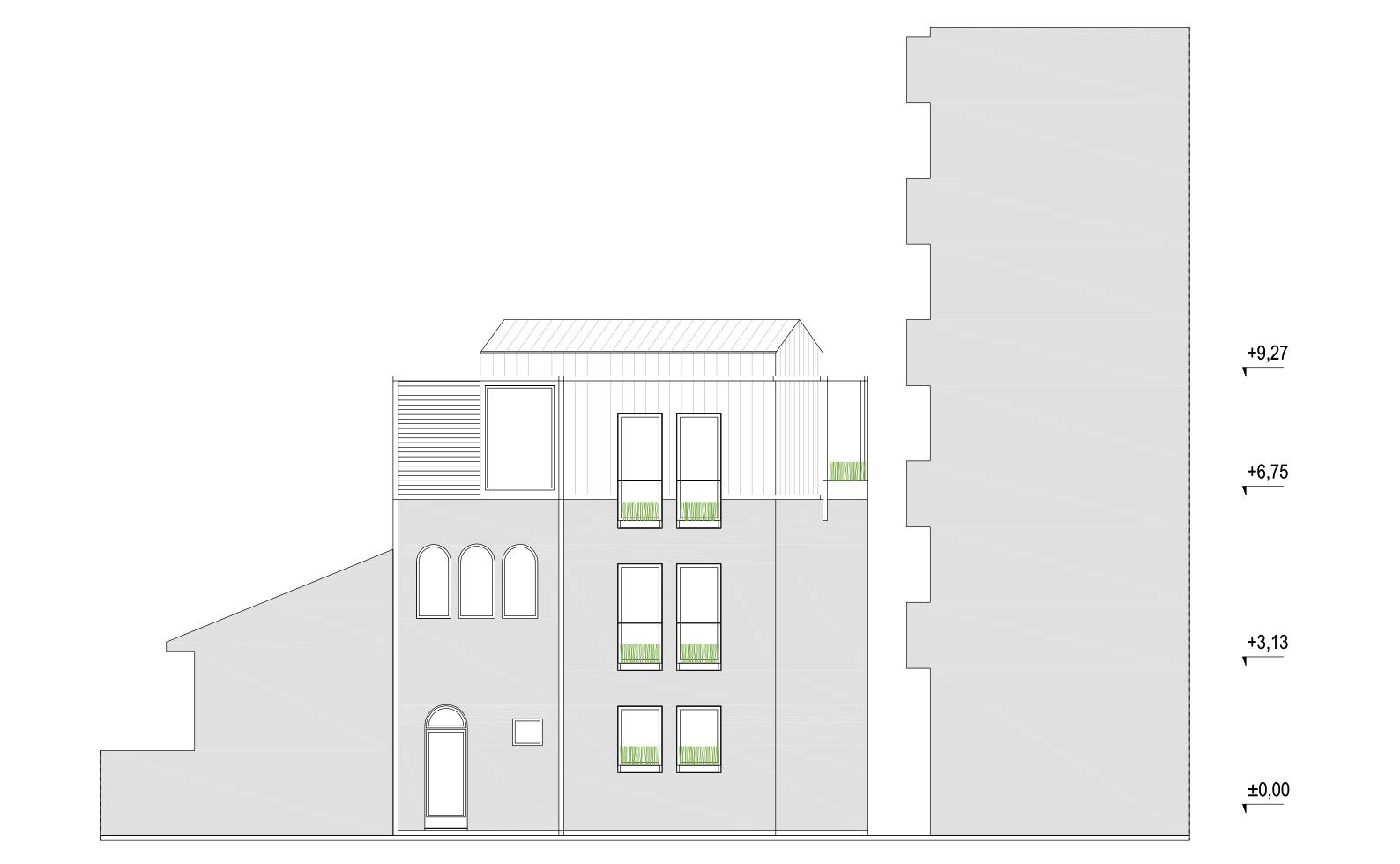 *North side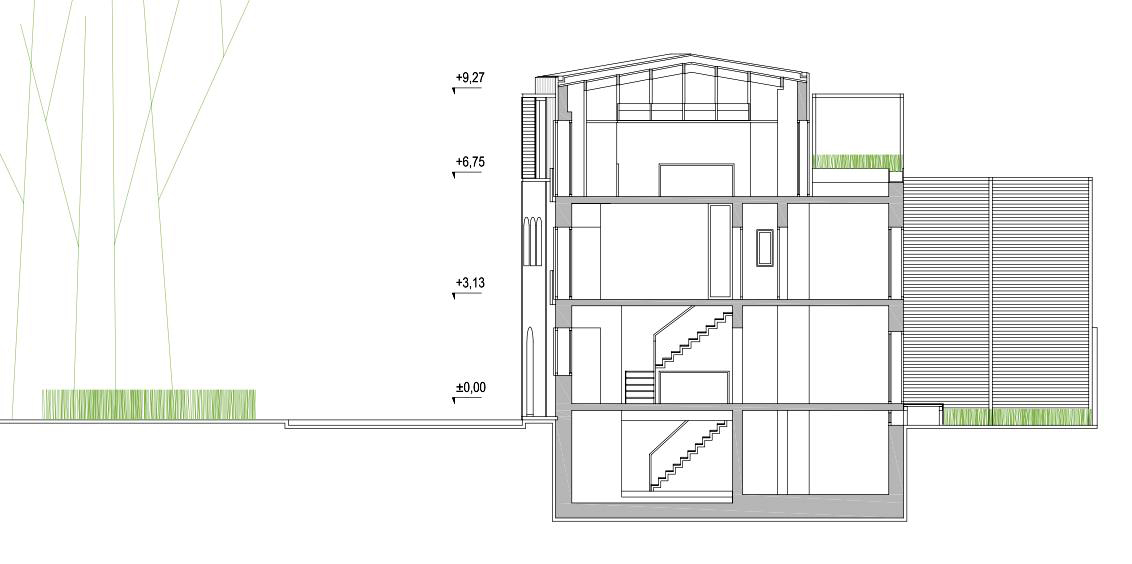 *section
We deal with the last house but one down the street. We consolidate the pediment, we reassign the verticality of the gaps facing the park. On top of the masonry base, we add a structure of stratified wood – furniture and frame in the same system; namely we are building a attic of shelves.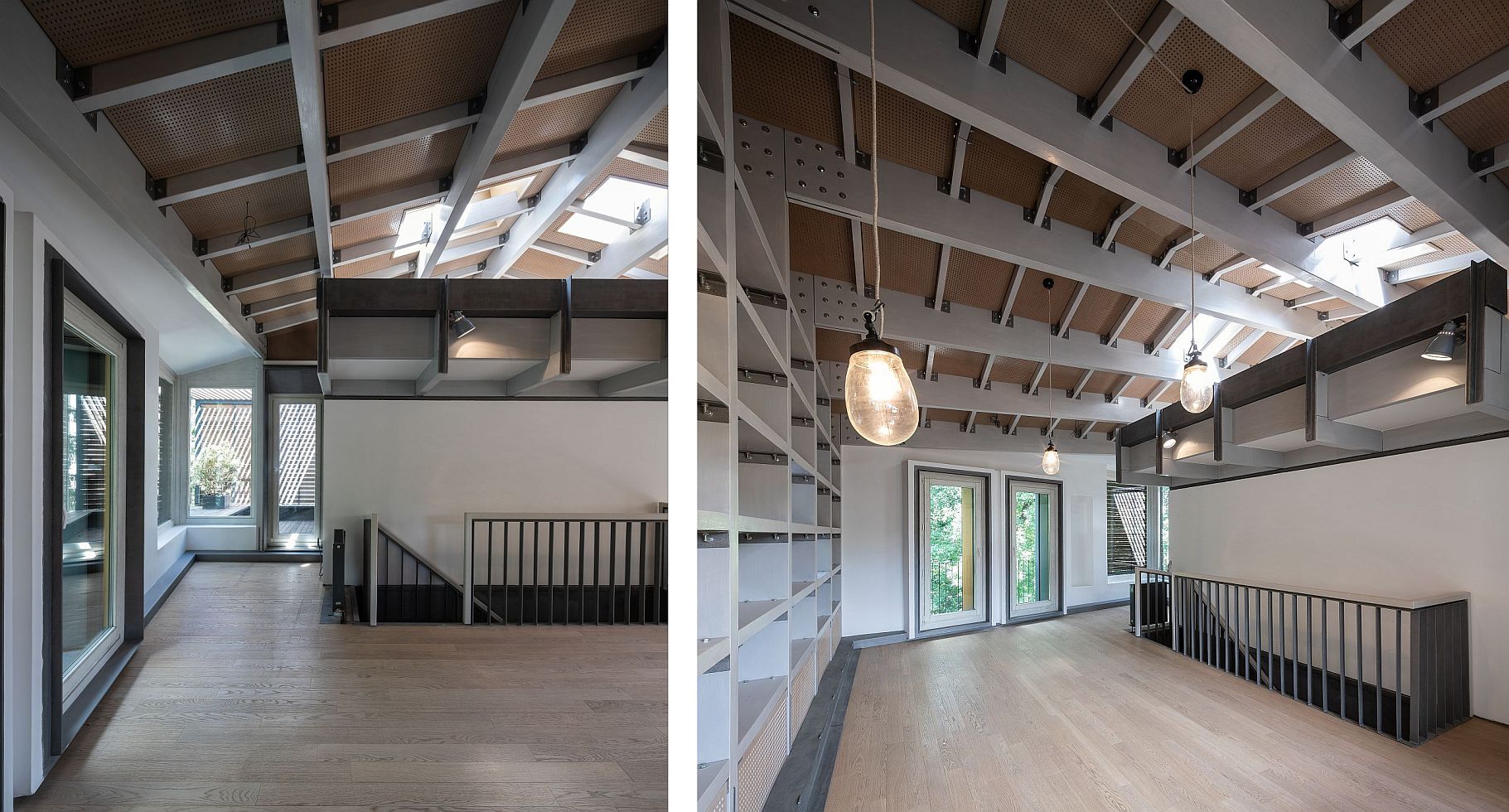 If you open the windows to the north in the living room, bedroom, and loft, you can see the park. Only the park. Wooden frames showcasing leaves.
Leaves cut out in white concrete planes with a wooden grain.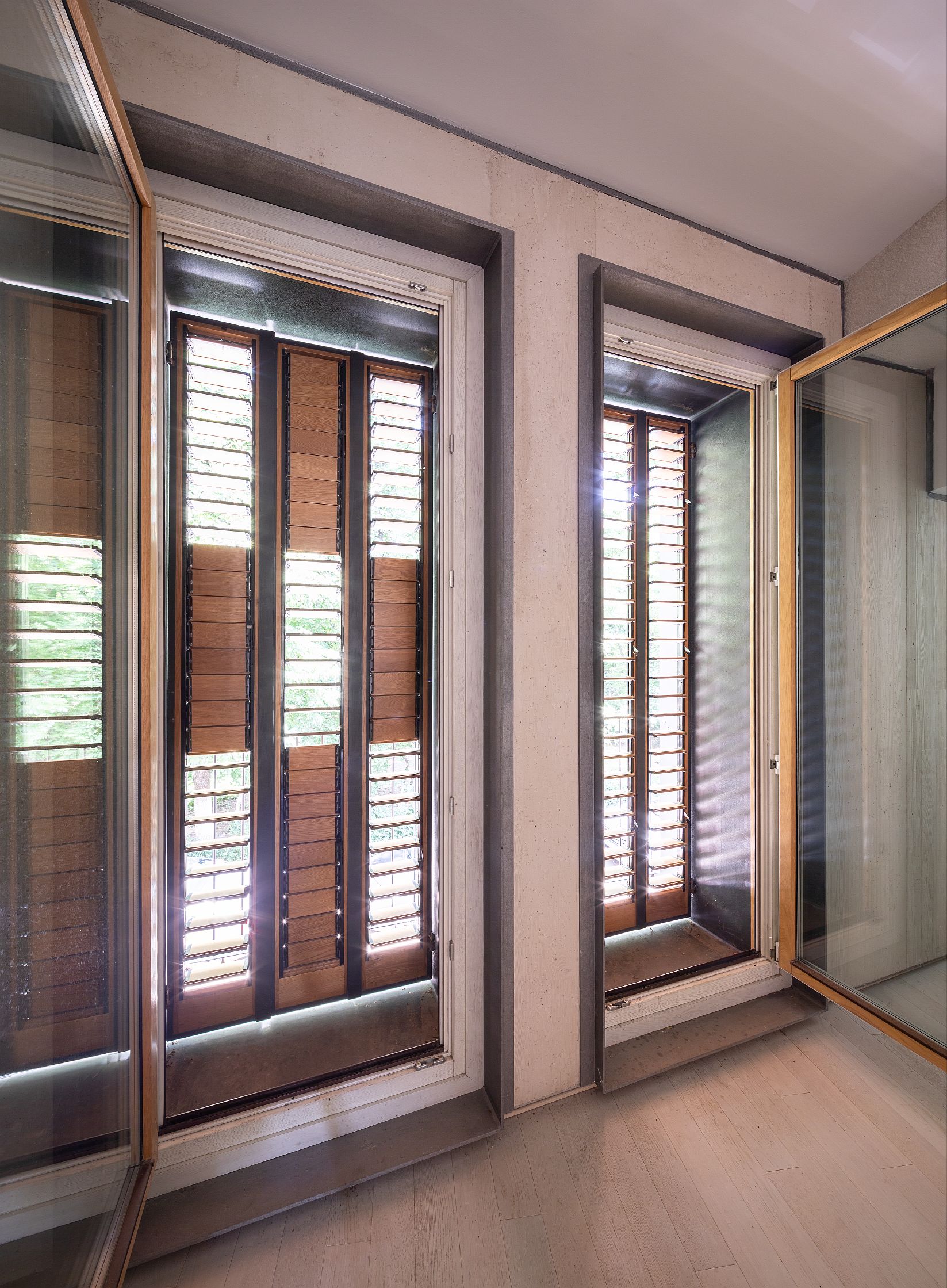 On the inside, some of the partition walls were taken down. Almost all the old bricks were recovered, and they were used to mount the new partitions.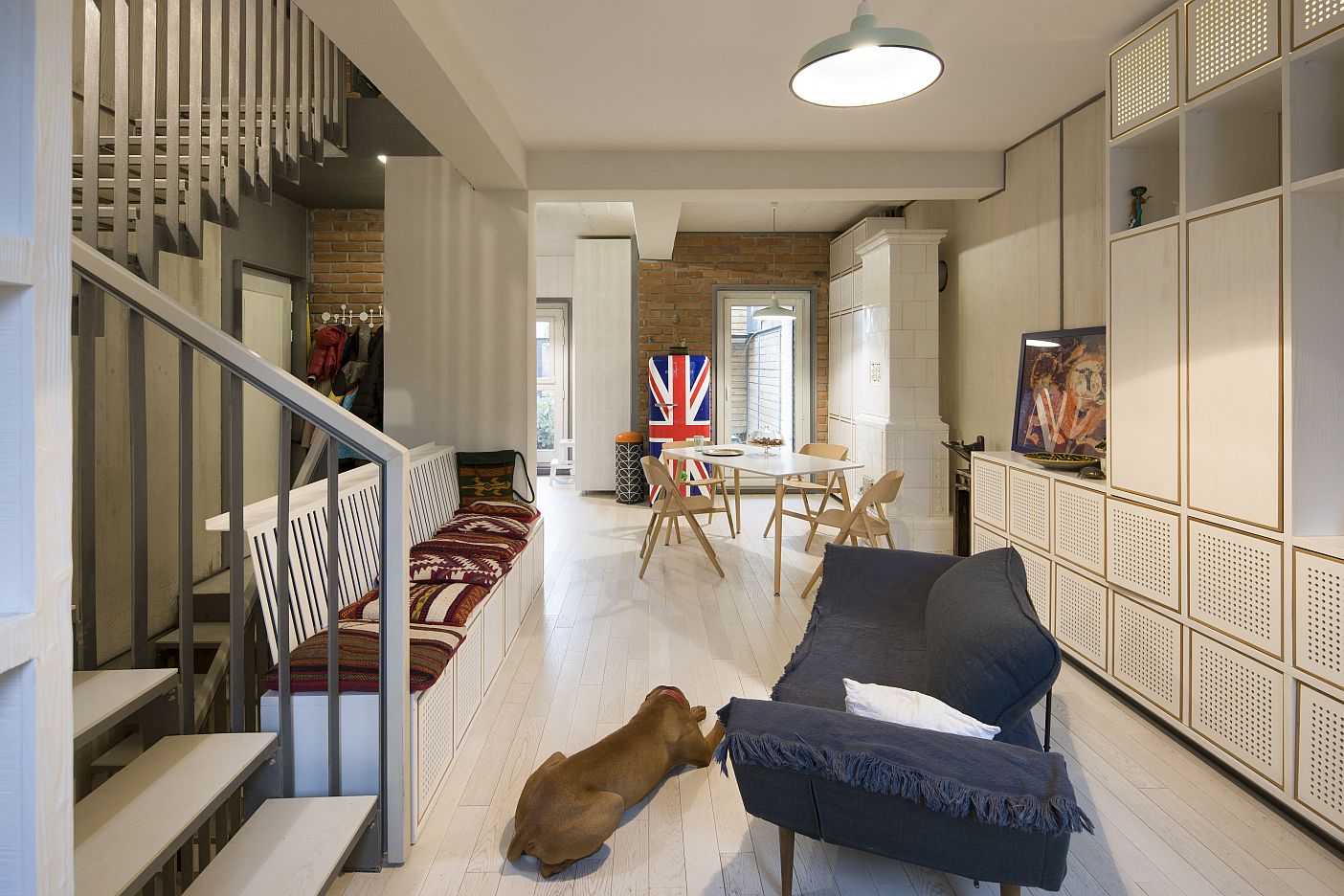 The basement was extended to the entire footprint of the house. The new walls in the basement are again made white concrete with end grain, again. The frames were turned into doors, and two old doors were fitted in the frame. We get the grain from the doors on the walls and door negatives in the concrete.
A mix/madness of white cement and wood.
In the basement, chit-chatting space, on the ground floor, the living room, in the loft – a library/movie collection, as far as the eyes can see: a three-storeyed living room connected to a metal staircase and a monte-charge. A house to climb the stairs through a future graphic and painting exhibition. Now the paintings are there.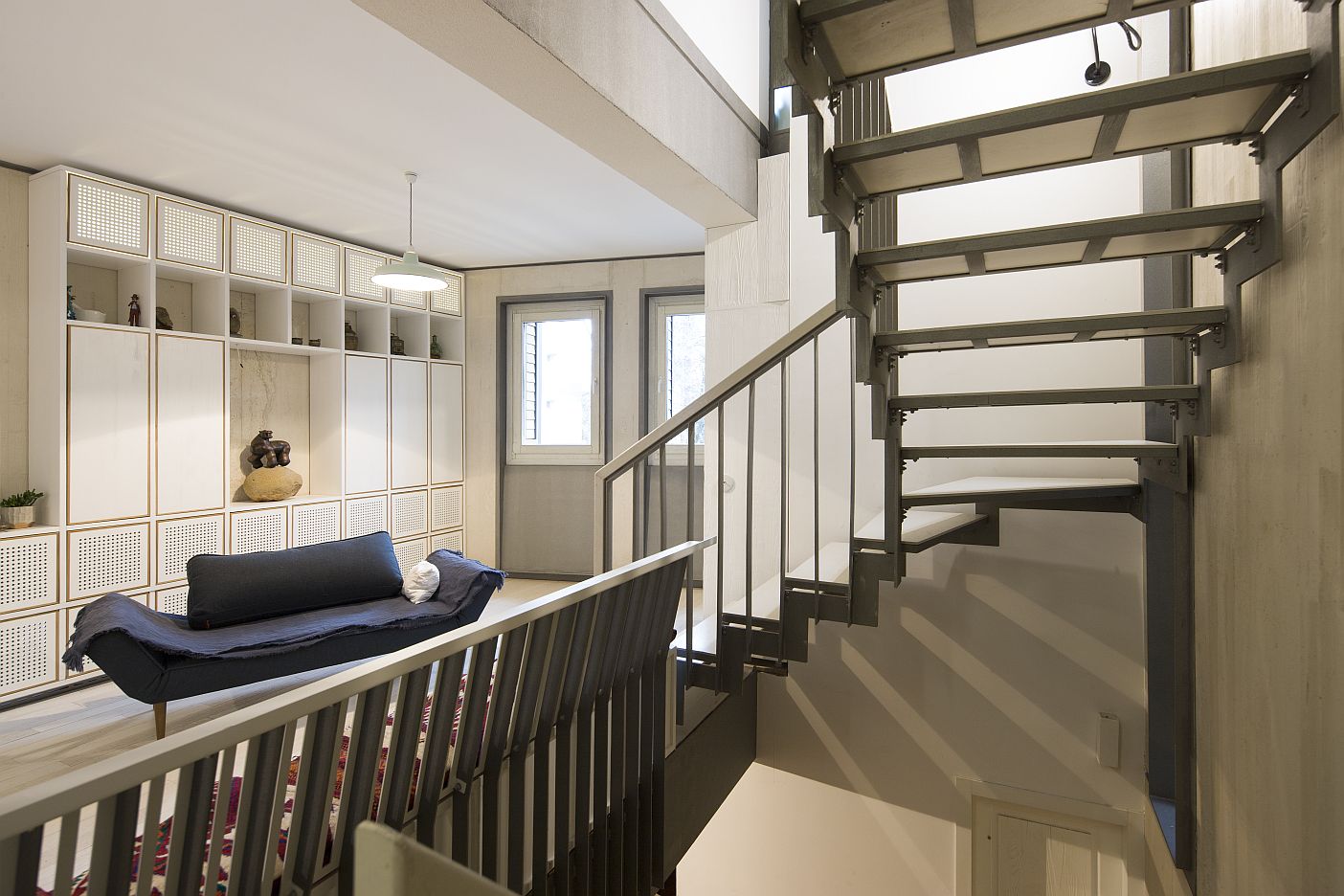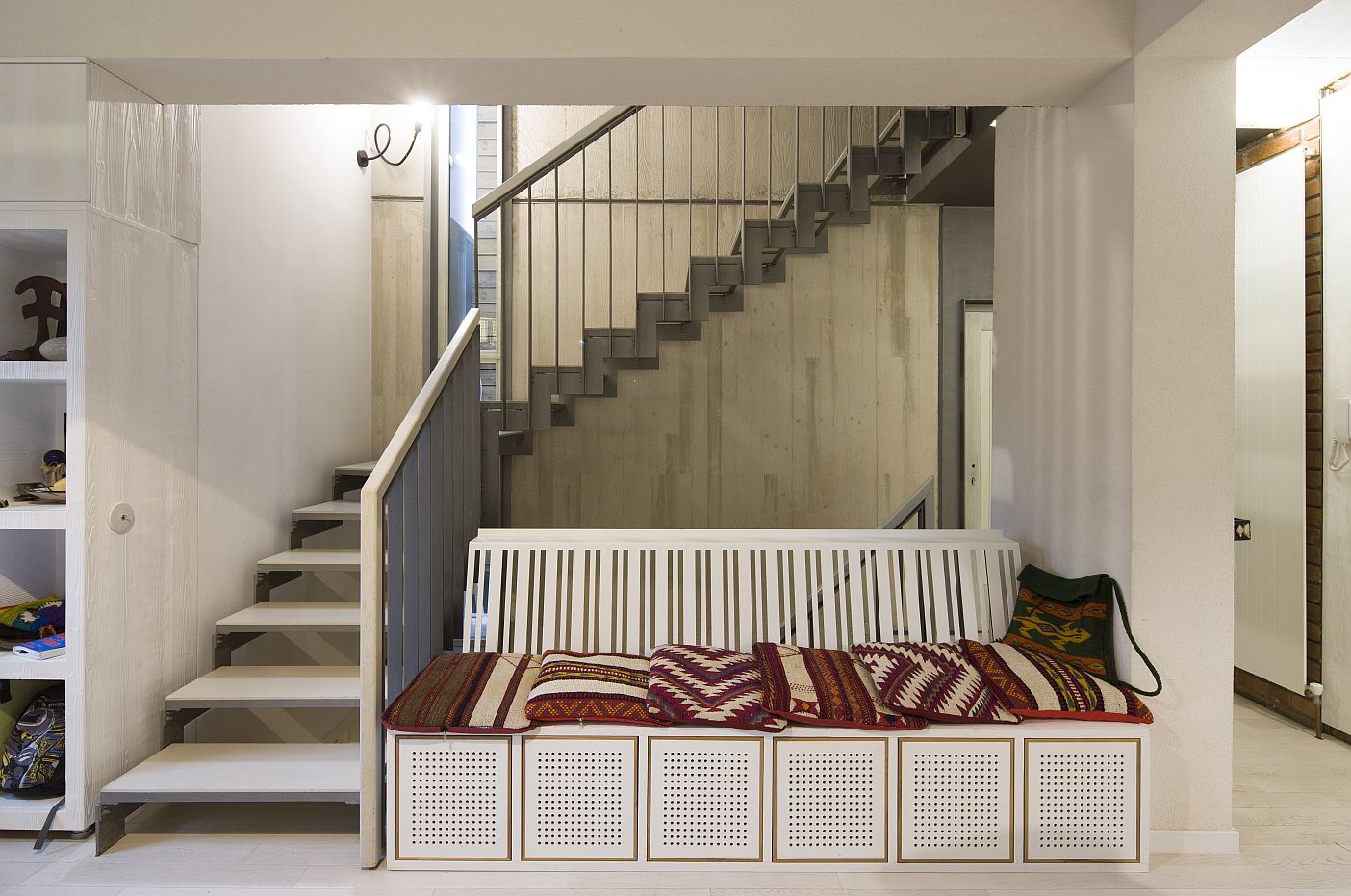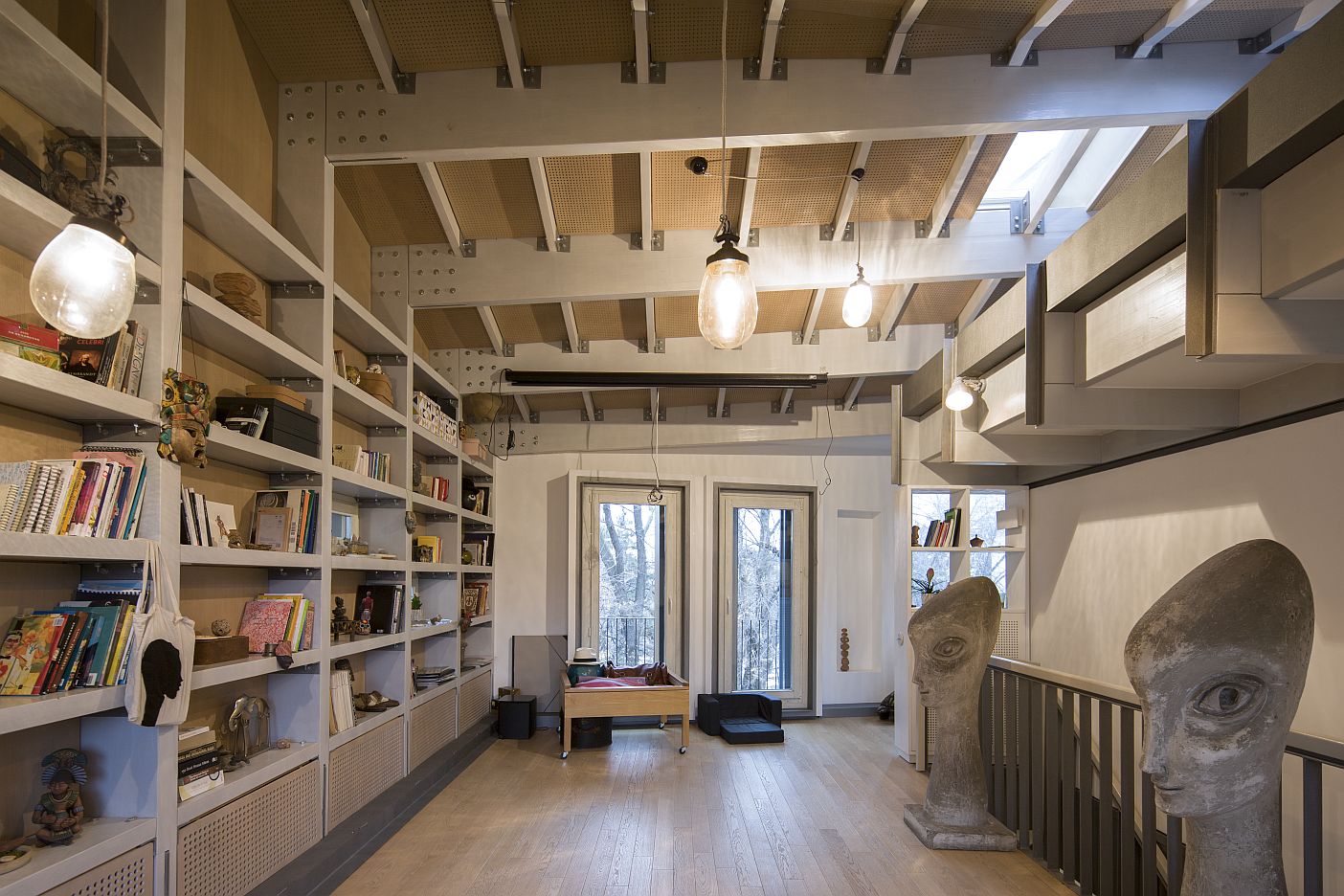 And three bedrooms. Two on the first floor, and one on the split in the loft.
A bed over the bathrooms, under the skylight, behind a living room flower box.
The library covered in anthracite grey plating, with structural shelves, open towards the park and toward the courtyard terrace.
A wooden frame, with 'green' ends.
To live in the park, in a white brick box, tattooed by mural artist Irlo, next to a block of flats plated with 'gherkins'.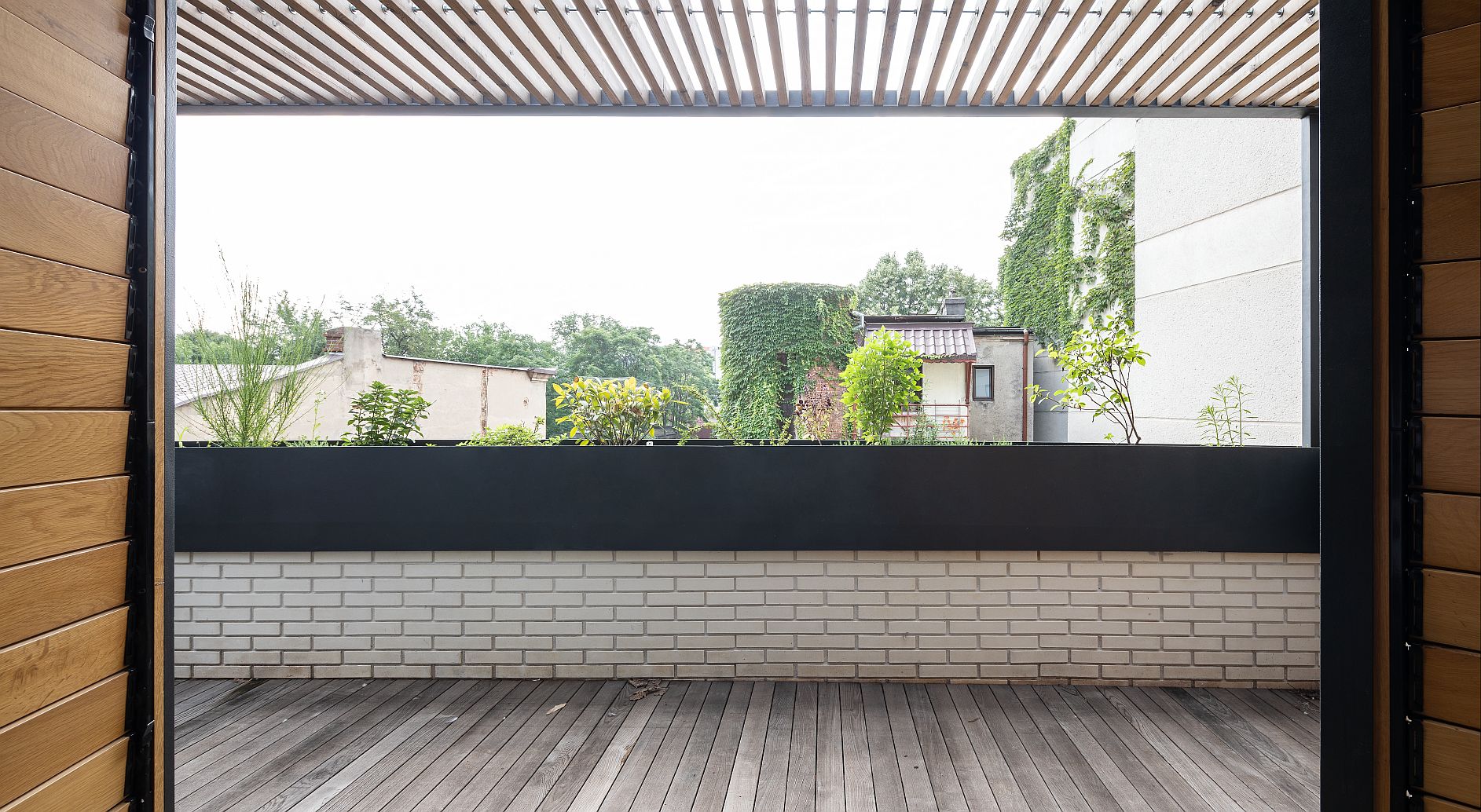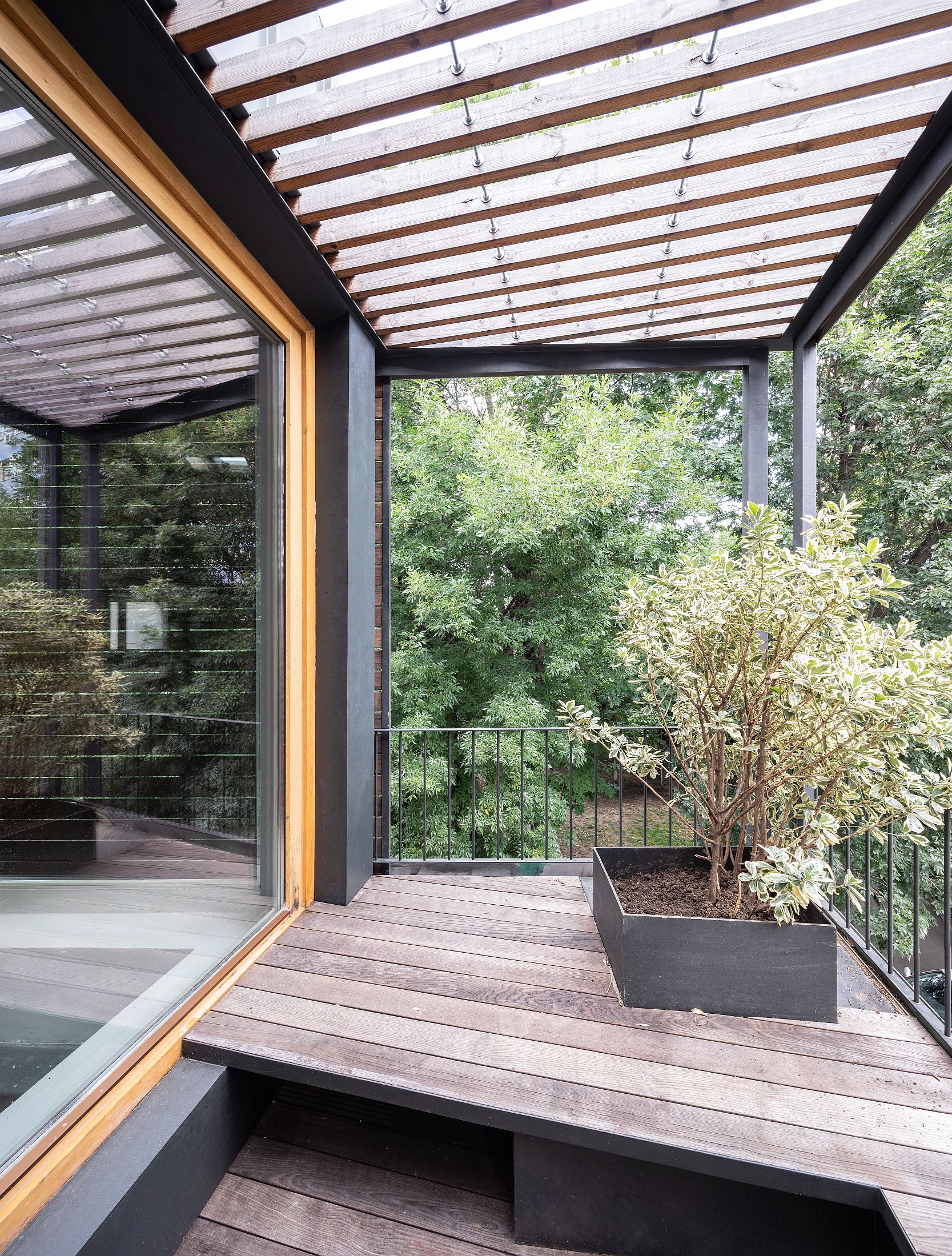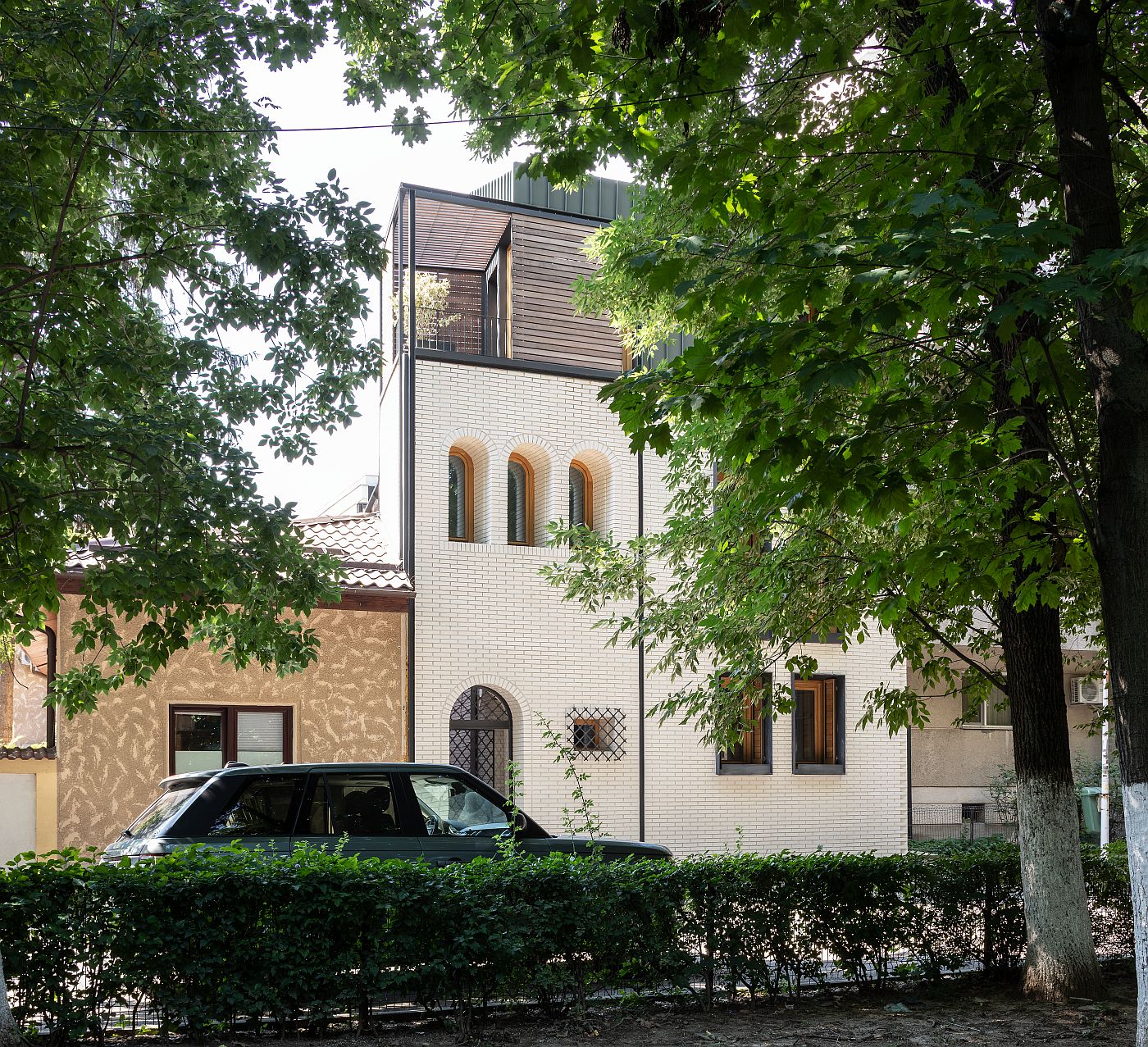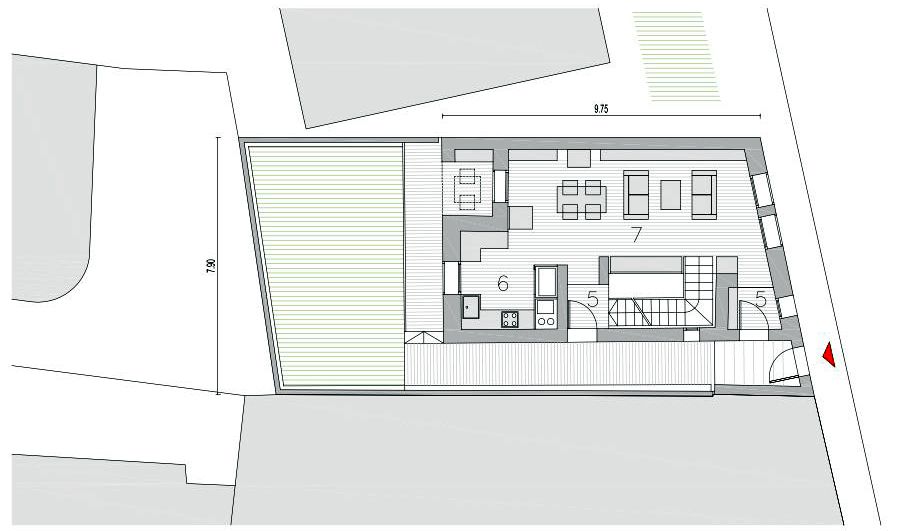 *ground floor plan

*1st floor plan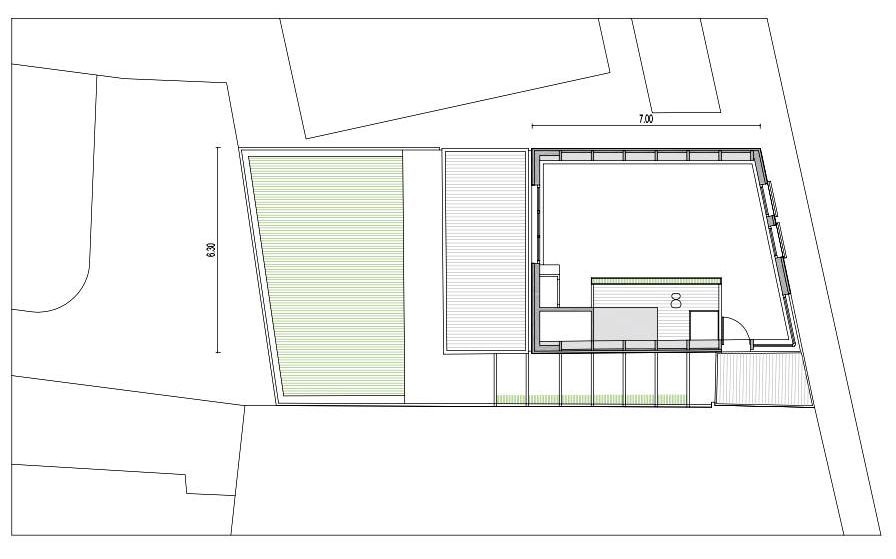 *gallery plan

Info & credits
Authors: Justin Baroncea, Dragoș Dragnea
Structural rehabilitation: Barbu Jugurică
Wooden structure: Radu Balaban
Building site coordination: Horațiu Corniciuc
Place : Str. Aviator Protopescu, Bucharest
Plot area: 129 sqm
Total built area: 258 sqm