Saturday, 15 – Sunday, 16 October: pavilion @ Creative Est Festival (Industria Bumbacului & Nod Makerspace – Splaiul Unirii 160, Bucharest)
Opening: Saturday, 5 pm
In short, a group of children imagine an ideal house, a space for playing, learning and everything else they want, and a group of architects take them seriously and actually build this house. Then we show this house for everyone to see at the Creative East festival.
Moreover, inspired by the workshop and the great work he did with the kids, architect Mihai Duțescu traveled back into his childhood and got 4 cool stories about fun handicrafts. Andreea Dobrin Dinu illustrated them, and Radu Manelici put them nicely in the Meștereala brochure, which you are welcomed to discover at Creative Est.
* Fb event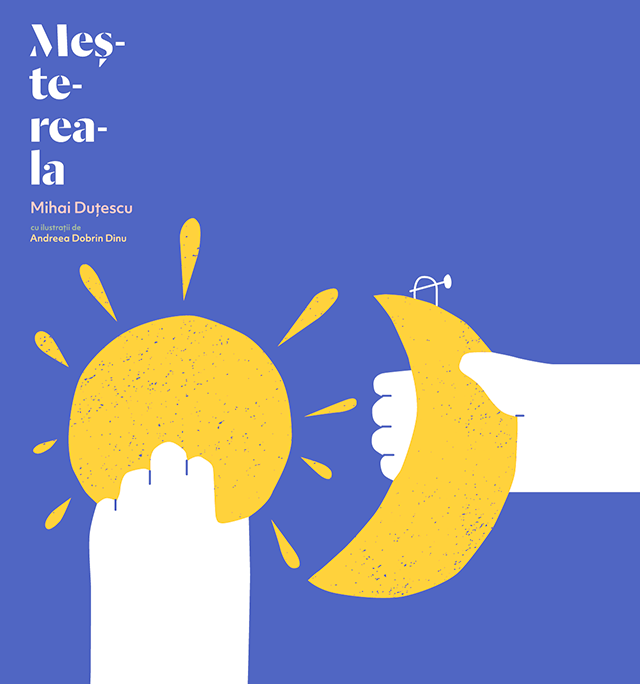 We will exhibit the little house of the children from 134th School, together with their sketches and project models from the Building Blocks workshop. Based on their ideas, the house-pavilion is equipped with a library and a suspended garden. Now it is our turn to bring our contribution to their project: Saturday and Sunday the house is open and welcomes books for children aged 6-10 years and small plants in pots as donations.
We're also welcoming members of the Färgfabriken team – Joachim Granit, Creative Director and Thomas Lundh, New Topologies Consultant – the ones who initiated Building Blocks in Sweden and turned it into an international projects, with workshops and exhibitions in Stockholm, Berlin, Olso, Mostar and now Bucharest.

Organizers: Eematico, Färgfabriken, Nod Makerspace, Asociatia Oricum / Creative Est Festival, Școala 134, Teach for Romania, Zeppelin
Building Blocks is part of Creative Sweden #3 program, organized by by the Swedish Embassy in Romania and Zeppelin Association
Main partner: ABB
Sponsors: Absolut, H&M, Husqvarna, IKEA
Supported by: Ecolor, Ericsson, Scania, Securitas, Skanska, Volvo Trucks, Zewa.
Media partners: Arhitext, Cărturești, De Design.Tv, Designist, Feeder.ro, Ideaslab, Igloo, IQads, Modernism, Radio România Cultural, Radio România Muzical, Ring, Șapte Seri, The Institute, Urbology
Cultural project financed by the Order of Architects in Romania – OAR, from the architecture stamp/ Cultural project co-funded by the National Cultural Fund Administration – NCFA
The project does not necessarily represent the position of the National Cultural Fund Administration. NCFA is not responsible for the content of the project or for the way the results are used. These fall under the whole responsibility of the beneficiary