Text: Elena Stancu
Photo: Cosmin Bumbuț
Five years ago, we were renting a cramped one-bedroom in Piața Rosetti, Bucharest. We lived in a cold, dark twenty-five square meter room with high ceilings, in a formerly nationalized building. Our neighbors were elderly and odd: Our upstairs neighbor asked Cosmin if we had any remote controls around the house, because his wife was being irradiated, while the next-door neighbor would not greet us back because we were tenants, not owners. General Pacepa's* ex son-in-law lived on the top floor, and he would spend his days out in the yard, drinking beer from a plastic bottle and muttering grumpily to himself. Our neighbor on the ground floor had twelve cats that, once Cosmin declared war on them, started to pee on our doorstep.
I worked as assistant editor for Marie Claire magazine, while Cosmin, who had been working as a freelance photographer for many years, had had enough of doing fashion and advertising shoots. On weekdays, I would get home at 7 P.M. the earliest; I spent most of my day inside a corporate building, deprived of natural ventilation and light. Seasons would pass without me even noticing. I was 30, and I only had the weekends to spend with the man I loved. I longed to do a different kind of journalism, which would allow me to grasp the nuances that one or two days of research didn't. I wanted a different life and a different job.
When we gave away three thirds of our stuff, sold our books to a used books shop, and moved into a campervan, we didn't have a clear idea of what we were doing. Perhaps we also felt a little hopeless, Bucharest was weighing down on us, Cosmin was constantly unhappy, 'I cannot take pictures in Bucharest,' he would say, and I felt life had more to offer. Moving into a five-meter long car for us was a lifeline rather than a case of downshifting, the pretentious name for it that we'd find out only later.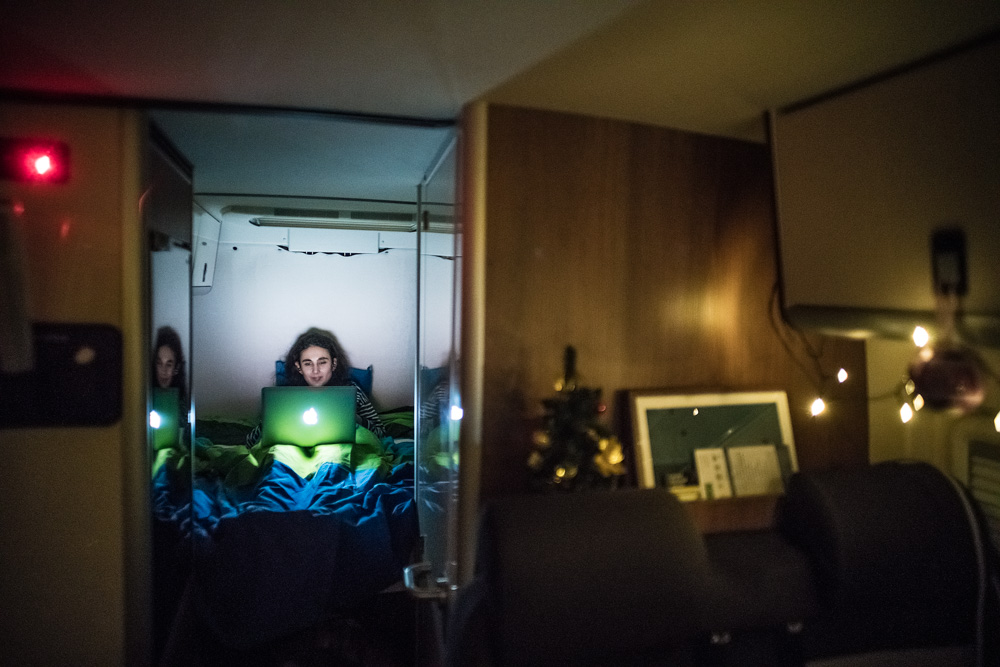 I wanted to be able to do my writing, and Cosmin wanted to be able to do his photography. We dreamed of working on our own projects, without compromises and the time pressure of working in a newsroom. And this meant spending more time in the field than in the office; becoming friends with people from all walks of life; asking questions; overcoming our prejudices; drinking homemade brandy and beer bottled in plastic; catching fleas; being afraid; being happy; eating cured meat prepared by the Kalderash [a subgroup of Romani people, named after their traditional trade as metalsmiths – in Romanian căldare means "cauldron, bucket". They speak a number of Romani dialects and live in Romania, across the Balkans, and elsewhere in Europe and even North America. (Translator's Note)] *; feeling crushed by our interlocutors' pain; crying during interviews; giving hugs; spending several weeks in Romanian penitentiaries; making a documentary film; midwifing a birth; and living alongside the people we wrote about and photographed.
In November 2013, when we moved into the campervan, the Romanian press was in collapse. There was no one willing to pay us to work on in-depth, long-form journalistic projects that would take weeks or months. We took the risk because we felt we had nothing to lose. And what was there to lose anyway? A job in a windowless building? A rented studio so cold that we had to keep the heating on nine months a year?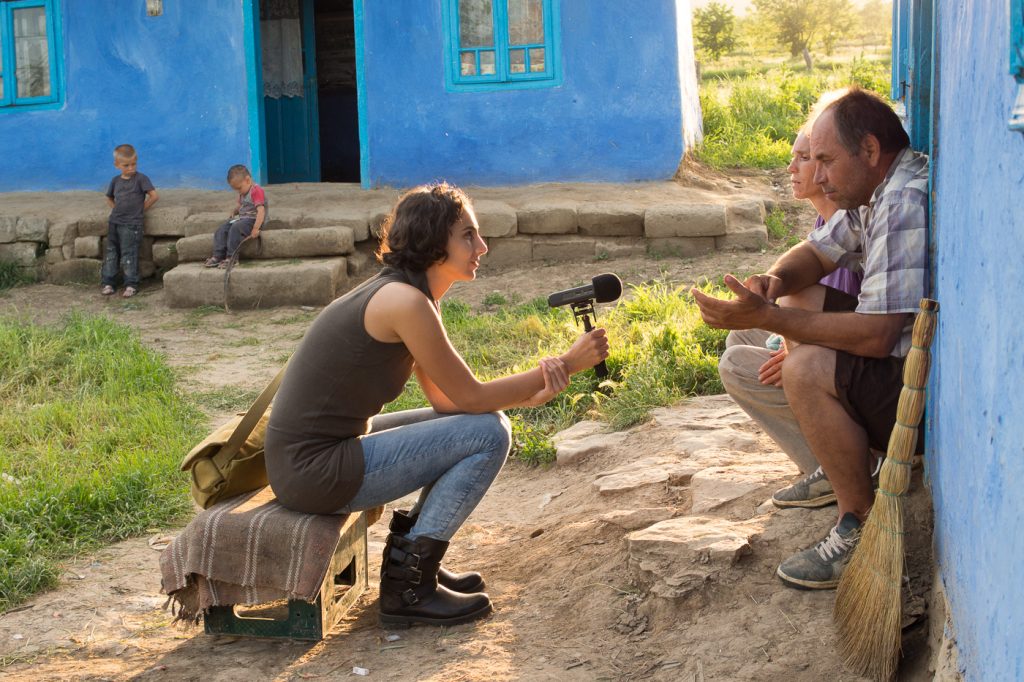 From the start, we designed our website, Teleleu.eu, to be add-free, relying instead on grants, awards, and subscriptions to our postcards—once a month we send our donors a photograph taken by Cosmin and a letter written by me. We get more than financial support from our followers: their reading and watching us makes us feel that our stories do make an impact.
It took us three weeks to pack up before we left. It's not easy to decide what things you take with you, and what things you box and leave behind in your friends' attic. We brought along our documents, the voice recorder, the photography gear, four towels, one bed set, warm clothes, a wok, a saucepan, and a pot for tea and coffee, two sets of cutlery and two cups, summer clothes, and the rest we left behind in our friends' attic.
We thought we were giving up a comfortable life, but little did we know that we would end up redefining what a comfortable life meant for us. I tried to get used to washing my hair in a basin, Cosmin to filling up the camper's water tank at minus 6 degrees Celsius, his hands freezing on the hose. We were learning to seat down when the other own was standing, to do the dishes in a few liters of water, to sleep parked on the street and not mind the noise, to share those five square meters, that is the living space afforded by our campervan, and to live with few things and a small budget.
The first story we researched after moving into the campervan was in a community living in extreme poverty in Covasna County. Hetea is situated on a hilltop, six kilometers far from the first village, with no pharmacies or shops nearby. Around eighty families live here in shacks made from mud, scrap wood and other stuff scavenged from dumps. The roofs of the shacks are covered with advertising banners and plastic bags. Their toilets are not at the back of the garden because they have no gardens, no fences, and the hill is infested with human excrement and dogs.
We got there at the end of November, and most of the children were snotty, with rattling coughs and sticky eyes from conjunctivitis. The smaller ones were running around the shacks, naked from the waist down, because their families had neither diapers, nor running water.
It was our first real contact with poverty. It made us understand that isolation and illiteracy can make you a prisoner, that Romania fails to provide the social services that would help these people, that it lacks both the will and the means to do it, and that not all Romanians have access to education and healthcare, both of them rights guaranteed by the Constitution, but only those who had the good fortune not to be born in a community stricken by extreme poverty.
We have been in many poor communities ever since. We lived among the homeless in Satu Mare, we visited a third of Romania's penitentiaries, where many young people end up because of poverty, and we saw how the penitentiaries hold up a merciless mirror to everything dysfunctional in Romanian society. We lived alongside families with children with disabilities; we were in small-town schools and hospitals, as well as in traditional communities of Ukrainians, Lipovans, Szeklers, Aromanians, and Kalderash Roma.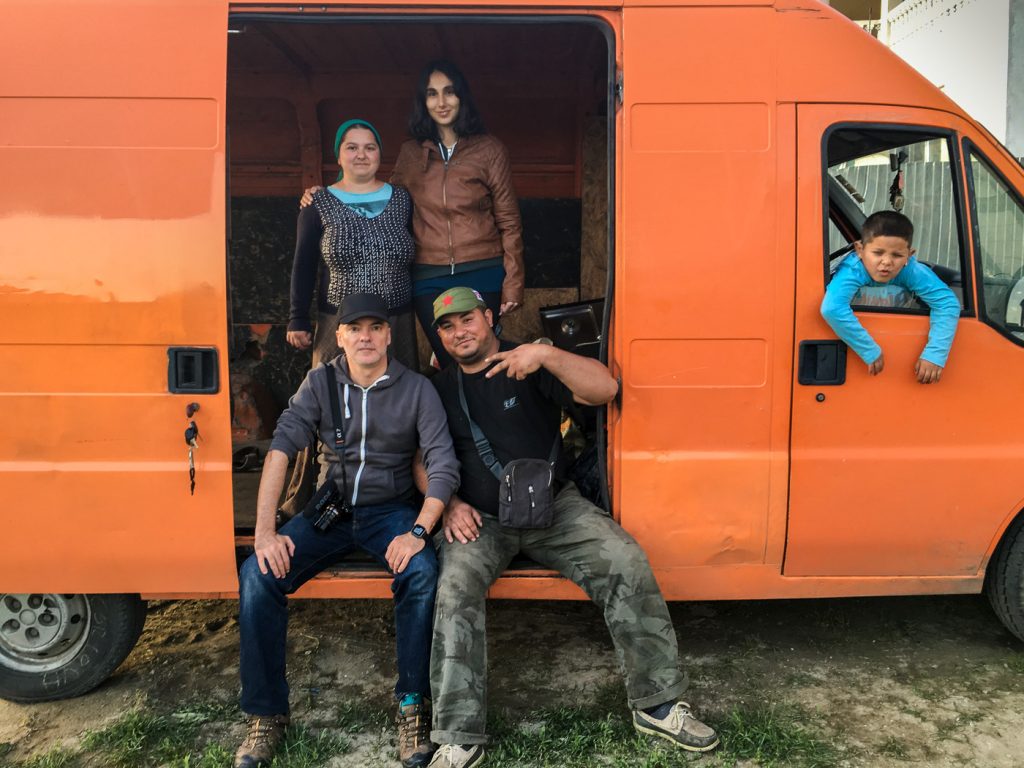 We learned that work doesn't have to feel like work. The time we have gained is a privilege. We can stay as long as we want in one place researching a story, and not stress about how expensive accommodation is or when we have to be back in Bucharest to our other jobs. Life in the campervan is cheap: diesel, food from the supermarket, and beer from the village shop. We are relaxed and we have time to become friends with the people, to understand who they are, what their dreams are, and how their life is. We have attained a degree of closeness with the people we write about and photograph that we could have never attained staying in a hotel and leaving after a few days.
The first year went by the fastest; we barely had time to realize what was happening: trying to figure out life in a motorhome, we would waste hours looking for a parking place and hesitate to knock on doors to ask for water or electricity. The second and third years were very busy, working on grant projects, making a documentary film, and spending the winters in Greece and Cuba. Only in the fourth year did we reach a good work-life balance, and life in ten square meters, including the engine, started to feel natural.
We didn't change our habits; we just made them fit into a campervan. In our first camper, a 1999 Volkswagen T4-based Wingamm Ibis 500, the living area was even smaller than in our current one, which is one meter longer and has an improved layout. In the old one, the stowaway bed came down from the ceiling, so when I slept, Cosmin couldn't stand and make a cup of tea because the stove was under the bed.
Everybody wonders how we manage winters in the motorhome. But it's not winters which are tough, it's summers. When 30 degrees Celsius outside means 30 degrees Celsius inside, to which the heat from our laptops is added to create a sauna effect. And we have to share a tiny table working on our laptops, with a fluffy dog lying across our feet. Winters are not that bad, we tough it out: even if it's minus 20 degrees Celsius, we turn up the heat and put on an extra jumper, an extra blanket, even if our water freezes, we survive.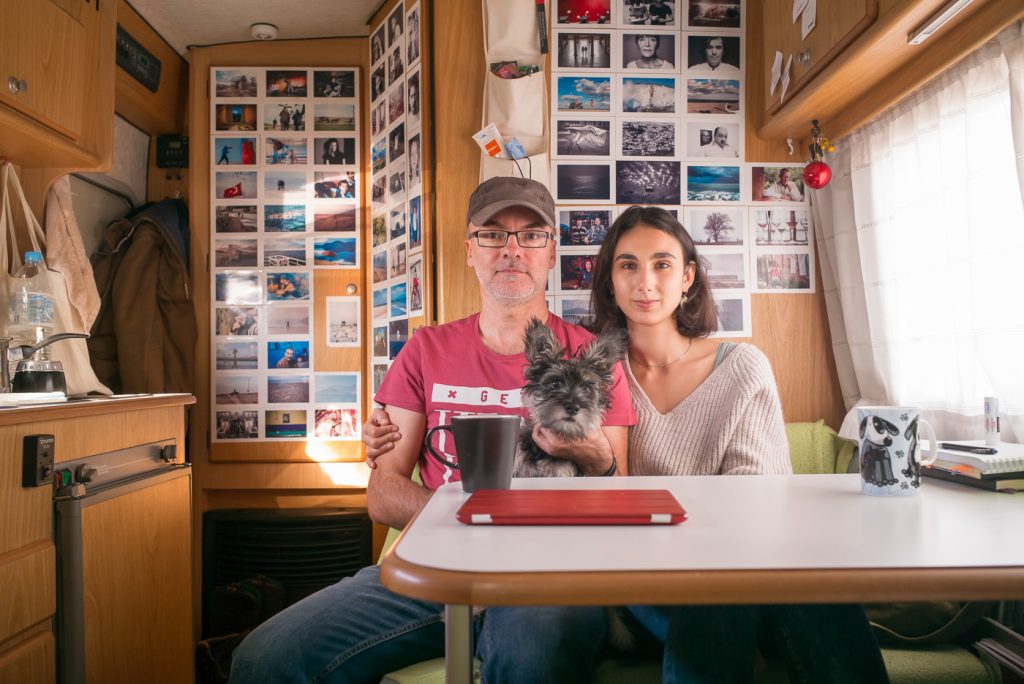 Our dinner table is both our desk, which must fit two laptops, and our kitchen counter. Washing your hair is quite a feat in the tiny campervan bathroom, and choosing a place to park for the night can take between ten minutes and two hours: we're looking for a quiet place, with level ground, shade, if it's summer, and a sewer to dump our waste water if we are in the city. Each object must be secured in its place, so it doesn't fall down when the car is in motion. We are much tidier than we used to be or we'd like to be. We cook a lot and much healthier, and we no longer eat on the go.
All the utilities that come natural in a regular home require effort when you live in a camper. Every four days we need to fill the fresh water tank for showering and doing dishes and to find a septic tank to empty out our toilet waste. With the old car, in winter, we'd have to fill up the LPG tank every ten days, and in summer, every two months—the kitchen stove, the water heater, the fridge, and the stove for heating used LPG. Every time we'd start or stop the car, we had to turn off the gas, pull up the electricity cables, and the hoses for the water supply.
In November 2017, after our book Acasă, pe drum. 4 ani teleleu (At home on the road. 4 years of Teleleu) (Humanitas Publishing House) was out, we stopped and asked ourselves what was next. We had done dozens of long-form stories reporting on the problems of Romanian society, a documentary film, Ultimul căldărar (The last Kalderash), and a book on how we had been changed by our travels in "deep" Romania. This had opened up our minds, made us more empathetic, better writers and photographers, better at loving each other, happier.
We could no longer go back to our old life. We had unlearned how to work in an office, in Bucharest, with only short trips to the field. Once you've tasted this kind of freedom, once you've lived among those whose lives you document, there is no other way to do your job. We had to go on, but our old car had become too small and uncomfortable, so we decided to buy a new one.
With the help of our families and a few sponsor friends, we sold our old camper and, in November 2018—indeed, all the milestone events happen to us in November—we bought a Fiat Ducato-based Westfalia Amundsen. Only one meter longer than the old one, the living area is better laid out so that Cosmin can make a cup of tea while I sleep. It is more compact, safer, faster and quieter; it has a diesel heating system, so we're done hunting for LPG; and there's more storage space. It's perfect. If we're lucky, we're going to spend our next fifteen years in it.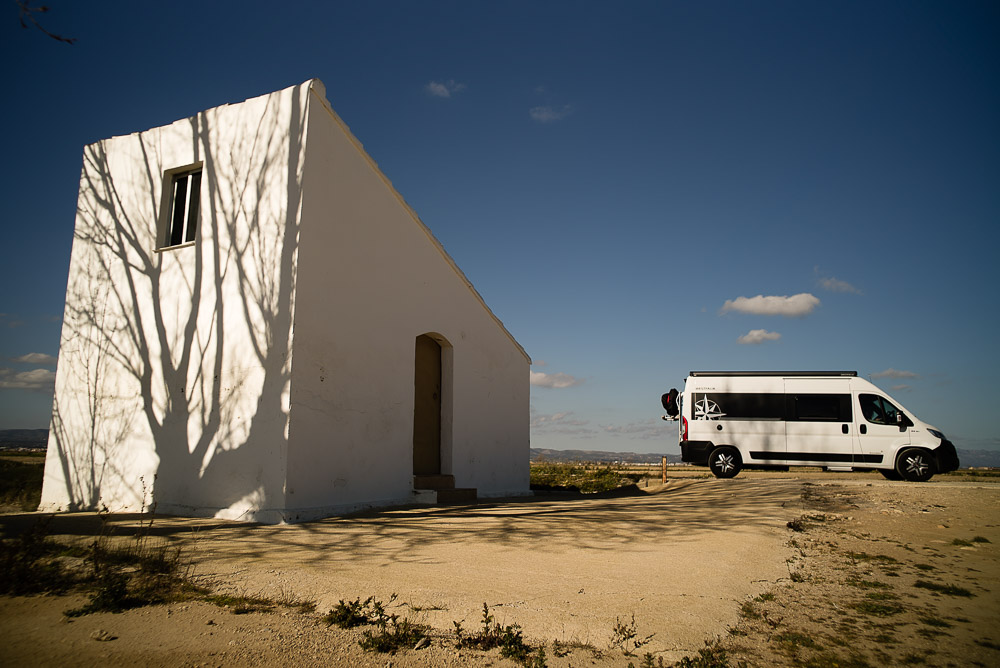 We don't travel as much as people might think. Since we left Bucharest, we drove 70,000 kilometers with our old campervan and 5,700 with the new one, not much compared to other motorhomers we've met. We use it more as a home than a car because of our journalism work which requires us to stay put for long periods of time in the community we research.
We carry less stuff with us than before because even when living in a motorhome you end up with a lot of useless things, so when you empty it out, you realize that you could easily do without a quarter of the stuff. Cosmin has downsized his camera gear to a small bag, and I don't have a lot of clothes. For cooking we use a pressure cooker, a pan, and a pot; we eat from four plates and own four forks and three spoons (one of them got lost).
In January, we started working on a new project and left to Spain, from where we are writing now, in the Ebro Delta. We want to do a book about the Romanian diaspora: we plan to travel for (at least) one and a half years around the European countries with the highest number of Romanian residents and to document their living conditions, the work they do there, and the reasons that prompted them to leave Romania, how this affected their families, and how they adapted to their new countries and lives.
This project would have been impossible without the campervan. First, we couldn't have afforded the hotel accommodation and restaurant meals. We live on a small budget: we cook (we never eat out) and we sleep on the street, in the proximity of the families who welcome us into their lives.
People don't feel threatened by us; we're a harmless couple, with a fluffy dog, we can be trusted. We're like them, real and human, and that makes it easier for them to accept us. And we rely on them for help: to park our camper in a safe place, to give us water to fill our tank, and, possibly, to let us use their washing machine. We're as vulnerable as they are, and this makes the connection easier.