ElectroPutere AIR (artists in-residence) is a program of the Centre for Art Club ElectroPutere developed within the framework of the creative, production and research centre, located in the city of Craiova in southwestern region of Romania.
Established in 2016, the residency program welcomes international artists, curators, thinkers and other practitioners, to undertake research and develop specific projects related to their artistic practice. It takes place over the summer period and it alternates between open call and upon invitation only. Its 2019 edition curated by Mihaela Varzari (RO/UK) brings together the artists Beatrice Loft Schulz (UK), art collective UBERMORGEN (AT/DE) to include its latest member, zthehenk (AT/DE) alias Alexander Zenker and their special guest, Nye Thompson (UK).
*Top photo: Beatrice Loft Sculz, Living Arrangements # (detail), 2015, emulsion paint, glass beads, handmade paper buckets, tissue paper, polystyrene, marbled paper, packing materials, beading, gauze, dimensions variable. Courtesy of the artist.
From male gaze to machine gaze
Curatorial essay: Mihaela Varzari
My choice to invite Beatrice Loft Schulz, the artist duo UBERMORGEN together with Nye Thompson and their collaborator ztheheng (the alias of Alexander Zenker), as artists in residence, stems from my current research around issues related to cognitive capitalism and feminist studies as possible avenues to engage with contemporary art production. In the words of the media theorist Yuk Hui, 'there is the need of turning technology into a support for culture', of moving away from following technology's pursuit towards perfection. [Hui, Y. (2016). On the Existence of Digital Objects. Minneapolis: University of Minnesota Press, p. 45] This perfection, this nightmare of absolutism supported by the rationality on which the liberal or neoliberal state is built, has been also challenged by feminism, whose questions haunt ethics and re-write history. As Julia Kristeva observed 'For the two thousand and five hundred years that ethics has existed, the feminine has been rejected from the sphere of ethics: it is not a subject, at most it is an object, if only!' [Kristeva, J. (1987c). Tales of Love. New York, New York: Columbia University Press, p. 116.]
Both artistic visions coming from Loft Schulz and Thompson & UBERMORGEN use technology as a filter, and while the former situates herself in the wider post-internet cultural dimension, the latter have been using the internet as a medium from its inception. Their research themes, developed during the 30 days spent in Craiova and Bucharest, are quite different, as well as their respective outcomes where the history of technology includes both the weaving loom and the manufactured network of robots becoming its own organism.
Loft Schulz's practice brings to the fore an existential dimension rooted in embodied feminism, which collides with her interest in unpicking the contemporary psyche molded by rampant technological development. She works across predominantly performance and text, as well as sculptural assemblages and crafts, such as weaving. Many of her works have as their starting point major historical female figures, such as Joan of Arc, or the unearthing of marginalized ones, like Beatrice de Dia, one of the best known of the Trobairitz during 11th to the 13th century in France. Her research into the history of computer programming, beginning with the historically neglected British mathematician Ada Lovelace in the first half of the 19th Century, reveals her practice to be concerned with women's discarded contribution to technological development.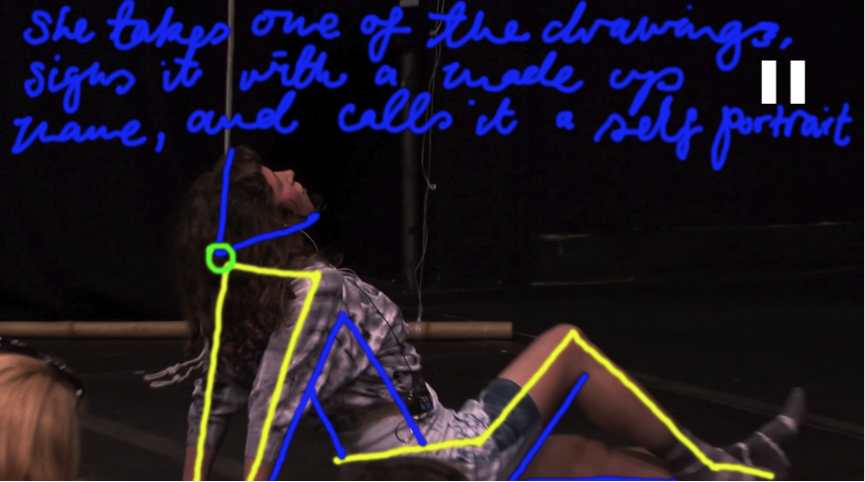 *Beatrice Loft Schulz, The Story of Joan of Arc, 2014. Documentation of a performance for Rematerialising Feminism, ICA London. Courtesy: the artist
The more recent link between weaving and coding informs her thinking on crafts while it has not been directly expressed. Her textile-based piece Rain (2017) was made while looking at the sky and trying to capture its constant movement. During the residency, Beatrice gathered information on weaving techniques, visited workshops across the country, which included traditional looms, had meetings with conservationists and museum curators, and produced a small tapestry on a miniature loom. As a consequence of this research, Beatrice will spend one year weaving on a loom one single tapestry in her Glasgow studio. During this time, which may be seen as an extended performance with no audience, the activity's monotony of this slow medium will allow Loft Schulz's attention to fall upon the changing of seasons, her growing older, her moods and how they may be affected by working with certain colours.
Weaving, this quintessential folk tradition developed in pre-history, asserts itself within contemporary art and technology through Loft Schulz's refusal to justify or argue for its significance to our contemporary moment; it is a technology as significant as (if not more so) than the coding languages of today. Weaving (which according to Sigmund Freud had been invented by women alone) which surprisingly enough still continues to challenge the traditional hierarchical boundaries between craft and fine art, and in Loft Schulz's practice is further tied to the developmental history of the internet. This need for a reappraisal of technologies history by Loft Schulz not only addresses the need to balance the history books to include significant but neglected women, but moreover wants to overturn the existing historical paradigm, forcing the art institutions to undergo internal and structural changes. It is not enough to exhibit more women if the structures which sidelined them in the first place are not themselves transformed.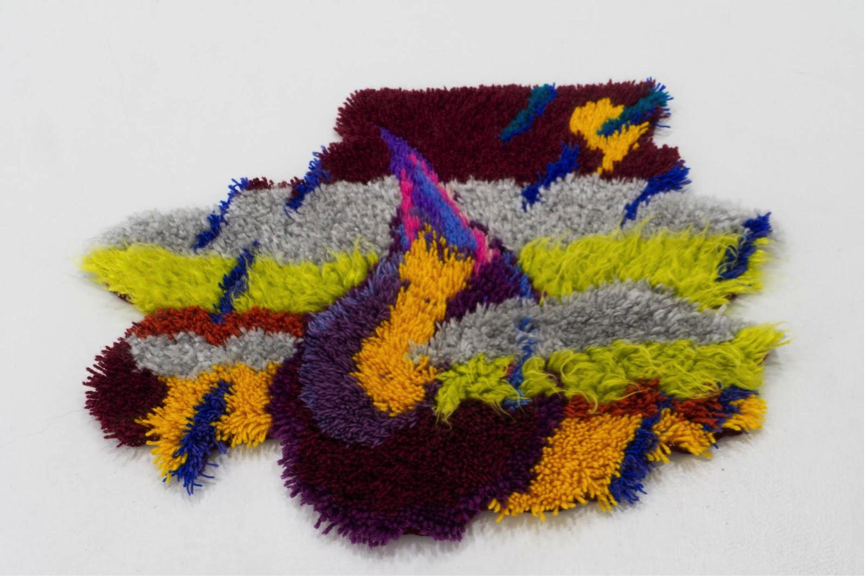 *Beatrice Loft Schulz, Rain, 2017, yarn on rug canvas. Courtesy: the artist
Without taking away the complexity and the various nuances of the long-standing practice of UBERMORGEN, I suggest as a possible point of entry the aesthetics of the German hard rock band Rammstein. It has been argued already that their tactic to undermine fascism from within is through parodic re-enactment. They absorb the mannerism of the enemy, adopting all the seductive trappings and symbols of state power, then exaggerate them. During recent years UBERMORGEN's has turned towards the Alternative-Right, ideologically linked to the current trend of nationalism, anti-migration and anti-feminism in the West. The potent element of fear, the binding agent for these irrational attitudes, has been further explored during the residency, with the project UNINVITED, an ongoing collaboration with Nye Thompson, an artist whose practice is concerned with the challenges posed by Artificial Intelligence, global surveillance capitalism in relation to the age of Big Data, or national borders and identity formation in the UK.
Her presence within the residency as a guest of UBERMORGEN and by extension of the residency programme, goes back to her project BACKDOORED (2016-2017) based on a vast archive of screenshots obtained though compromised surveillance online cameras. This project, aimed at tackling the issue of complicity in relation to data privacy, also sets the scene for her partnership with UBERMORGEN, which began in 2018. UNINVITED was conceived as a horror film for machines and it featured its first iteration at Wei-Ling Gallery in Malaysia during 2019. It was further developed during the residency with the help of engineers from Bucharest and the final film is expected to complete in 2022, with planned installations in London and Craiova during 2020.
*Nye Thompson and UBERMORGEN, UNINVITED, 2019. Exhibition view- Paralogical Machines, Wei-Ling Gallery, Kuala Lumpur. Courtesy: the artists
The installation is comprised of a robot running on a dolly, equipped with movement sensors and a projector showing images from an archive of surveillance footage; frequently lo-fi representations of a mixture of domestic, private and public spheres. They evoke the sense of the uncanny, described by Freud as familiar and alien at the same time, just like the sight of a corpse, or indeed vaguely recognized images. The sound and the editing style of the video, reminiscent of lower end of B movies, adds an eerie and charged backdrop to his unsettling drama. The taxonomy employed for classifying the images seeks to mimic that of an algorithm-based selection process, which brings to the fore a hot subject; how to understand and represent categorization in the 3rd millennium through the lens of accumulated data.
The robot was initially designed to react to a human audience, though after having heard of the existence of unused, underground spaces in the House of the People, also known as Ceaușescu's Palace in Bucharest, the artists reconsidered human participation. The team are considering an online broadcast, which would exclude any actual live audience members interacting with the robot and its sensors, thus allowing the machines to become, according to the artists, 'the performers, audience, content providers and commentators'. Machines spying on other machines contribute to generating Big Data, this insatiable, ever-growing monster with its own spiraling logic; which no-one knows how to deal with yet. Horror takes place right now, it's called the reduction of the individual to set of data sold for profit. It seems to me, that within today's accelerated humanity, where we are mere minds mined for data, and governed by cyber-spying, the fear of machines taking over humans is being replaced by humans becoming more like machines.
The project UNINVITED channels fear, a feeling equally captured by the horror films, as well as by political propaganda, through a restrained, cold and unsentimental aesthetic specific to net.art.
Taking my lead from Gilbert Simondon, this project brings human experiences into the realm of machine-aesthetics, where the emphasis is on the functional and operational in order to challenge the human-machine dichotomy. More recent discussions within the team have been focusing on the possibility of having more than one robot connected through the cloud, as well as considering the whole project as one single organism through the animal-machine relationship. The folklore element is present in this project through its relationship to horror film genre, founded in the oral tradition of sharing and passing on tales and legends and it could provide a different entry point into unpicking UNINVITED.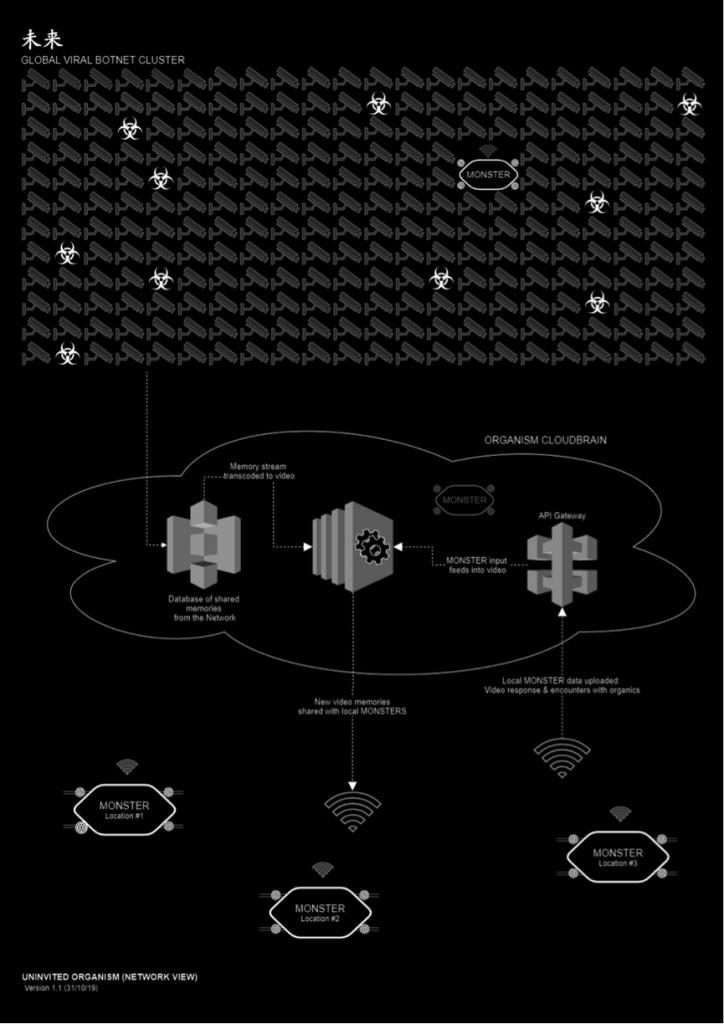 *Nye Thompson and UBERMORGEN. UNINVITED Organism Schematic (Network View), 2019. Courtesy: the artists
Both projects propose critical stances to technological development seen through pathologies ushered in by the rapid development of the internet, by addressing the feminization of the workspace, the materiality of the medium of weaving and its relationship to feminism, surveillance capitalism and machine aesthetics. Both projects react to the local context. Loft Schulz embraced manual weaving as a medium, inspired by the Romanian folklore, which is still present in this late industrialized country, whilst UBERMORGEN and Thompson reacted to the deserted underground spaces which once belonged to a dictator. The latter's involvement with folk tradition emerges more obliquely through an appropriation of the aesthetics of the horror film genre, itself arguably a hyperbolisation of oral tradition.
My own critical inquiry takes me down the path of engaging with artistic practices, which keep away from simply renouncing modern technology as intrinsically bad and the other dogmatically endorsing it. UNINVITED present a dystopian version of technology, which if not managed well may prove that there is nothing intelligent about artificial intelligence. Loft Schulz is more redemptive, but this optimism requires a total restructuring, radical in its essence, which when placed alongside UBERMORGEN and Thompson's work could be perhaps read as science fiction itself – she is describing a reality that has not yet come into being while UNINVITED's brand of science fiction is posited as our reality, thus the creeping horror of it all. Nevertheless, neither project neatly wraps up the questions they pose. The lack of human audience in both works adds to the multiple interpretations to be further explored.
This AIR edition based on exploration and production, offered the artists the opportunity to re-think or develop some of their working themes, or earlier projects, and engage with the local histories and the social and cultural landscape of Romania. The two projects almost diametrically opposed and pointing into different directions, one to a neglected past, one to a dystopian future, makes me wonder about the teleological directions of the contemporary moment in art and the elusiveness of anticipating new directions.
Biographies
Beatrice Loft Schulz is an artist from London living in Glasgow. Her work uses digital and manual crafts, as well as performance, to articulate relationships between pleasure, labour, and gender. The process of making a work may be triggered by a coincidence, a conversation, or a rock. Most of her recent work has been intentionally private and therapeutic. She sometimes works with other people. The Sticks, with Laura Morrison, was part of Glasgow International in 2018. She performed with queer musical ensemble Beep as part of the Staying Out Tour (2018), exploring the legacy of section 28. Domestic Melodrama was a film performance, made together with Alice Brooke, and performed at Tramway, as part of the Glasgow Artists Moving Image Festival 2016. To Ailsa Rock was an exhibition where she collaborated with Lindsay McMillan at Kunstraum, London, 2019.
UBERMORGEN (AT/US/GE) is an artist duo founded 1995 in Vienna by lizvlx & Hans Bernhard. As part of the digital avant-garde of the 1990s (Net.Art) and spearheads of the digital actionism and digital concept art of the 2000s, UBERMORGEN are representatives of a radical-subversive approach to data and matter, as well as to institutions and markets.
UBERMORGEN own more than 175 own websites/domains. Their projects have been featured in over 3000 news reports and art reviews and CNN called them 'Maverick Austrian Business People' whereas the NY Times called their work 'simply brilliant'. UBERMORGEN have shown their work at the Centre Pompidou, the MoMA/PS1, the Sydney Biennale, the MACBA Barcelona, the New Museum New York, SFMoma, the ICC Tokyo and the Gwangju Biennale, and were commissioned by Serpentine Galleries (Ziron) and the Whitney Museum (Clickistan). UBERMORGEN were awarded the Swiss Art Award, ARCO Beep Award, Ars Electronica Award, Transmediale Award and the glorious IBM Award. Their main influences are Rammstein, Samantha Fox, XXXTentacion and Pixibücher, Olanzapine & LSD, Kentucky Fried Chicken's Coconut Shrimp Deluxe and Viennese Actionism.
ubermorgen.com
Nye Thompson (UK) is an artist turned software designer turned artist. She creates data-generating artist software systems to explore the impact of new technology paradigms. Her recent creation The Seeker is a machine entity that travels the world virtually – looking through compromised security cameras and describing what it sees.
She has exhibited around UK, Europe and the Far East, including Tate Modern, The Barbican, The V&A, ZKM Karlsruhe and The Lowry. Her first solo show Backdoored.io – described by C4 News as "too controversial to broadcast"-became global clickbait and triggered an international government complaint. Her work has been featured on BBC, C4, CNN Hong Kong, the Guardian and Wired, and was recently guest presenter on BBC Radio 4's 'The Art of Now: Surveillance'. She was the recipient of an Arts Council England G4A award in 2017, a British Council/ACE travel award in 2018, and an Arts Council England Projects Grant award in 2019. She was a Lumen Prize 2018 finalist.
zthehenk (b. 1988, GDR/GER) alias Alexander Zenker lives and works in Leipzig, Cologne and Vienna. His main interest evolves around psychological regulatory systems and around identity and control within logical game and advertisement environments. His most prominent Installation 'Schaltkreis – Alle unter einem Ton' is an immersive interactive cybernetic organism. He´s exploring fields between being individual and collective.
Zenker creates gamedesigns and organizes tribe-building parties in Leipzig and he is part of the 'Keine Fische aber Grethen'(no fish but bones) collective. He holds a diploma in visual communication from the University of Kassel, College of Art (Kunsthochschule Kassel). Since 2015 Zenker assists the artist duo UBERMORGEN in their global ventures dealing with psychopathologies (no-limit.org, 2015) and the Alt Right (Binary Primitivism, 2016-).
Mihaela Varzari (RO/UK) is an independent curator and a PhD candidate in History of Art at University of Kent, where her research revolves around the various artist collectives emerging around 1994 that were dedicated to employing the internet as an artistic medium. She makes use feminist studies, the notion of narcissism, as it is theorized in psychoanalysis and theory of art, and political economy, seen through the prism created by the philosopher Bernard Stiegler's specific use of proletarianisation.
She has previously studied at Birkbeck and Goldsmith College between 2009 and 2015. In the exhibitions and events she curated over the years, she has worked with artists such as Liliana Basarab (RO), Ziad Antar (LB) and Heath Bunting (UK). In 2008 she has started publishing art criticism texts for Revista ARTA (Bucharest), thisistomorrow (London), IDEA arts+society (Cluj), as well as a series of catalogue essays. Her future projects during 2020 include an extensive group show at Studio3 Gallery, Canterbury centered around algorithms and poetry, and guest writer in residence at Murree Artist Residency, Pakistan.
Centre for Contemporary Culture Club Electroputere, Craiova, Romania is a non-profit organization. Founded in 2009 by Adrian Bojenoiu and Alexandru Niculescu, CEP is devoted to establishing close cooperation between artists, curators, researchers, and other cultural actors through interdisciplinary programs and residencies. The center's activity focuses on producing and researching contemporary cultural manifestations. CEP promotes especially alternative art, new creative media, multiculturalism and interdisciplinary, attempting to create connections between the local context and the international cultural environment. Since 2009, CEP has developed various cultural projects based on a structure of programs, including artistic production and exhibitions, curatorial and artistic research, book publishing and conferences.
Cultural project co-financed by the National Cultural Fund Administration.
Supported by: AFCN, British Council, Marin Sorescu National Theatre
Media Parteners: Zeppelin, Revista ARTA