Laura Paraschiv is an architect. She collects objects and cultivates them in Circa 1703-3701 (Precinct 1703-3701), the place in Bucharest where you can find unique pieces of design from all ages.
Report: Dorothee Hasnas
Photo: Cătălin Georgescu, Ioana Pârvan
I don't know what I would do if I didn't do this. You know how you feel when you found the thing that you are most passionate about, that precious thing which motivates you beyond practical considerations? In my case, I would define it as the essential service of helping people to express their personality through interior design, so that they might enrich their quality of life.
If I didn't do this, I would most likely work in an architecture office large enough to afford having someone exclusively responsible with finding or imagining the perfect details. Or maybe I would grow aromatic plants and flowers.
Or I would try to learn all the subtleties required for being the perfect host. Oh, but in fact, this is what I have been learning since I opened Circa 1703-3071.
The name is a promise made to myself and to clients, the promise of bringing objects made beginning with 1703, which have the potential of lasting for a long time in the future (3071).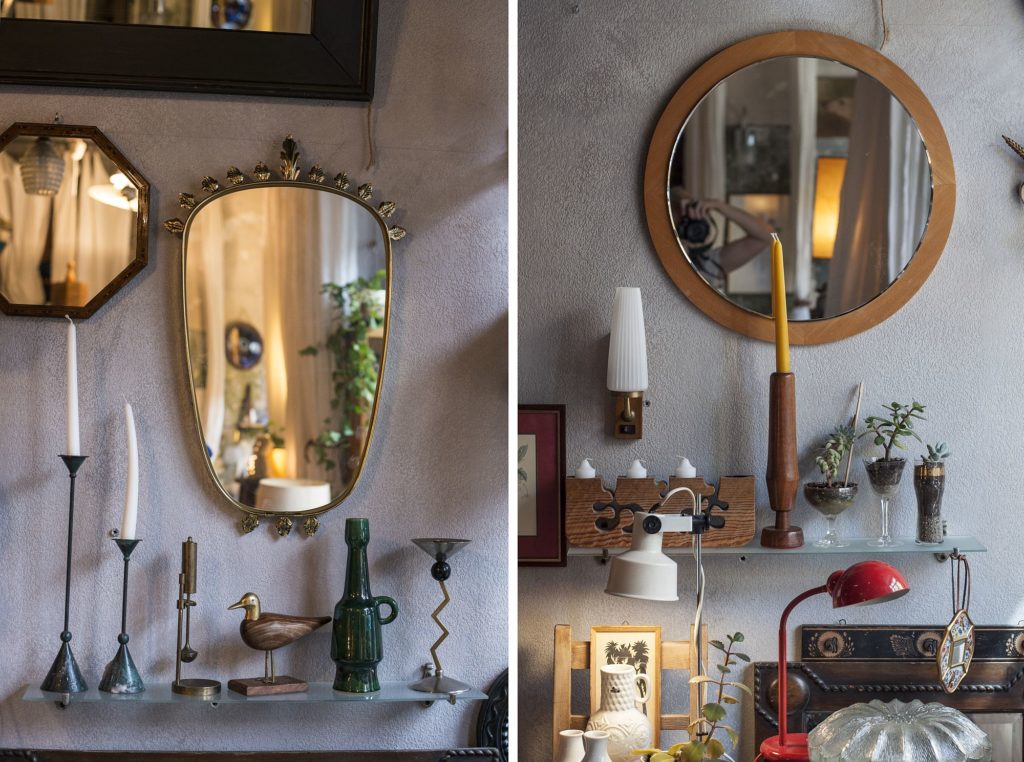 But Circa 1703-3071 means many other things: an oversized box with curiosities, a store for lovers of vintage objects, where other architects come to find special things; it is my working studio, the place in which I rethink and transform completely from the point of view of design or function some dusty and disjointed objects, it is my office for interior design consultancy, it is a place for meeting friends, it is a place of pilgrimage for those interested in the finest choice of eclectic design, in unusual objects, whether functional or meticulously reconditioned.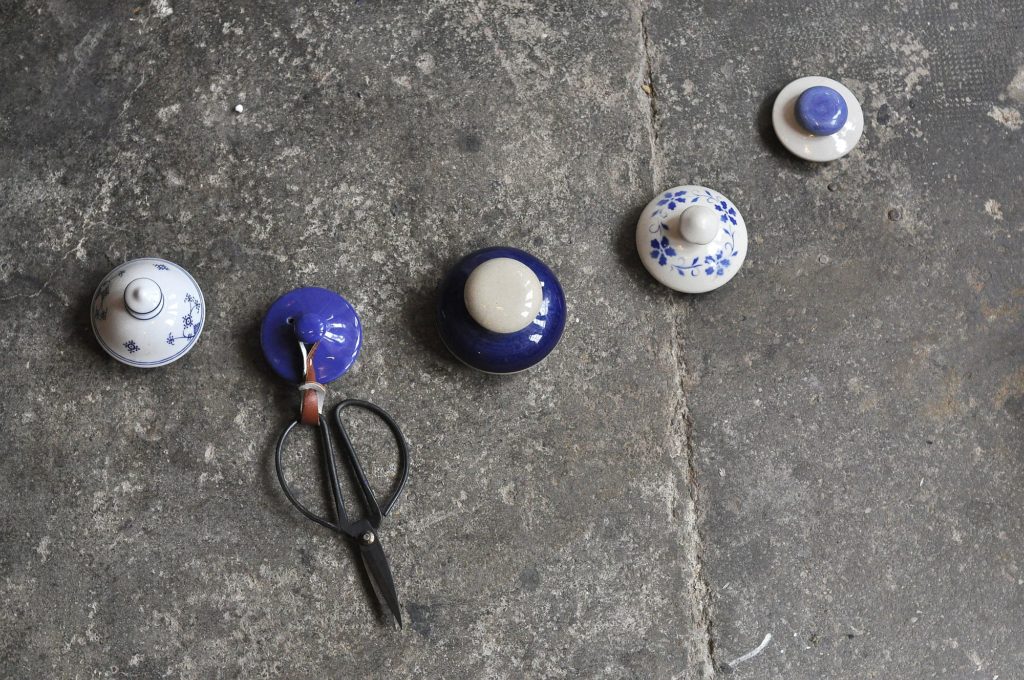 Objects must be searched, discovered, you go after them, other objects, found on the surface, are raised so that you can find those that you are looking for. Some are combined mentally in order to obtain "the object", others are literally dismembered, while yet others need a specific context; but they always must have something truly special: delicious colors, a memorable proportion or memorable details, ingenious combination solutions, good quality materials, or, why not, just a "life story".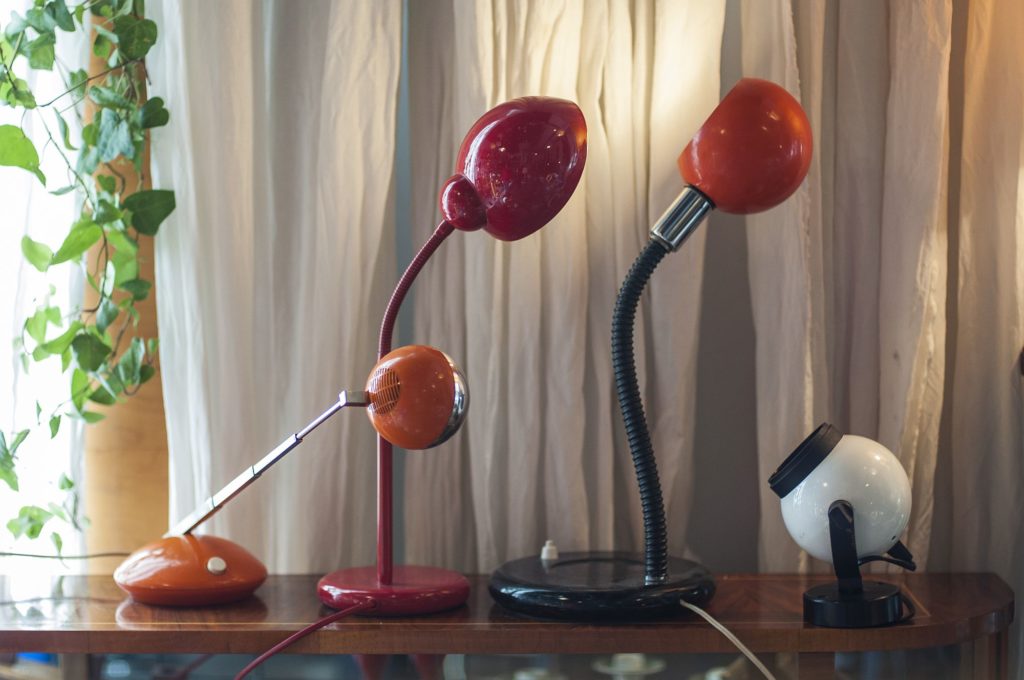 I like and trust objects that pass the test of time. I am extremely curious and I try to look with different eyes at things which others get rid of and to find design examples that are representative of a certain period. When it comes to the search and acquisition process, I realize that the objects that catch my eye are in fact those that can bring a certain state or the atmosphere of a place. A special category is that of objects characterized by humor or a certain clumsiness which is very dear to me – I call them Happy Circa Objects.
When it comes to my own creations, I sometimes start from old pieces of furniture which are functionally obsolete, but which were made of good quality materials. I disjoin them and use them as a source of raw material for new furniture. This has been the case with the "Double Trouble" tables, with the "Master Cluster" shelves and with the "Lion King" bench or with the "Porcelain Boobs" modular system of coat hangers. Apart from the design exercise, this is also an ecological gesture of upcycling. And I also think of new objects for special situations, where personalized solutions are necessary.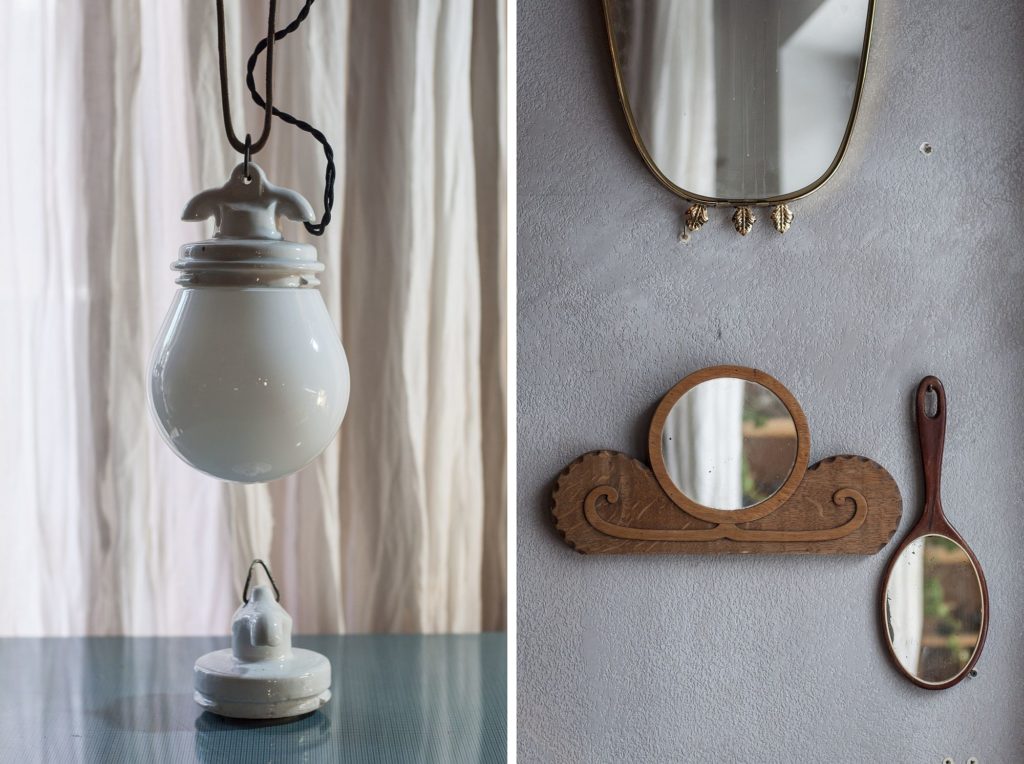 I have always been passionate about lighting objects because they are extremely important for the atmosphere and functionality of a place. For this reason, I need time for research, for reconditioning, for always having a selection of lighting objects as varied as possible. But lighting objects are fragile, their reconditioning is complicated – a logistical mini-nightmare. And not necessarily a great business.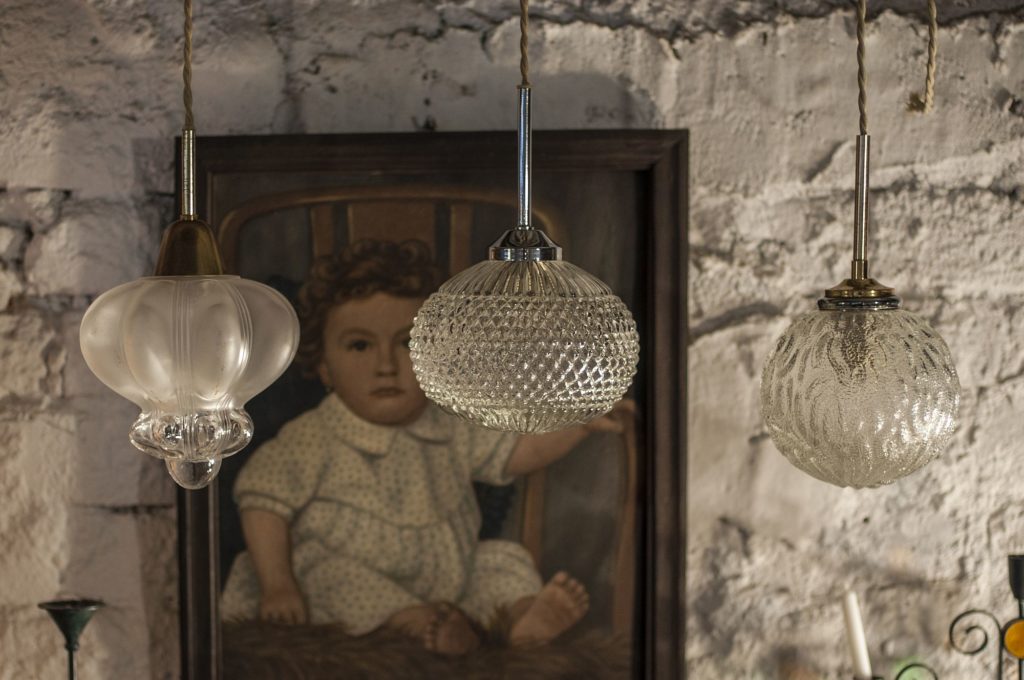 As for the spaces projected by me, I am very attracted to eclectic interiors and to the mix&match approach for objects that apparently do not fit perfectly, but which, placed together in the opportune context, emanate an incredible energy. I see every interior design project as an immense, unique puzzle, which must function in perfect accord with the purpose of the space and also have something more, a story to tell, and unforeseeable custom elements. Something memorable that would not fray morally, nor physically, anytime soon. For this you need objects as varied as possible like esthetics, materials, periods etc.
Apart from space, I wish from time to time to make exhibition design: I had the chance to contribute to something as progressive as "Desire is War", a manifesto exhibition on queer topics, presented at the Contemporary Art Gallery of the Brukenthal Museum, in Sibiu, in 2011, on which I worked together with the curators Anca Mihulet and Dragoș Olea.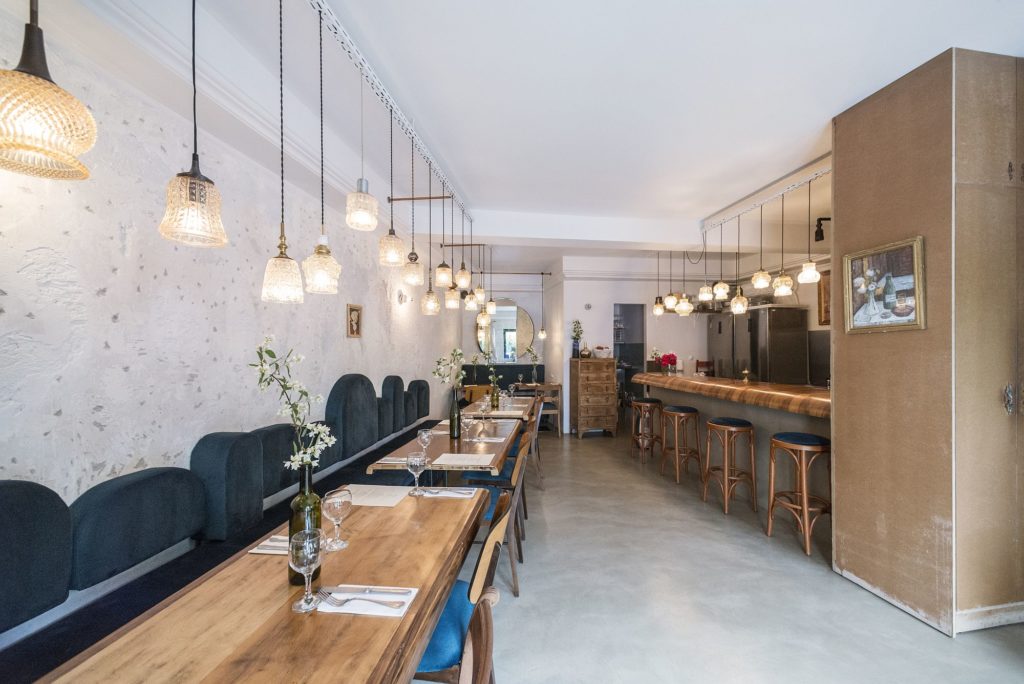 Mà Bistro came into existence in a period when I said no to some arrangement projects because I wanted to concentrate on the store.
Medine and Alex insisted that they wanted something truly special and in the end I began work despite the impossible space and deadline – a little more than a month. The magical expression which has got everything moving: "carte blanche".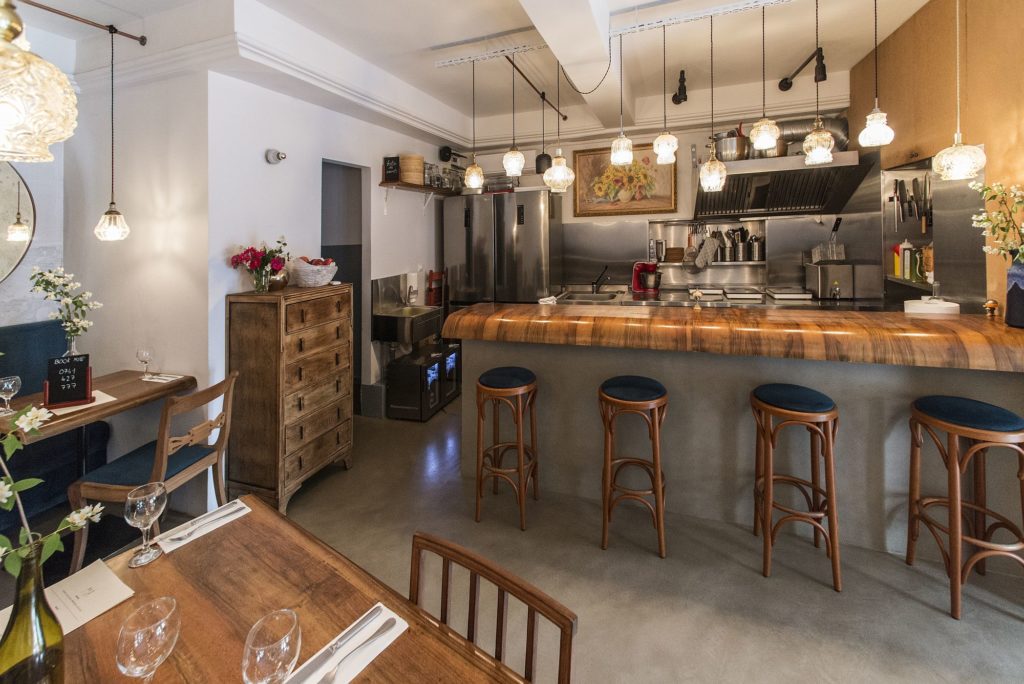 In such a context, almost everything has to be custom-made. The lights are specifically made as a hybrid, from more lamps and elements gathered in time, the enormous velvet bench looks either as a group of perfectly polished rocks or as a metropolitan skyline, the bar countertop has a majestic air due to the reused wood from a former wardrobe.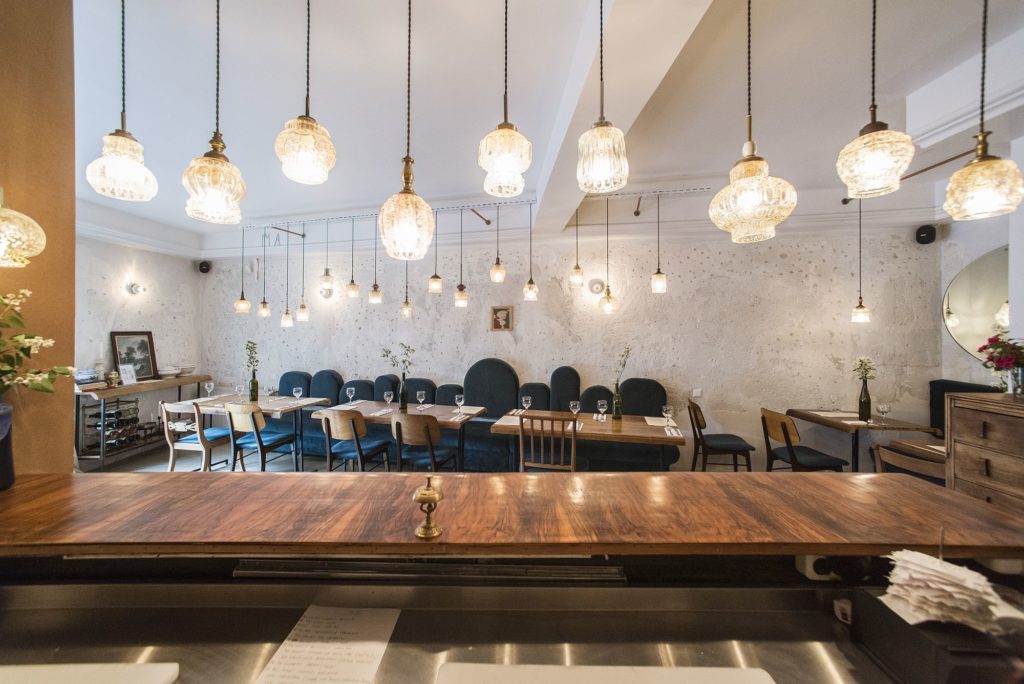 Many minute details contribute to the making of a convivial and stylish understated place with an atemporal atmosphere. It is incredible how the arrangement and the goodies that they prepare intertwine so well in order to make MA BISTRO a truly unique place in Bucharest.