28.11.2014, 22:00 / w. John Heckle (UK) live / Andreas Gehm / Elec Pt 1 (DE) live / Dragoș Rusu (RO) / Luger (RO) / visuals by Dreamrec (RO)
ELECTRONICS implies good music, an interesting setup, challenging locations and a coherent lineup. We don't want to start a movement, we think it's already there and we create a platform in order for it to follow its natural course.
ELECTRONICS aims to support the local music scene and give you the chance to experience something worthy and powerful in terms of sound. We don't want to be a bla-bla-irrelevant-conceptual-framework, nor a crowd-pleasing party series. We want to frame genuine acts with good music, exactly as it should be.
We proudly launch this new series of electronic dance music events on the 28th with a lineup to match our purpose and dictate our future.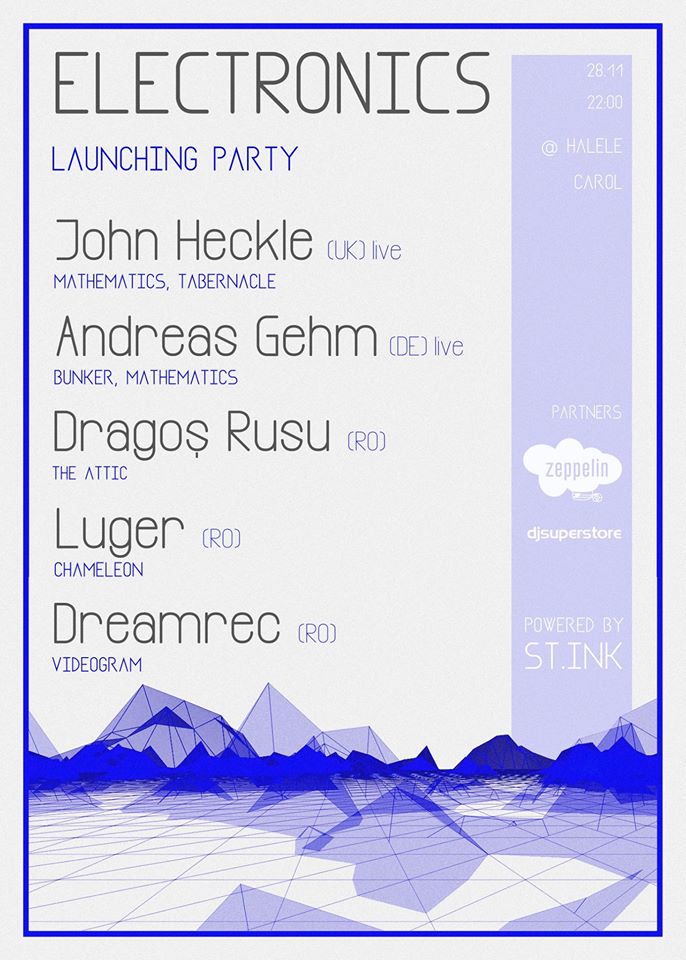 JOHN HECKLE (UK)
DJ and Producer from Merseyside, UK, John began playing club nights in and around Liverpool at the age of fifteen, before having his first record released a year later (thanks to boyhood hero Regis) under the alias Hek on Birmingham's RSB imprint.
John was then offered a residency in the emerging Rehab event at the Lemon Lounge in Liverpool. With a policy of not booking big names and free entry, people travelled from as far as Glasgow and Dublin to revel in the music. John quickly cemented the peak time slot until the night came to a close after its Third Birthday.
Various gigs around the UK followed, as he added Roland Drum Machines to his fast paced 3-turntable Live/DJ shows. In 2009, following a 2-year release hiatus, he rekindled his passion for production after becoming inspired by the music of record label Mathematics Recordings (in particular the music of Jamal Moss, whom John had travelled to Belgium to see perform live). The purchase of a Roland synthesizer with his brother shortly after marked the beginning of a new sound in John's production; a sound which consequently bled into his still-frantic DJ sets.
In 2010, John was welcomed onto Mathematics Recordings, releasing the exceptionally well-received 'Life On Titan EP'. A string of releases on Mathematics (including the 2-part 'Second Son' album), Tabernacle, Signals, Skylax, Apartment, Créme Organization and Stimulus followed, as well as a succession of remixes.
John collected a 2012 Qwartz Electronic Music Award in Paris for his 'Life On Titan EP'. He now continues to perform around the globe, whilst using an assortment of hardware to accompany his ever varying vinyl selections. Full hardware live shows are now also available as part of his repertoire.
ANDREAS GEHM (DE)
ANDREAS GEHM aka Elec Pt.1 stands for the pure old school sound. Among his many project names The Minister, Manager 111 or Trajical Bitch he releases for years on various internationally well-known labels such as Mathematics Recordings, Nation (both Chicago), Bunker Records, Creme Jak (both NL), Psycho Thrill (Cologne), Snuff Trax (Germany) and so on.
His tracks are sometimes techno and sometimes house, they are sometimes harder and sometimes melodic, but they are always – ACID. The original Spirit is always given.
With his live set Andreas will show us the full spectrum of his sound, and this will bring you to ecstasy in a way.
DRAGOȘ RUSU (RO)
Dragoș is a regular presence on the underground clubbing scene of Bucharest. He plays a wide variety of music styles. He can go from dub to electronica, from folk to afro-beat, world music oddities, disco, house and techno. Dragoș is djing for some years now and he is a dj without inhibitions. He lives in Bucharest and he's an editor for an online music magazine. Promoter / booking agent / manager / dj – you name it; if it's related to electronic music, he's done it.
LUGER (RO)
Dorin Croitoru, Luger as many of you know him, is one of the founders of Chameleon and under the umbrella of this brand he's been one of the active agents of the underground electronic scene. Together with Profet and Alexandru Jijian he brought in 2012 John Heckle for the first time in Bucharest for a Dj set with a 707. Meanwhile things evolved and Chameleon enriched their guests portofolio with Marcellus Pittman Unirhythm, Paul du Lac, Hakim Murphy and XDB. Also, in the last three years Luger shared desk with Intergalactic Gary, Mick Wills, Legowelt, Hakim Murphy, Dj TLR, a made up sound, Eventuell and San Proper. So prepare, because he will carve deep, winding, obscure, tunnels that will collapse over and within you.
Dreamrec
Silviu Visan is involved in various projects from video mapping to interactive design. He developed the a:rpia:r's collective's video side in the last couple of years, with some special appearances in Fabric, Trouw or Nordstern. He is also touring extensively with the more experimental music project Rochițe, or alongside the Aparatus 22 collective.
Late 2013 he created at Victoria & Albert Museum a spectacular projection mapping on the cast of Trajan's Column, combining motion graphics and 3D animation that playfully highlights, deconstructs, augments and manipulates the Column's geometry and reliefs.
His project The Shuffle (with Sillyconductor) – an algorithm of infinite probabilities of overlapping one million images of 1kb with one million sounds with a duration of 1 second each, was shown at the Bucharest Young Artists Biennale.
Partners: DjSuperStore /  Zeppelin
Powered by: st.ink
FB event
* "Halele Carol" reprezintă un proiect de reconversie a vechilor spații industriale cu valoare istorică ale Fabricii Hesper în centru cultural și de evenimente, inițiat de Zeppelin împreună cu Eurodite. Fiecare participant la evenimentele găzduite de Halele Carol devine, automat, și susținător direct al proiectului de reconversie.